Keeping the memory of late family members alive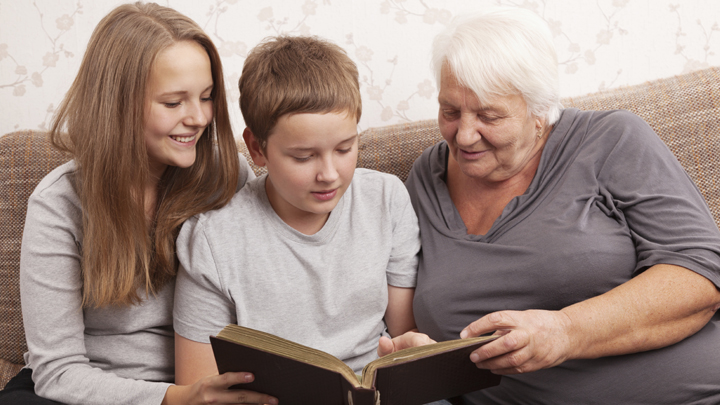 A recent item on Starts at 60 celebrated the writer's grandmother and what that wonderful representative of an older generation had taught her.
I've been thinking about a grandmother too, my children's – my mother-in-law, Noeline. She passed away seven years ago at 88, having lived a full and interesting life. She had six grandchildren, and subsequently seven great-grandchildren, only a few of whom ever met her.
My older grandson was only three when Noeline left us and for quite some time he was able to talk about his Nanee, with a clear memory of her. He would talk about the time Nanee fell over at his brother's birthday party in the park, or about Nanee and her friend Bob doing something or other.
But, very recently, I mentioned her to him. Among my collection of decks of cards are some that used to belong to Noeline my grandsons and I use the packs playing Cribbage and other games. I talked about the cards having belonged to Nanee, and my now 10 year old grandson looked puzzled.
"ŒDo you remember Nanee?" I asked him.
Ad. Article continues below.
Œ"Who?"
"ŒGrandad's mother. You know, Nanee".
No. How about Nanee-and-Bob? Alas not.
I remember my own mother talking with great fondness about her maternal grandmother. She was an unusual woman, having been to university in an era when it was most unusual for women to study further. My mum talked about her grandma's knowledge of the Greek and Latin roots of words; her farming husband must have been befuddled by her sometimes. I never knew that great-grandmother, nor my mother's parents in fact. My mother would say, Œ"My grandma is still alive in my memory and as long as some of you remember my stories about her, she's still alive".
I feel as though I've let my grandsons down, not helping them remember their great grandmother, their Nanee, better. I'm planning to find some photos of her and to start talking about her again.
As I get older myself, I'm more and more aware of the slippage of memory. My siblings and I can have different memories of a family event in the past. I'm a little afraid I guess that my grandsons might not remember me! I'm healthy and plan to live a long time, mind you!
Is this a feeling that's common among us as we age? Are you conscious of deliberately talking about people and places and events in the past just so they will be remembered?