Keep your pinkie up: a high tea for two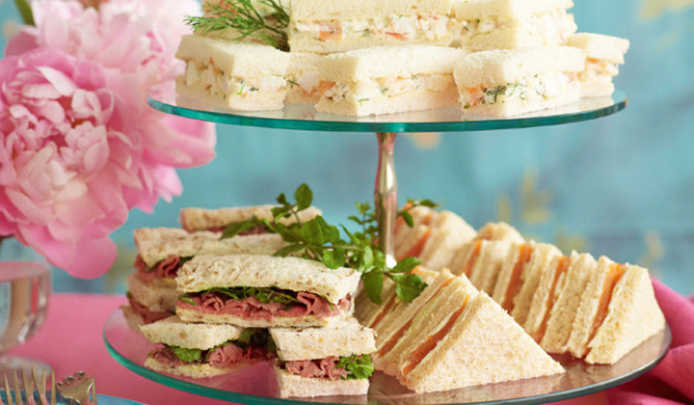 My husband and I recently attended a formal High Tea in the Queensland Parliament's Strangers' Dining Room. It's quite an experience. Not too expensive, in elegant surroundings, with graceful accoutrements, and waiting staff at one's service. We were presented with petit sandwiches, petit cakes and pastries, savoury quiches, fruit scones with cream and strawberry preserve, chocolate-dipped fresh strawberries.
That strawberry preserve is so delicious, so full of real berries, it could be addictive. Just my opinion, as they say. And the scones were full of sultanas, my very favourite!
The setting in the Strangers' Dining Room is extremely stylish, featuring a Tasmanian timber parquetry floor and interior decorations that reflect its construction period, the late 1800s. The term "stranger" refers to any person in the parliamentary precinct who is not a Member of the Legislative Assembly.
We had time to consider the attractive well-designed same-colour-as-the-walls printed sheet that provided 'some history for taking tea', a brief history of the Strangers' Dining Room, and 'tea etiquette'. These are things one ought to know, ladies and gentlemen!
One should pick up the cup and saucer together, we were advised, with saucer in one hand, cup in the other. Sip with the saucer under the cup 'lest you should spill or dribble'. Originally, all porcelain teacups were made in China from around 620 AD. They had no handles and the proper way to hold them was 'to place one's thumb at the six o'clock position and one's index and middle fingers at the 12 o'clock position, while gently raising one's pinkie up for balance'.
Ad. Article continues below.
Raising the pinkie is not an affectation, we were assured. When the handle was introduced to the cup in 1710, the tradition of raising the pinkie continued – it is 'a graceful way to avoid spills'. Finally, never loop fingers through the handle, nor grasp the vessel bowl with the palm of your hand.
Were you advised in your youth, when stirring your tea, don't make noises by clinking the sides of the cup? To 'gently swish the tea back and forth', to 'never leave your spoon in the cup' and never sip the tea from the spoon either?
Who knew such an elegant origin could lie behind the tin mugs of billy tea that have been boiled up over a fire under the Southern Cross?
Are you a tea drinker? Have you been to a high tea? What was your favourite part? Tell us about it below!