It's Cougar time: Dating a younger man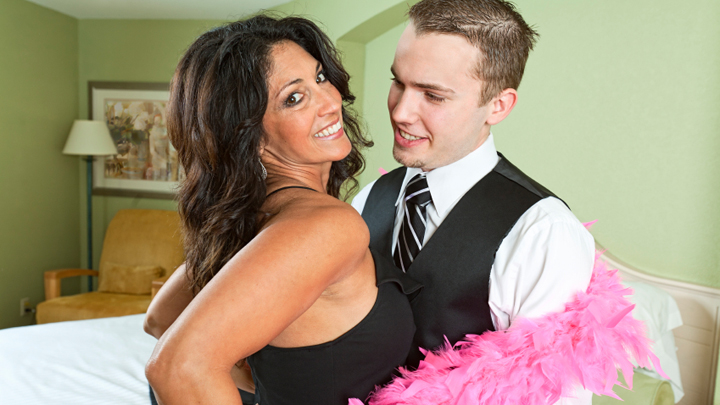 Nearly 40 years ago I did something quite scandalous! I dated, then married, a man 10 years younger than myself. I was an original Cougar!
Oh, the comments were delightful: "Some men want to be mothered and so that's why they marry older women". Oops – motherly? Me? Not that anyone noticed. If that was his reason for marrying me, he made a bad call.
"I can't imagine what you talk about, but I suppose the sex is good!" Now for me, whether sex is good or bad, owes as much to the mind as to the body, not the age of the partner. And guess what – he does talk (and the sex was and is good).
An older friend, however, said something which was a little sad "Oh lucky you! You will never be a widow!" I realised that this was important to her because her traditional, 10 years senior husband died when she was only in her late 40s, leaving her with teenage children.
We have our moments; I was at school before he was even a twinkle in his father's eye; in high school before he started school; I was at university before he went to high school. I was in the cast of Hair the musical, he was too young to even see it as a stage production. Later when it came out as a movie, I went to have a nostalgic look at my wicked past; he, on the other hand, went to see what it was all about. I went to the 40th reunion of leaving school; he went to his 30th.
Ad. Article continues below.
One of the distinct advantages of having a younger partner is that my outlook on the world broadened. I stopped seeing things only from the perspective of my age group. I started listening to different music and even went to a pop concert (one was enough)! I firmly believe my outlook on life changed for the better. From where we stand now, I ask what is the big deal?
If a male dates a much younger woman, he is applauded. It is only when a female dates someone many years younger that we feel the need to comment. If you meet an attractive younger man – go right ahead. It may or may not be successful; but what guarantee do you have that any relationship will be successful? Keep a sense of humour – people just love to tell you what's wrong with your relationship and when the man is younger, they love to predict disaster.
40 years later, I am still a cougar and my toy boy is still MY toy boy. We talk, we laugh, we cry, we fight, we love and one way or another we get by. We are each married to our best friend. Our age difference is not a factor in our relationship; it is a fact we can't change, so why bother even thinking about it?
Age is just a number, younger/older, it's your choice. You are the only person who can decide what you want – you haven't done too badly this far, go for it. Have fun.
Show and tell time, have you dated/married a younger man?