'Inside I'm still the person who danced all night at parties'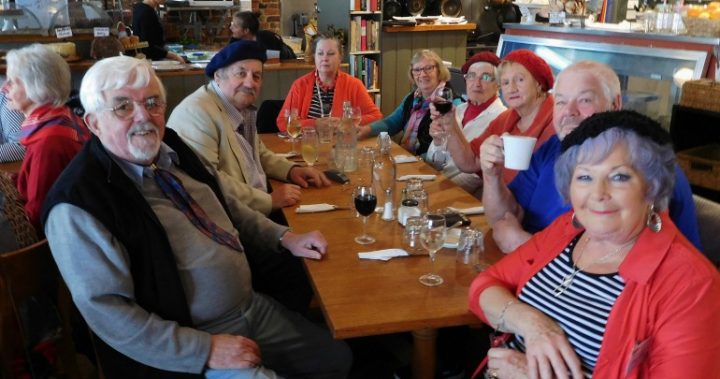 Okay, I might have lost bits of me – hair falls out, teeth disappear, marbles appear to be rattling and not working sometimes – and yet I am still here! Getting older is a nuisance, but beats the alternative.
So how does it affect you? Is it not being able to run for a train, dance without puffing, or climb steps? 
That is my problem; I have heart problems, and arthritis, yet still I can be seen now and then trying to move to some steamy rock band. It is a sight to behold and may cause distress to some, yet I love live music and still follow bands I used to enjoy. It is still a joy to have spirits lifted by music. Inside my head is still that crazy person who danced all night at parties. She just can't move the way she did once.
Memory lapses, forgetting names of people – that one is just plain embarrassing isn't it? So we find ways to fudge it! Yet in the end, if we are still friendly with so many people we forget the names of, then that is a plus. Having friends is the important thing. We live in a small town and have been well known as my husband was a councillor for three years and I worked in aged care. That way you meet a lot of people and even have your face in the paper now and then, and I am secretary of U3A which has opened doors to more friendships. Being socially active is another big plus, and helps us age well, or so the 'experts' tell us. It takes an effort to go out sometimes, but just do it if you can.
I hate the march of time, especially when it marches and shows where it has been on my face. The tracks of time are evident, yet I repair the ravages every day, and put a very brave face on; my way of fighting back. I wear make up every day. Who knows, it might have even had a hand in protecting my skin?
Ad. Article continues below.
Anyway, at 78 I am still able to go about the town without frightening the horses. Full war paint is better than looking dead as I do without lipstick.
What about the soul, as I have mentioned mind and body? The real person, the one who lives a life that is still meaningful, inclusive and interesting? The way we live also shows on the face, and if you look at the world through miserable eyes and try to find fault with everything, it shows. If you try to find the sunshine, and see the best in people that also shows.
 Not always easy, I know. Our lives have had a lot of sadness and still we struggle on a small income and with illness, but given a chance to celebrate we are the first to join in. "Life is short" is my mantra, and we do need to be happy all the days we can. The choice is yours.
Has your experience of ageing been similar to Jacqui's?