I am the queen of cushions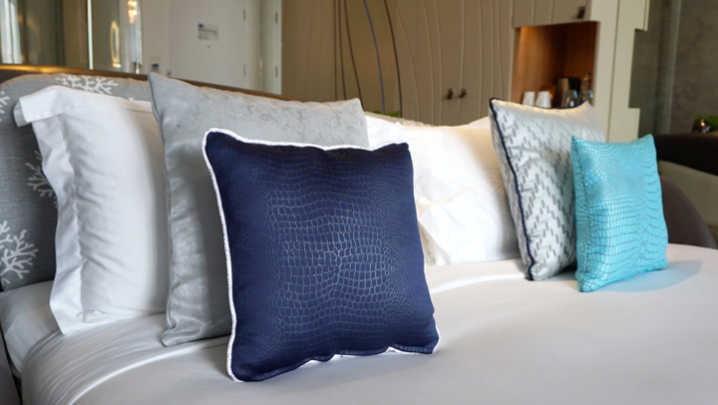 As I saw the sale sign, my breath quickened and my heartbeat increased. The adrenaline soared through my body. I love cushions and I love a sale. I am the cushion queen. The little decor shop next to my work had a sign outside, sale for a few hours only so in I went. Three beautiful cushions (for only $20). I walked off happily to put them in the boot of the burgundy Barina. It was then that I pondered, how many now? Hmm I think that the total is now 25 cushions. Now in a mansion that would not be a problem, but in a tiny little granny flat, it might seem a tad, well extravagant.
My love of cushions came because they were an easy and cheap way to change the look of a room. Most of my furniture is good but very bland in colour – lots of browns and beiges. So, I tart up the place a bit with some bursts of colour, or as the trendy people on design shows would say, 'pops' of colour. That would be OK if I could decide on my look.
Hmm, there has been minimalist Zen, Bali by the beach, beachy with driftwood shells, pale blues and neutrals, shabby chic with some faded florals, Moroccan bazaar with lamps, Japanese oriental minimalism with half a dozen kokeshi dolls, modern retro eclectic and right now, a mish mash of the lot. So, how do you hide 25 cushions in a tiny granny flat? Well, let me tell you it takes flair and commitment.
Firstly, I am blessed with a large outdoor verandah area, so 13 of them are out there adorning the table and chairs setting, on the chaise recliner to make it comfy and at the setting for two at the end. There are so many options to sit out there because its nice to catch the garden or sun, depending on which you prefer, so the choice is varied. I even have a chandelier out there to keep the plants company and it makes it seem like another lounge room.
Ad. Article continues below.
Inside I have a large brown leather couch with a chaise. I chose this in a hurry as I thought it would not show dirt and would go with everything, but it is a tad dreary. Hence, it is festooned with colourful cushions to brighten up the place a little. Then there is the cane stool with a pile of Indian kantha cushions (sort of embroidered) from my Indian phase. Then there is the blue pouf (the woman in the shop called it an ottoman, but I call it a pouf) with the Cecily cartoon from my sister because she thinks she (Cecily) looks like me, then there is the bed, with a set of grey mohair cushions to match the grey mohair throw. The cat and I have to fight the cushions to find a place to sleep. So do the visitors. Is that why they don't return? Are you bored yet? Sorry about that.
But when will it stop? I was in Kmart and I saw another, it was perfect and only $10 so I bought it. The colour was perfect. Now I have 26 cushions. I came home from work and found another on my outdoor table. It was red with Russian babooshka dolls on it. I was puzzled and through that two of my outdoor cushions had met and created a designer baby, but no, the accompanying note was from a friend saying that it was for my birthday. Now I have 27. I definitely cannot do minimalist and I hate getting rid of them in case my 'look' finally gels.
So, what is your decorating style? Any tips for me on finally deciding what my decor look should be?
To write for Starts at 60 and potentially win a $20 voucher, send your articles to our Community Editor here.