How to find a hobby that improves your mind, body and soul on a tight budget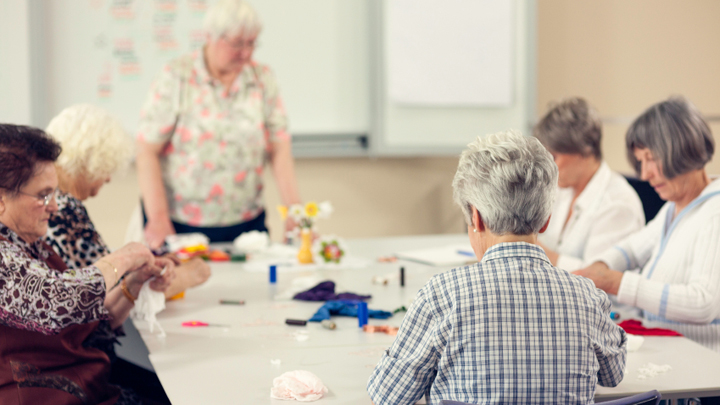 If you think you can't afford to learn new skills, learn a new language or join an exercise class you may be looking in the wrong places.
I live in a small city but understand how hard it can be to find new groups in rural areas so will concentrate on a wide variety of ideas.
First port of call may be your local council. Most are on the internet and I know ours has a list of different groups. Our council has a wide variety of free activities during seniors week. If yours does also, take advantage of it. That tai chi class might be just what you're looking for.
Our local U3A has an annual membership fee and we can then join any of the activities for free. And there are many to choose from. It differs with each U3A. We have a speaker each week on a wide variety of subjects. I learn creative writing at ours where we pen short stories and writing exercises. I instruct the drawing class there. It is always good to volunteer your own skills to those who want to learn. Once again you will be able to find your local U3A and the classes they run on the internet.
Men's Sheds are great for males. Being female I don't know too much about them, but I have heard some great reports.
Ad. Article continues below.
Church groups have some classes you can join. My neighbour and I went to a quilt display a couple of years ago and were going to join the quilting group but have other things on that day.
There are many seniors exercise classes. These are often funded by the Government. Your GP, local Council or Google may be able to let you know of one. If it is a walking group that you are unable to find even with the help of Mr Google take a neighbour's dog for a walk (ask them first though). Or just get out and walk. Take your camera with you. We are so blessed that we can now delete photos off our camera. Remember the days when we would put our snaps into the chemist and we would be so disappointed with the result? Another exercise is gardening if you prefer to do your exercise solo. Also if you want to exercise by yourself have a look at different internet options or borrow an exercise DVD from your library.
Learn by volunteering. This costs nothing but your time and hasthe benefit of making you feel good that you're giving back to your community. Until recently I volunteered in an office for aged care. It meant I kept up my office skills as well as learning about community aged care. I've benefited by volunteering at our community garden. Free plants and knowledge as well as friendship is the benefit.
Local Seniors groups may have what you are looking for. If they don't maybe some of their members can point you in the right direction. It is always worth asking.
Think outside the square. My neighbour and I have a stitch and bitch night once a week. It was originally for quilting, but now for any crafty/arty project we are on. We switch houses each week. Total cost is a cuppa. Say for instance you would like to start a craft group and don't know of any in your area. Start your own. Your local paper may have a community page that you can put an ad in for free or you can put up flyers. Once you have interest alternate between each other's homes. It works out to be too much work and too expensive to form a not for profit group. Rent, insurance plus paperwork can make it an expensive exercise, although there are government grants you can apply for. If you are fearful of letting strangers into your home make sure you have someone else (preferably a large male) there the first time.
Ad. Article continues below.
The things to stay clear of on a tight budget are:
Activities that require purchase of many different materials eg scrapbooking
Private classes. Art classes come to mind so join a painting group instead. I know the one I belong to is happy to accept beginners and we teach as we go and keep fees to a minimum. Paints aren't cheap though, but that is one of my few vices and what I normally get as a Christmas gift from family. If you are thinking of taking up the guitar, buy a 2nd hand one first. I remember years ago I decided I wanted to learn to ride a bicycle so asked for a 2nd hand one for my birthday. The man got me a brand new 18 speed contraption. I tried to learn in the back yard, being chased by the dog and licked each time I fell off (which was often). That bike has remained in the garage ever since. Unfortunately my bones break too easily now to go back to learning to ride.
Some hints on keeping it within your budget.
I enjoy knitting at night while watching TV. Patterns are expensive. I recently found some great free patterns on the internet. Wool is so much cheaper out of season, so stock up in spring. Same goes with fabric.
I've recently joined a spinners and weavers group. I found them in the local paper and have always wanted to learn to spin. Having never done spinning or weaving I'm takng it slowly. They suggested to start the weaving with a small loom and gave me the details where I can get it. So instead of breaking the budget and going into debt by buying a large loom I went along to the group first. Imagine if I'd gone along after buying a loom and not enjoyed the people there and not returned. I'd be stuck with a loom. So, take it slowly.
Buy 2nd hand: For every new craft or activity you take up, someone else is giving it up and selling.
Ad. Article continues below.
Think about what you want to learn and why. Is it for employment opportunities, to meet new people, or because you always wanted to learn that skill? For employment make sure it results in a certificate, if it is for social interaction most groups allow you to sit in on the first class without paying so you will then know if they are your type of people.
Lastly, sometimes it may be a course or activity that we really want to do but is not within our budget. Save for it. Last year I did a soap making and home- made skin care products 2 day course as I wanted to make my own due to allergies to store bought ones. At Christmas friends received gifts of home- made skin-care products. They really appreciated them and I guess I recouped part of the cost of the course in this way. I also go to a printmaking class. I could not justify the cost each week, so one of the others and myself share the position in class, alternating weeks. It works because we are doing our own projects, not class activities that require step by step instruction.
Have you found a way to enjoy your life without taking out a loan? Can readers add to this list?
To write for Starts at 60 and potentially win a $20 voucher, send your articles to our Community Editor here.