How to find a real bargain in op shops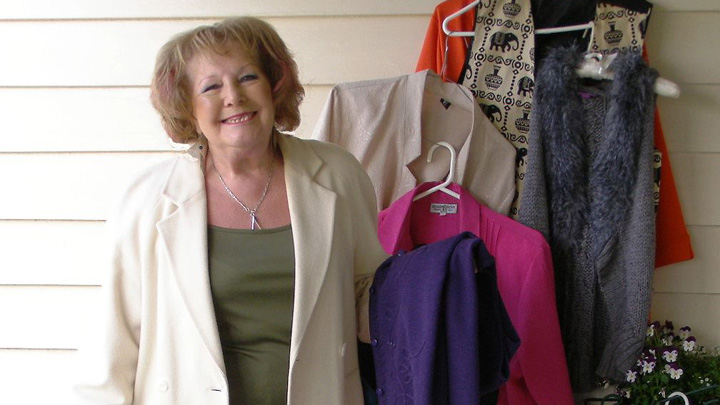 So many people I meet say, "I can never find anything in 'op' shops." OK, so sometimes with rows of old cardigans and shapeless pants that can be the case, but I think you should approach it in the same way you look for property. LOCATION. If you really want discarded designer dresses, you will not find them in a working class suburb. But wherever you hunt, keep eyes wide open, and your mind too! You never know.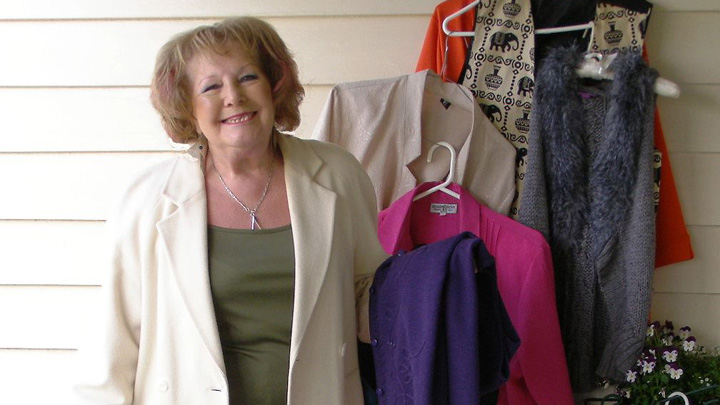 I look for wearable things that suit my life, so I go to my favourite charity shop with a sort of 'shopping list' of things I need. I have a champagne taste on a beer income, so I try and supplement my wardrobe for a few dollars.
Ad. Article continues below.
Look for colours you like that will blend in with things you already have. Look for better labels like Country Road or others making quality garments. Things from the chain stores don't seem to wash as well as they once did. Try to look for older items as the material is so much better! I bought a pure wool coat, classic cream, for 12 dollars on holiday in Tasmania. Yes, even when on holiday I can't resist.
Try larger sizes since sometimes wearable things are hidden in the 'plus-sized' section. I am a fan of loose coats or dresses worn over pants and a camisole. It covers those bulges too.
I find things in what they lovingly call the 'dress-up' section. I am a bit of a drama queen, so I love scarves and soft, floaty skirts. A recent buy was a long summer dress for hot days, which I bought for a few dollars. Make sure to try things you would not normally try. I have been amazed at the items I would not consider if I was paying a lot, but for a few dollars you can be brave. If it doesn't suit, pass it on to the local shop. A 'Lisa Ho' dress was one of my finds, along with a few other big names that I bought for under ten dollars. I made a small profit on when I resold them on eBay, but the shops are very aware of the big names now, and they price accordingly.
Everything has to be laundered these days so mostly items are fine, but I still wash or hang them out in the air. Shoes are a bit more difficult. I only buy new looking shoes and have found some pretty evening shoes that someone discarded because they hurt! Now I can't wear them either.
Ad. Article continues below.
When it comes to books, china, and collectables, this used to be a great source of my stock for a stall I did. But times have changed and buying a beautiful old china dishes, or finding a silver chain in the beads, is quite rare now! But if you have a good eye and know your collectables, it can still happen. Keep an eye out for children's books, illustrated if possible. Old annuals are very collectable, the sort of 'Boy's own' and 'Eagle' ones, and old cookery books can also be of interest. Anything with fashion drawings might be saleable too. I found a book of old postcard-type photos of Melbourne. China, well finding Clarice Clift or some other collectable is pretty rare, but it used to happen! I have a Wedgewood coffee pot that I bought for very, very little a few years ago. Cut glass is good, the heavier the better. Stainless steel and silver can still be found, and I discovered some pretty candle holders. Bone handled knives and forks are also a profit maker if they are in good condition or a little unusual. I know of people who make jewelry from old cutlery too.
Earrings, bangles, and beads are good, fun things to spend time browsing. It can lift an outfit sometimes, so look for the bold and the beautiful. We buy also buy old frames and paintings to use for our own paintings, as getting things framed costs a lot. But they could also be re-used for photographs in your home. Medals and military items also can be collectable. Toys, well I have no small children in the immediate family, but they do have bargain bags sometimes. I know people who buy them for their little dogs to destroy!
Ad. Article continues below.
There are opportunity shops of all types in most towns, Vinnie's, Red Cross, and some just run by a local church, they all deserve your support. So have a look. You may not be a convert and would never wear the clothes, but there are other items, so good luck hunting!
Let me know what you find or your very best bargain.
In the photo I have a coat bought for 12 dollars a dress under for 50 cents, most items shown were 3-5 dollars. I bought them in Sale or Traralgon.
Image: Jacqui Lee