How to experience the best 6 days of your life: Guide to Uluru, Kata Tjuta and Watarrka National Parks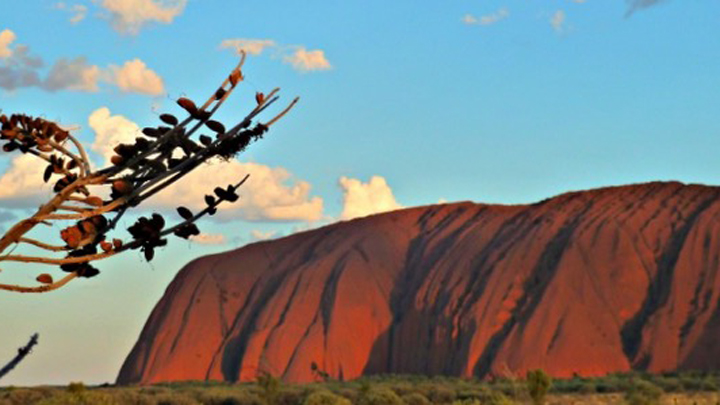 Firstly, don't put it off.
I spent 20 years dreaming of seeing Uluru.
But I kept putting it off by creating overcomplicated and convoluted potential plans until they became so complicated and so convoluted (not to mention expensive) the dream went back into the too hard basket for another day.
Because Uluru is so far from any of Australia's populated coastal fringes its tempting to think there's no point going unless the trip is made really worthwhile and everything is crammed into one humdinger of a visit… since you're there!
Mistake #1.
Trying to include everything in a see-all, do-all trip to the Red Centre (unless you're on a year long round Australia kinda trip) is not the way to go –
Ad. Article continues below.
If you've yet to see Uluru (and you live in Australia) apply for that week off work now and follow my guide for how to spend the best 6 days of your life experiencing the wonderful, wild World Heritage outback in a way that will make the most of your:
time
energy
finances
create the most magic of memories and…
experience a trip that will make your heart sing 😀
The perfect 6 day guide for visiting Uluru, Kata Tjuta & Watarrka
Day 1 – Sunset at Uluru
Fly into Yulara – arriving about lunchtime.
Pick up a hire car for the duration of your 6 day stay.
Drive to accommodation –
Ad. Article continues below.
I wrote a guest post about budget options at Uluru on the website: Budget Travel Adventures – Check it out for details re: accommodation, transportation and food.
Cheapest option is to camp – And also has the advantage that you're a part of the landscape for the whole experience.
Current luggage allowances on planes mean its worth the cost of an additional piece of baggage ($30 on Qantas) to pack a small 2 man tent, 2 self inflating mattresses, 2 sleeping bags and pop in a couple of melamine bowls for morning muesli, basic cutlery and a small knife for making a sandwich for lunch – Pillows can be carried on!
Set up camp.
Take your inaugural trip out to the Uluru – Kata Tjuta National Park –
Uluru is about 18km (11miles) from the resort and camping ground at Yulara.
Entrance to the park is $25 per person for 3 days.
Experience your first views of Uluru – Drive all the way around it and be back at the main Uluru sunset viewing area for your first light show.
It's a good idea to click here to check out what time sunrise and sunset is for the time of year you're visiting – and mould your schedule around that.
Ad. Article continues below.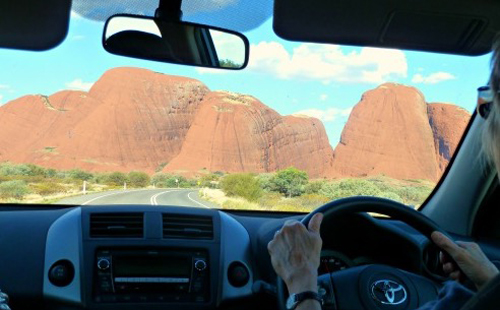 Day 2 – Sunrise at Uluru & Sunset at Kata Tjuta
Be up at least half an hour before light.
Yes I know you're on holiday, but do it!
Set out in the dark to the Park entrance, which opens a little before first light.
Hint: Take some muesli and small packs of milk (or food of your choice!) so you can enjoy breakfast at a more civilised time, after you've enjoyed the sunrise.
Drive out to the Uluru Sunrise viewing area – Talinguru Nyakunytjaku, which is on the far side from Yulara and watch the sun cast it's first rays on the red Rock, with Kata Tjuta taunting you on the horizon. Breath in the beautiful smell of the bush.
Ad. Article continues below.
After breakfast, as the sun rises higher, drive back to Uluru's base and meander up the Kuniya Walk for a km or so, and see the Mutitjulu Waterhole – Yes, there are waterholes at Uluru!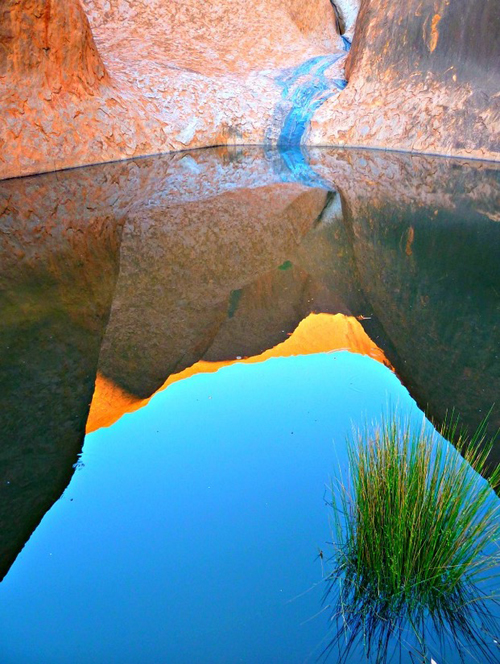 Due to your early start you can comfortably be back around the other side of the Rock where, alongside the Rock Climb, which the local custodians request you not attempt the Mala Walk starts.
At 8am every morning a Ranger will take you free of charge just a couple of kilometres around the base of Uluru on the Mala Walk telling and showing you all manner of wonderful things that in just a couple of hours will enrich your visit.
As it starts to heat up head to the Cultural Centre situated just 1.6km (1mile) away from the Rock.
The Cultural Centre is built of mud bricks in a flowing organic shape and is full of everything you'd want to know about the region including information on the 400+ species of local plant life, 21 species of mammals, 73 varieties of reptiles, 170 different birds, 4 types of frog, as well as insights into local culture that includes video footage of indigenous ceremonies.
Ad. Article continues below.
There's also a café where you can grab some refreshments while still soaking up the view of Uluru – There are also a few shops displaying indigenous art.
After the early start, and full morning, consider slipping back to your base for a afternoon nap… so you'll be ready for a late afternoon walk out at Kata Tjuta, which is a 50 minute drive (53km/33miles) from Yulara.
There are two walks at Kata Tjuta and the shorter of the two – The Walpa Gorge Walk being 2.6km return is a perfect early evening walk for today.
After which, retreat to the Kata Tjuta Sunset viewing area to watch this landscape transform with the sun's evening rays.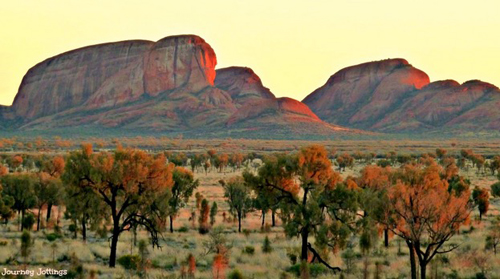 Ad. Article continues below.
Day 3 – Kata Tjuta
Another pre-light start!
Head out to the Uluru – Kata Tjuta National Park to be at the Sand Dune viewing platform while it's still dark and hear the dawn chorus and watch the first rays of the sun come up behind Uluru (in the distance) and turn the sides of Kata Tjuta's domes red. (Kata Tjuta in Pitjantjatjara means 'many heads')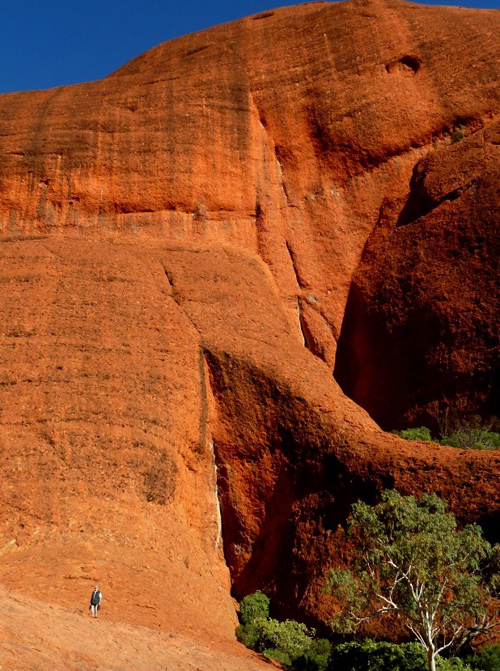 Move onto the carpark at Kata Tjuta (for breakfast) and prepare for the longer 7.4km (4.5miles) Valley of the Winds Walk.
Many people say they feel a greater spiritual connection in the Kata Tjuta landscape than even Uluru –
Do add in the comments below how you react.
Stop off at the Sand Dune viewing platform again on the way back.
The atmosphere as the sun is hitting its zenith is a totally different experience in this outback landscape to the early morning light experienced just a few hours earlier.
Ad. Article continues below.
Enjoy an afternoon nap, tea and cake at the Cultural Centre or a drive around the whole of the Rock again before heading back to the Sunrise Viewing area (where you were yesterday morning) to watch the sun set from this different angle – behind Kata Tjuta.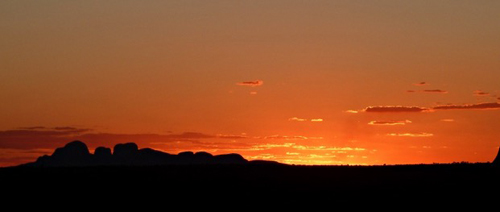 Day 4 – Watarrka National Park
Sleep in (if you can) before packing up camp and pulling out before breakfast.
Start driving towards Watarrka – Kings Canyon (305km/185miles) and as the fancy takes you pull off the road – not at an official stop – for breakfast.
OK, there'll be the 'odd' car going past but essentially all you'll hear is the wind whistling through the Desert Oaks, and you'll get to see animal tracks in the red, red sand and maybe some camel footprints and dung. Not to mention the wild-flowers hidden amongst the spinifex grass.
Ad. Article continues below.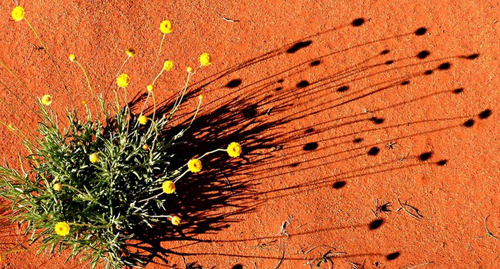 Stop off at Kings Creek Station (265km/165miles) for a bite and a drink and a peek in their souvenir shop (where guess what – you'll spy our Australia Journal Maps!) then either set up camp here or decide to go onto the campground at Kings Canyon Resort.
If you set up camp here you can later go for a sunset camel ride or even try out a dune buggy!
If you choose to go onto the Resort, go up to their viewing platform to watch the sun catch the George Gill Range and Carmichael's Crag.
But as its still early, head on towards Kings Canyon and take the right-hand turnoff (about 10km/6miles) to Kathleen Springs.
Here there's a 2.6km (1.6mile) return walk designed for people with limited mobility and shows another side of the region with the remains of a stock-yard, and a cool spring fed waterhole at the end to sit quietly beside and listen to the wind rustle through the long swaying grasses nearby.
Go onto the Resort to set up camp or return to the Station if you've chosen to stay there.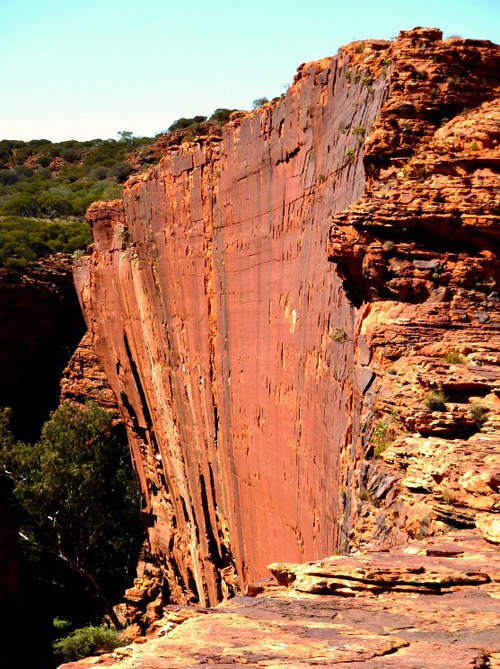 Ad. Article continues below.
Day 5 – Kings Canyon Rim Walk
An early start is undoubtedly best when embarking upon any activities that require exertion in this arid desert landscape so you're not out in the heat of the day –
All the information I managed to source before we did the Kings Canyon Rim Walk (click on the link to read our experience) indicated we should allow 3 – 4 hours to complete it, but we took 5 hours stopping to breath in the atmosphere, admire the views, observe the bird-life and soak up the vegetation in the Garden of Eden.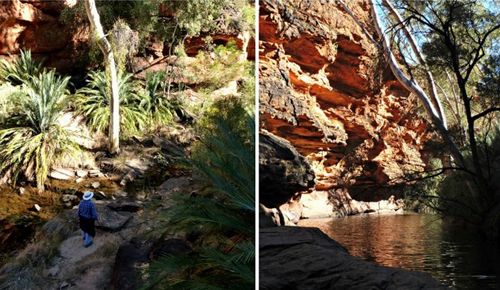 Return to accommodation to relax for the afternoon and either do the opposite activity if at the Station or, at the Resort see if there are enough people to have an Under a Desert Moon dining experience (particularly if it is near a full moon!) These are far more intimate than the Dining Under the Stars offered at Uluru as there's a maximum of 12 guests, but they require a minimum of 6 to go ahead and sadly on the night we were there, there weren't sufficient
Ad. Article continues below.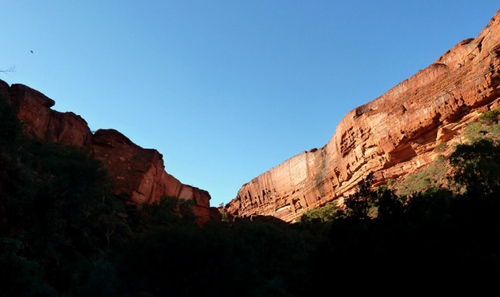 Day 6 – Kings Creek Walk
Pack up camp and head back to Kings Canyon.
The Kings Creek Walk 2km (1.25 miles) up the canyon floor I felt, was touted as the consolation prize for those not feeling up to climbing the 500 odd rugged rocky steps to complete the 6km (3.75 miles) Kings Canyon Rim walk that circumnavigates the top of the canyon – But it's simply 'different' so I thoroughly enjoyed the complementary experience of seeing the Canyon from the river bed and felt it completed the trip.
Drive back to Yulara (about a 3.5hour drive) for your flight home.
Ad. Article continues below.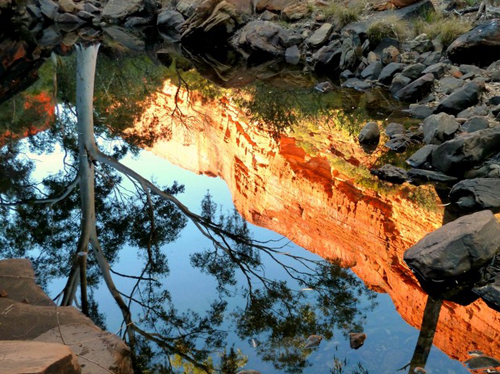 Summary
Day 1 – Uluru Sunset
Day 2 – Uluru sunrise, The Kuniya Walk to Kapi Mutitjulu waterhole (1km/0.6miles), Mala Walk to Kantju Gorge (2km/1.2miles) and the Cultural Centre at Uluru. Late afternoon – Walpa Gorge Walk (2.6km/1.6miles) and sunset at Kata Tjuta.
Day 3 – Kata Tjuta sunrise from the Sand-dune viewing platform followed by the Valley of the Winds Walk (7.4km/4.6mile). Sunset from the sunrise viewing platform at Uluru.
Ad. Article continues below.
Day 4 -Drive to Watarrka stopping both in the outback and Kathleen Springs
Day 5 – The Rim Walk at Kings Canyon  (6km/3.75 miles)
Day 6 – The Kings Creek Walk (2km/1.25 miles)
I've done a rough tot up and you can experience all of this for about $1,000 per person, if two of you are sharing the hire car and fuel – and you camp!
Australia is a huge country – in fact its not only the size of a continent, it is a continent – a massive island continent. So, rather like the problem of 'How do you eat an elephant?' – Its not by trying to jam it in all at once…
Ad. Article continues below.
Have you been to Uluru, Kata Tjuta, Kings Canyon? How did you combine up the three?
Originally published here on Journey Jottings by Linda Fairbairn.
To write for Starts at 60 (and potentially win a $20 voucher), send your articles to our Community Editor here.