How I survived the five-two diet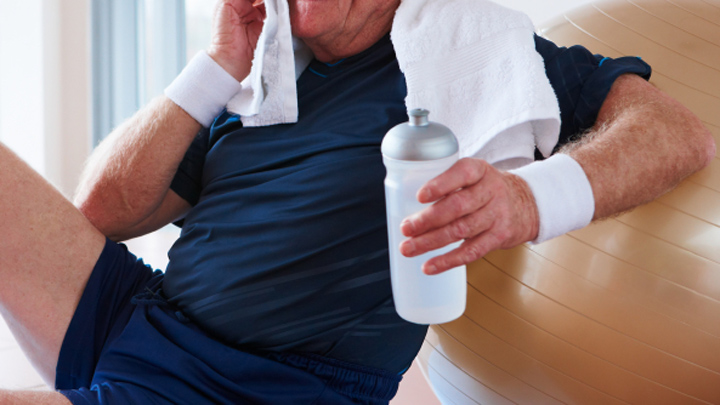 She kept telling me I'd be sorry, but I really hadn't the foggiest notion of what she was talking about. It was probably to do with the fact I was seated in front of the computer (what, again? Yes again!) trying forlornly to come up with something interesting to write about.
We've been having these on-going discussions about dieting and the need to reduce portions. The doctor, in his infinite wisdom, has decreed that I need to lose a few kilos, especially about the middle. To be honest…he's right! Damn him! Anyway, we've embarked on the 'five-two diet', which means that you fast two days a week; or to be precise you limit your calorie intake to 500 on those days. Thankfully, you can gorge yourself on the other five days. Consequently, the day after a fast day is a bit like a Roman orgy at our place. Part of the plan also includes some moderate exercise – a 30 minute walk around the block each day, weather permitting. Rather perversely, I've been praying for rain just about every day!
My doctor, who is disgracefully thin, is a strong advocate of walking. So much so that he frequently decamps to exotic places to trek for miles through mountainous regions, along famous 'walks'; including Patagonia at the southern end of South America; the St James's Way pilgrimage route to Santiago de Compostela in the Pyrenees; and the Overland Track at iconic Cradle Mountain in Tasmania. As far as I know, he's also trekked up and down all the various walks here in the Blue Mountains as well. Personally, I reckon that he'll be sorry… eventually! I haven't got an aversion to exercise per se, although my standard line used to be, 'whenever I felt the compulsion to exercise, I'd go and have a little lie-down until it passed'. Of course that is driven by the fact that I have an interesting physique and I tire easily. Sadly, that little avenue of pretext has now been closed to me.
Ad. Article continues below.
That said, I do attend an exercise session every week at the hospital called CALM. It's an anagram for Chronic Airways Limitation Management and so, given my penchant for anagrams and acrostics, I daresay it was inevitable that I would attend that class rather than hoofing around the neighbourhood avoiding snappy dogs and the odd kid on a BMX. I'm obliged to traipse up and down the hospital corridors using a walker, trying to avoid collisions with nurses, patients and visitors. There are other implements of torture or weapons of mass reduction if you like, such as exercise bikes, weight machines and the like; not to mention leg extension machines, step-ups, stairs (going nowhere), weights, dumbbells and other human dumbbells such as myself!
I also do a couple of sessions a week in the hydrotherapy pool, also at the hospital. Here you have to execute several manoeuvres against the constant movement of the heavily chlorinated water. It's not too onerous, but the perfume of the chlorine is quite over-powering. It's rather sobering to realise that chlorine was first used in World War I as the first gaseous chemical warfare agent – I suppose it's sort of appropriate in 2015, being an anniversary year that chlorine is still used to clean toilets and swimming pools. Now for a short chemistry lesson: two chlorine atoms form the diatomic molecule Cl2 – a yellow-green gas that has a distinctive strong odor, also known as 'mustard gas'. It makes me feel patriotic every time I plunge in!
Your Yellow Ribs are a dead giveaway, such a coward you turned out to be,
While you still can, Oil Your Sly Brew anything else is quite repugnant to me.
What does that mean? Lines from a World War I poem perhaps? No it's simply an anagram of 'You Will Be Sorry'. Indeed there are times that I'm very sorry that I started on these exercise programmes. Exhaustion is not uncommon and some days, I feel as if the cure is worse than the condition. I'm definitely an indoor person. Lassitude is a lost art.
Ad. Article continues below.
I like to sit on the couch in the afternoon on Wednesdays after I've been to CALM. Often, after the exercise and a shower to freshen up, we repair to the local club for a Chinese lunch special and a glass of wine. No I don't feel sorry; perhaps a tad guilty. Back at home after coffee, maybe we'll watch a repeat of 'Midsomer Murders' and later on (if I haven't fallen asleep) we'll watch the British quiz show 'Eggheads'. It's exercise of the mind, don't you know? Oh dear…'Eggheads' isn't being shown, and a glance at the TV guide indicates that it is conspicuous by its absence. A quick e-mail to the ABC elicited the following response: 'Hi James, (with regard to Eggheads) the ABC has played all episodes that we have the rights to. Thanks, Leah'.
But they don't show it on IView! How will I cope? They'll be sorry!
What diets have you tried? Which worked for you? What other exercise do you combine with a healthy diet?