How doing volunteer work can lead to paid work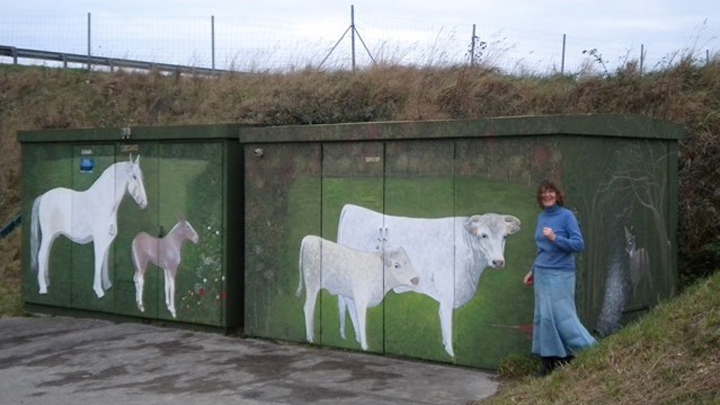 Knowing I am an artist, in 2009, the mayor of the French village where I live as an English ex-pat asked me to paint a mural on the housings of the two concrete electricity relay stations, each 4 metres by 2.35 wide and 2.19 high. They were on the outskirts of the village next to the wind turbines and had been covered in graffiti and the mayor thought that if they sported murals they wouldn't be 'tagged' anymore. The electricity company, EDF, had said they would pay for the paint.
Exactly the challenge I needed to stop me slipping into lethargy in my retirement years. I was 67 years old and had run out of necessary things to do – well, there were lots of necessary things to do but all involved spending money whereas painting the murals, although to be unpaid work, didn't involve any expenditure.
I proposed the four seasons as subject matter featuring sheep and lambs (spring), a white Boulonais cart horse and her foal (summer), a white Charolais cow and her calf (autumn) and a deer at a woodland's edge (winter) with lots of other wild animals and birds native to our area. As I could only cope painting for two hour at a time and then not every day, this took three months to do. When it was finished the mayor and councillors organised a big inauguration with the area manager of EDF attending as well as the press, I was given a bunch of flowers and sparking wine was served for the speech of thanks. Not only was the mural featured in the local newspapers but also in EDF's international newsletter to employees. It seems that this was an experimental project for the company to see if mural-painting prevents graffiti. That was 6 years ago and not only have my murals been left unscathed by vandals but the first-class paint provided by EDF has survived winter weather, however the green of the grass has become a bit sun-bleached.
Ad. Article continues below.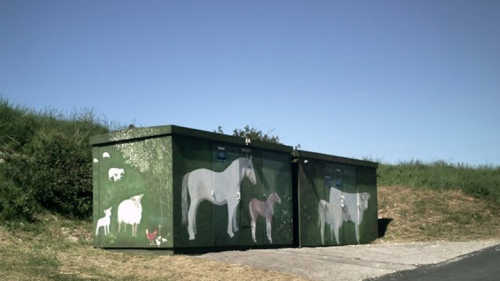 There was outcome from my voluntary work, I was asked by a farmer to decorate a milk churn with horses for which he paid me €40 as well as giving me vegetables. Pleased with that, he asked me to decorate another, this time with sheep, again he paid me €40. EDF had let me keep all the remaining paint and each colour is a 1 litre can at nearly €40 each and several of the paint brushes supplied survived use as well, so that was payment in kind for, apart from green and white, hardly any has had to be replaced since then and I've dipped into the paint often because the farmer's cousin, Beatrice, paid me €40 to paint chickens and cockerels on a milkchurn she had, then Christiane, a friend of hers, asked me to paint farm animals . €40 doesn't cover the work really considering the amount of hours I put in but at least I'm earning something and Christiane asked me to do another which I'm still doing the second one at present. Then, a year ago, the son of a farmer came to see me and asked me to paint a coat of arms. He was off to medical university in Belgium just a two hours drive away to study to be pharmacist and the tradition was for new students to be allocated a coat of arms relative to where they lived and this was to be painted on the back of a white lab coat and on the first day they would be pelted with mud and not to be washed – ever – by the end of the 3 year training period the coat of arms would be hardly visible and the lab coat no longer white. Painting a coat of arms as well as the pharmacist symbol each side (a snake entwined around a chalice) made a nice change. For this work I was also paid €40. So add it up: 10 tins of paint at €40 each minus half the green and the white, so that €20 each instead so that makes €380 for basic materials to set me up in business and since then I've been paid €160 and will be paid another €40 when I've finshed Christiane's second one. Meanwhile I've used the paint to do three other murals for the village – one a landscape at the back of the stage in the village hall for which I was supplied with an additional tin of the green paint and more paint brushes and given a bunch of flowers and a box of Christmas treats and since then I've had to repair the mural because of damp seeping through the wall and pushing off the paint and for voluntarily doing that I was given another bottle of sparkling wine. I don't drink it but my daughter does, so I save it for when she comes to stay.
So there you go: proof that doing good deeds reaps rewards and that showing off your talent does too! I'd be interested to know if any Starts at 60 readers have experienced something similar.