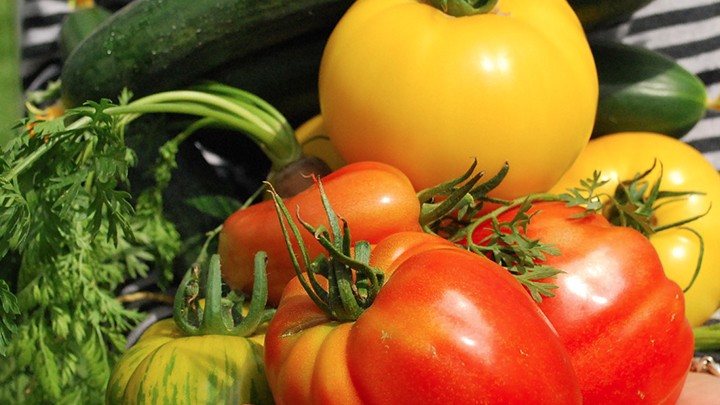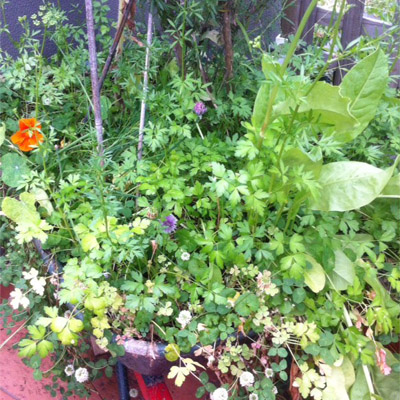 With silver beet, broad beans green and blue borage all in a row…
Yes, this was the veggie patch in winter, and there was more: parsley and beetroot, kale, broccoli and fennel. Unfortunately, the cauliflower seedlings were savaged by snails, but everything else flourished and kept us fed throughout winter.
Now, with the warmer spring weather, I am getting rid of the parsley that is going to seed, have pulled out the straggly broad beans and the borage. I have had so many bees to the garden thanks to the row of borage at the back – all of which were self seeded and I had enough to give away to friends and plant into other pots on the terrace.
I love the way the herbs start flowering in spring and now the parsley and lemon grass are covered in flowers but I am not allowing them to go to seed especially the parsley which tends to spread and take over. I was ruthless with the fennel as well and only kept two little bulbs which are fattening up fast. For the first time most of the garlic has survived and I am looking forward to harvesting my first crop in a couple of months. I have planted tomatoes and basil and yesterday noticed that the eggplant has produced a few fruit as well. More good things to look forward to with the beetroot almost ready for harvesting.
Ad. Article continues below.
This year I let my wheelbarrow (which is choc a bloc with herbs and edible flowers) do its own thing. It is now looking like a small meadow crowded with flourishing growth and spots of colour from the chives, nasturtiums, borage and rosemary all in flower along with the trailing native violets spilling over the sides – It is a delight not just to the eyes, but the bees are loving it as well. I guess I will have to replace the soil and replant it at the end of summer, but for the moment I am enjoying looking at it and all it produces.
I have enjoyed cooking with cauliflowers this year as they are in plenty right now and cheap. I usually save the stalks and leaves and use them in soups and have recently tried roasting a whole head of cauliflower brushed over with a spiced yoghurt mixture- this was delicious and an easy to do dinner, which I served up with a spiced split pea sauce which made a great vegetarian dinner.
Do you keep a garden? Do you grow your own vegetables? Would you like to start? Leave your thoughts in the comments below!
To write for Starts at 60 (and potentially win a $20 voucher), send your articles to our Community Editor here.