Hitching up the caravan after nine months of sitting still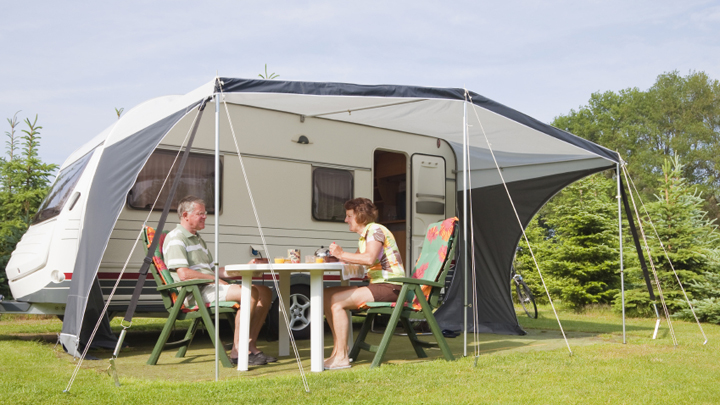 Here we are in 2015, the year we both turn 65, the year of the aged pension and a New Zealand Cruise.
I have an app on my iPad called Wikicamps. I heard about it from a caravan magazine some time ago. It enables me to look at satellite views of Australia and close ups of towns, and places of interest. During a time of virtual exploring I came across a spot called Pildappa Rock. When I did more research I was informed that Pildappa rivals Wave Rock in WA. OK, let's plan this trip.
I always get the collywobbles when bearings and brakes have not moved for a long period of time, so it was with a fair bit of trepidation that I hooked up the caravan ready to tow again. We went through our checklist to ensure all was in safe readiness. When all four wheels on the van started to turn my apprehension went out the window. The day we left was our 43rd wedding anniversary, our eldest daughter and her family, were camping at Port Broughton caravan park, so we decided to surprise them.
After an easy uneventful trip we pulled into the caravan park, and set up the van for a one night stay. I am a stirrer by nature and when we located our daughter's camp I started to call out for my granddaughter in a somewhat spooky voice. My eldest daughter decided she had enough of the weirdo calling for her child and came out ready for a fight. To say we surprised them is an understatement. We celebrated our anniversary at the local pub with half our family.
By this time I'm starting to feel comfortable with towing our caravan, so we pulled into Crystal Brooke free camp (right next to the main railway tracks). Despite a few very large trains, and drivers who loved using the whistle, we had a peaceful sleep.
Ad. Article continues below.
We stayed at a pretty magnificent place on our way to Minnipa on the Eyre Highway, it was a working sheep station, literally in the middle of nowhere. Great place west of Port Augusta on the Eyre Highway.
After a 300 kilometre trip we turned the corner to Pildappa Rock, I had arranged to meet some other nomads at the free camp, via a forum at the west wave. Happy hour was brilliant, these folks were entertaining and an instant friendship developed. The next day was a trek to Murphy's Haystacks on the west coast of Eyre Peninsular.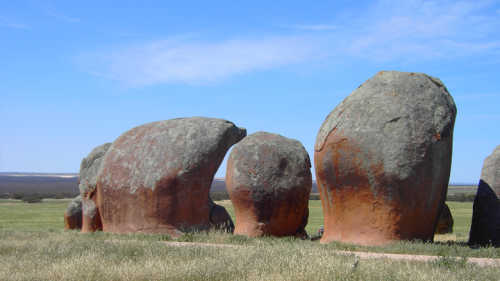 This site was mentioned in wikicamps as a free camp. On arrival we were disappointed as the ground was very sloped and in my opinion unsuitable to stay. However the haystacks were breathtaking.
Ad. Article continues below.
After a few days at Elliston caravan park we headed to Kimba free camp at the showgrounds. The caravan parking area has a lot of trees, one of them decided to jump out and get friendly with the top section of the caravan and manage to leave its mark (should I say gouge) where they had met (I had just run into my first tree, and holed the caravan). Other than that mishap, Kimba was a great place.
What a magnificent free camp, we were parked near the new toilet/shower block and a cricket oval. I watched the Saturday afternoon grade cricket limited over match. The free entertainment was great.
When we left Mallala, I didn't release the handbrake on the caravan. We travelled some 60 kilometres with the handbrake fully engaged, when I pulled over at Gawler I wondered why the four wheels were smoking. I had burnt out the brakes completely. This meant the next 120 kilometres would be rather fun. Needless to say, we arrived home safely and in one piece. The insurance company and our children got a huge giggle out of these mis adventures, however I was told I wasn't the first one to do these things and wont be the last.
The caravan has been repaired, thanks to the insurance company. We can now have a good laugh about my bad skills (now much improved) and we have the memories of a great trip, seeing things we drove past on previous trips. Our decision to take on this lifestyle is vindicated every day. Next trip is on Voyager of the Seas this November, then we are off to Perth for fifteen weeks, trekking from Esperance to Broome. That will be the next story.
Have you had any spur of the moment trips recently?