Hince on Wine: Red Obsession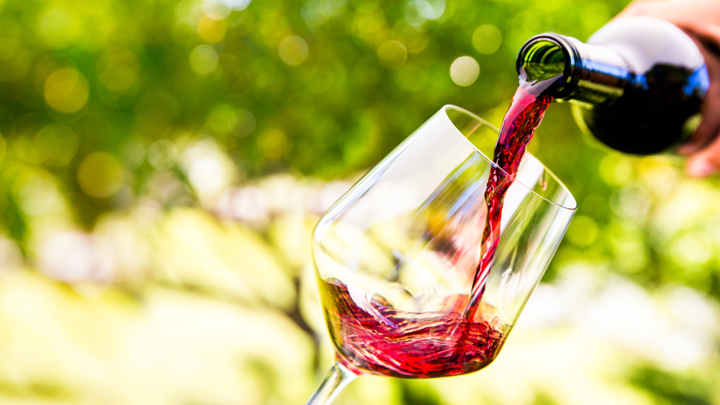 For many, sparkling reds remain a bit of an enigma, relegated to an occasional novelty when served chilled at Christmas dinner on a boiling hot summer's day or when accompanying a lamb chop at an Australia Day barbecue – Mr Lambassador Sam Kekovich take note!
I've been a closet sparking red drinker for yonks, mostly Shiraz. Till recently it's been an ephemeral style with a chequered history that's never really taken off among mainstream drinkers.
Maligned, marginalised and summarily dismissed by serious critics and the wine cognoscenti in much the same way as sparkling wine and rosé once were, sparkling reds have long been an acquired taste, mostly among we ageing baby boomers.
And for good reason, as many of the earlier Aussie sparkling reds were an execrable afterthought, crudely carbonated and sloppily made from inferior fruit. They were invariably syrupy, full-on, overpowering, and tannic fizzy fruit bombs – a legacy from which the category has never fully recovered. Anyone remember Orlando's Cold Duck?
Of course there are, and have long been, exceptions. I remember the stunning 1982 Irvine Sparkling Merlot, a trail-blazer. Then there's the classic, bottle-fermented, aged sparking Shiraz typified by Great Western of which the Seppelt Show Reserve Sparkling Shiraz is a good example.
Ad. Article continues below.
And the likes of Bests, Bleasdale, Peter Rumball, Rockford Black Shiraz, Primo Estate's Joseph, Charles Melton Sparkling Shiraz, and the aforementioned Irvine Sparkling Merlot – among others. Sadly the Mount Langi Ghiran Cliff Edge NV from Western Victoria is no longer available.
The appeal of wines of this ilk lies in the savoury, spicy complexity that bottle age imparts and their creamy, smooth luxuriant mouth feel. Visually in the glass their mousse looks like liquid caviar!
These top quality wines, well-made from good fruit, with character and finesse deservedly live at the higher end of the wine price wall, however at best represent a niche market.
Despite their inherent quality they can be technically fiddly and time consuming to make, expensive to store on lees and thus are not always an attractive commercial proposition. That partly explains why there are only about 70 Australian producers. As Wine Australia has no sparkling red classification, this figure is a guesstimate.
Unfortunately both the inferior and superior were once classified as Sparkling Burgundy and Australian sparkling red drinkers were known as Spurglers – a term coined in 1991 by wine scribe Ian Loftus, the creator of what was once known as National Sparkling Red Day.
Ad. Article continues below.
Though sparkling reds are not unique to Australia it's a matter of debate as to whether sparkling Shiraz is.
For starters many an Italian Lambrusco, as distinct from Australian-made imitations, can be classed as a sparkling red, of which the Lini 910 Lambrusco Rosso from Correggio, Italy is but one. The French also make an appealing sparkling Loire red called Bouvet Rubis Excellence Sparkling NV Red, made from Cabernet Franc.
Back in Australia – just as our sparkling white wines and rosé have come of age, now it may be sparkling reds turn as McLaren Vale III Associates' Sparkling Squid Ink Shiraz has just won the first trophy, a Gold Medal, ever awarded for a Sparking Red in the 31 year history of the prestigious International Wine Challenge (IWC). And a 2007 Gatt High Eden Sparkling Shiraz from the Eden Valley took out an IWC Silver Medal.
Though this highlights Shiraz as the pre-eminent sparkling red, other varietals like Cabernet Sauvignon, Merlot, Durif and even the obscure Chambourcin are emerging. You can now get your hands on a sparkling Saperavi from Gapstead in Victoria's Alpine Valleys and an equally intriguing and palatable Conte Estate 2014 Lacrima di Terra (preservative-free) Sparkling Lagrein from McLaren Vale.
For the most part South Australia and Victoria are home to sparkling reds.
Ad. Article continues below.
Innovative, talented winemakers are starting to take this category seriously, partly in response to younger wine drinkers' quest for new and different wine experiences.
One such winemaker is Damien Cofield from Cofield Wines at Rutherglen in Victoria's North East.
"In addition to the big sparkling red producers I think there are plenty of smaller makers making seriously top quality sparkling reds that would benefit from an initiative to broaden the appeal of such wines" says Damien.
"We sell heaps of it at our cellar door however many younger consumers have yet to discover the appeal and versatility of such wines. You can drink young Non-Vintages that overflow with exuberance or indulge yourself in a top bottle aged sparkling red", Damien concluded.
Opening and pouring an exuberant, frothy sparking red and watching the mousse cascade down the side of the glass could well appeal to many a wine drinker, especially the young.
Ad. Article continues below.
What better way for some Gen Y's and millennials, currently drinking whites, like sweetish Moscato and a drier Prosecco, to transition from whites into reds than via a well-made sparkling red.
Today's sparkling reds are made in a range of styles, textures and palate weights from sweet to semi sweet to bone dry – to satisfy the most discriminating palate.
So I suggest you pop the cork on one sooner rather than later – and please let me know your thoughts.
Here's to some liquid red caviar!
Cheers!
If you'd like to write a blog for Starts at 60 – we'd love to hear your stories! See our guidelines here and submit your articles to us here.