Healthy eating tips for Christmas!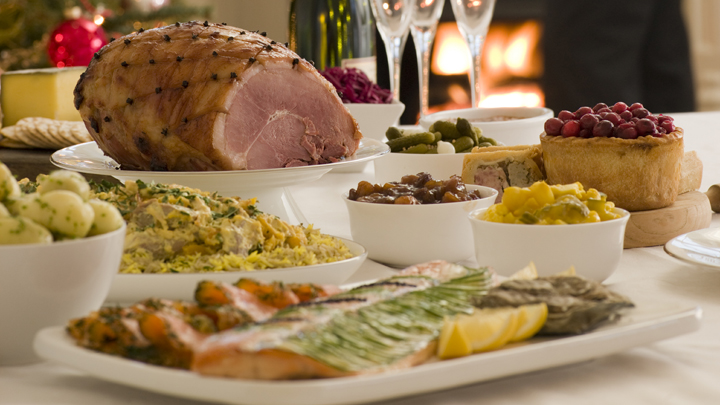 Surely this title is an oxymoron – how are you supposed to keep your waistline under control with all the beautiful Christmas food items on offer?
I love traditional Christmas fare: turkey, ham, Christmas pudding and cake, mince pies, shortbread, nuts, sugared jellies, brandy sauce, egg custard; etcetera, etcetera, and etcetera. I am however facing a first world dilemma.
You know I am an amply proportioned woman, but since June, I am less amply proportioned. For my own and hubby's health and supervised by a nutritionist, a physiologist and our GP, I began a healthy eating plan – I hate the word diet with its overtones of denial, it's sooo negative. I am no longer a generous size 22, I am now a comfortable 18 heading, slowly but surely, towards a size 16. Losing weight is not easy at any age; it is even harder when your birth certificate says 1949.
Now, I have never met a chocolate, crisp, biscuit, pie, nut, sauce, lolly or custard I didn't like. Worse still, "all things in moderation" just doesn't work for me. When I open biscuits, or unwrap chocolate, the chances of storage being required are nil, zilch, zero.
On the other hand, there are some things I intensely dislike and am happy to leave undisturbed: walking shoes, anything resembling gym equipment, aquarobics classes, rowing, treadmill or cycling machines and barbells of any size or weight. Sweat to me is a total anathema.
Ad. Article continues below.
Since starting our healthy eating plan, we have changed the size of the plates we put on the table. The huge dinner plate is out, in favour of the entree or side plate size, with ¾ of the plate taken up with salad or vegetables. The protein and/or carbohydrate fits into the remaining quarter. We have started walking and doing some light exercise six days a week…mostly.
So I love food and hate exercise – you can see my dilemma. How do I enjoy Christmas and still keep off the kilos?
Thankfully, I'm off "the party a day" merry-go-round, making healthy eating easier; no delicious fried finger food replacing one or two real meals a day. For the parties I do attend, I'll have a small meal beforehand and stick to drinking water, not soft drink. I won't totally refuse to eat, but I'll be careful which nibbles I choose.
My work life ran smoothly because of organisation; I'm applying this to our Christmas. I totally refuse to forgo all treats, but will apply the skills I've learned to doing the least amount of damage possible. So we have THE PLAN:
Remember Christmas is only one day; the shops will open "tomorrow" so I don't need enough food for an army, just the usual amount, plus some special items.
Love turkey and ham; found a deli where I can get just a few slices, carved as I watch – more expensive per kilo, but ultimately more economical, no landfill.
My wonderful Christmas pudding recipe is retired for 2014 – it feeds a large family for a few weeks. Instead, I bought a packet containing two single serve puddings – the treat without the leftovers. To serve I'm adding fresh sliced mango to reduced-fat greek-style plain yoghurt. Don't need brandy butter and custard.
Mince pies – couldn't find a two pack, but I checked the fat, sugar, salt and energy and found one that met my criteria.
Purchased naturally dried cranberries, which I'll plump up in water and mash replacing cranberry sauce.
Heaps of homegrown lettuce, cucumber, carrot, beetroot and tomatoes served with a homemade dressing of light balsamic vinegar and fresh herbs.
No alcohol and no soft drinks; mint and pineapple or lemon, lime and mint infused iced water (I'll have a bottle on ice just in case hubby feels like wine)
One packet of chocolate covered sultanas from the cheap shop (their packets tend to have small quantities), a snack size packet of crisps and the smallest packet I can find of candy sticks, mainly for their decorative appeal.
Christmas week, I'll buy fresh fruit, replacing the usual fare with the Christmas delights, cherries, mangoes, peaches and anything else I can get for a reasonable price. BUT I won't buy such large quantities we feel obliged to overindulge.
Ad. Article continues below.
That's the plan, enjoy what we would usually have at Christmas, just enjoy it in smaller quantities.
Merry Christmas!
What do you do to have a healthy Christmas? What are your healthy eating or diet tips? Tell us below!