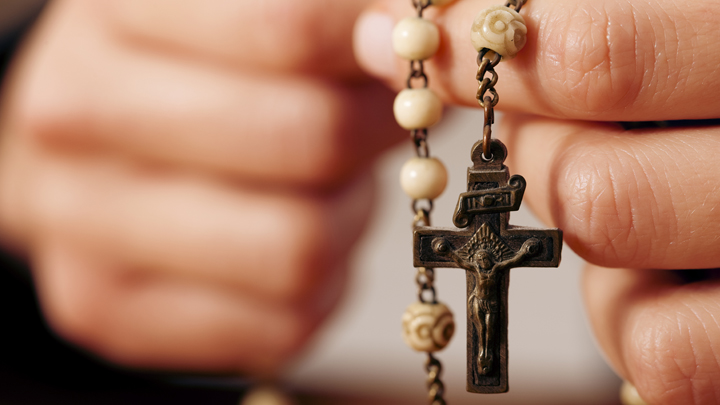 I was brought up in a typical 50s Catholic household. Dad was Catholic, Mum changed from Church of England to Catholic so she could marry Dad. We were sent to private schools, we were also sent to Church every Sunday morning but I don't recall Mum or Dad ever going with us.
One of my Aunties gave me a holy picture every time she saw me – not my siblings just me; she must have thought I needed saving. Another one of my Aunties was a Nun in the Little Sisters of the Poor Order; she was at The Drummoyne Convent, attached to an aged care facility. I remember going there a lot as a kid, we use to have lunch with the Nuns. I remember the silverware: it was amazing and the lunches were always very lavish. The Nuns were all very nice, but with all the same brown habits and glasses, I found it difficult to tell them apart.
When I was in primary school, the priest lived within the school grounds – I did not like him one bit. It was quite intimidating: the Nuns and the priest would wander the school grounds but those Nuns were nice, except for the old dragon that use to make me talk with marbles in my mouth. I had a strong lisp and they didn't like it, they called it speech therapy, swallow one and you were as good as dead so the lisp died back pretty quick.
We were made to go to confession every Thursday and mass every Friday, I hated having to tell the priest what sins I had committed during the week; I never knew what to say so I use to make stuff up. They believed all the rubbish I would come out with because he would give me a bucketload of prayers to say. I never did any of the stuff I told him, so I never said any of the prayers, but then he would he would visit our family home. I would always have to change my underwear when I saw him at the front door, especially if it was the day after confession.
Ad. Article continues below.
First Holy Communion was a big deal back then – you had to get dressed up like a little bride, line up with all the other little brides and be given a round piece of edible something that was obviously mass produced in a factory full of underpaid workers. That little round piece of whatever it was represented the last supper and if you didn't eat it and go along with all the garbage they went on with, you were going straight to hell to burn for an eternity. Getting all this drummed into your head from age 5 tends to become you; their beliefs become your beliefs.
Everything changed when I started high school. Sisters of Mercy…yeah right. I was a straight-A student until I went there. They did everything possible to intimidate, humiliate and crush your self esteem, and they didn't like me because I was different – I fought back, I broke rules and I never said their daily prayers, and every Friday morning when the school was in Church, I wasn't. I would get there just in time to jump the back fence and join in the line up as they were coming down the Church steps – I got away with that for a long time. The Nuns mentality was a case of "Do as I say or burn in hell"; I got very sick of hearing that and when I threw a match at The Mother Superior she told Mum either she take me out of the school or they were going to expel me.
Needless to say I started at the local public high school a week later. I didn't really fit in there either. I was wagging school more than I was going and I was at the headmistress's office before she even got there most days! I remember getting her secret stash of scotch out of her drawer, pouring her a morning drink as she walked in the door of her office. She did not appreciate the gesture at all and after 6 short, turbulent months, my school life was no longer. I went from having religion shoved down my throat for years to a school where the headmistress was hammered by the home bell; nothing made sense to me.
Now being older and wiser and especially after the past few years I have no religious beliefs. I have seen to many bad things and there are way too many crackpots and made up religions for my liking. We get the odd Jehovah's Witness knocking on the door. Obviously they are dyslexic because the sign on the gate clearly says, "Jehovahs Beware, Catholic Dog"!
What was your school life like? Was it like Christine's? Did you do anything naughty? Tell us below.