Gone swimming: our weekly indulgence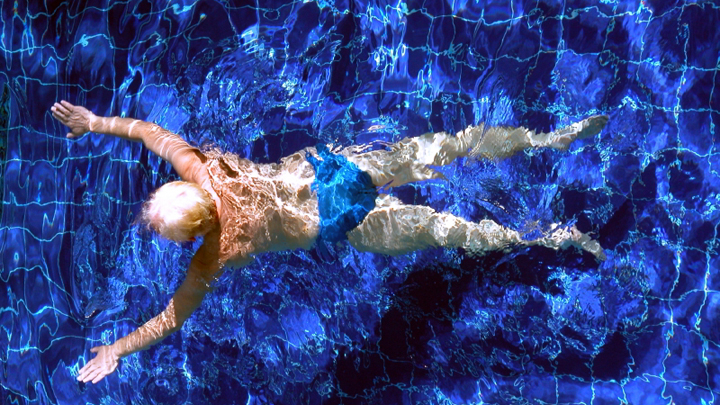 Jacqui and I go swimming every Monday morning; not such an easy task as you might think because we have to travel 70 km in a not-too-comfortable twelve seater bus to get there, and we have to be on the bus by ten to eight, so that we get to the Sale Swimming Baths by nine, can swim for about an hour (more on that in a moment!), and then spend another hour on the bus, getting home by about 11, just in time to get lunch ready by 12!
I say we go swimming, but that's not absolutely true. We do get in the water, which is about one and a half metres deep and we do wallow about in it, but very little actual swimming goes on. You see, the pool we go to is really what you'd most likely call a therapy pool I think. It's part of a fairly large group of pools, all quite recently built and opened, comprising an Olympic-sized, cool water one; the 'therapy' one we use, which is also used to teach youngsters of about one year up, and a sort of splash pool where youngsters can have fun in comparative safety. There are also two large outdoor pools.
The Olympic pool is full of cool water, as are the outdoor pools, but the one we use is full of water at a temperature you'd be quite happy with in your own hot bath at home! I confess, it feels a bit odd at first, as you walk down the long ramp into the water, you feel that staying in it will result in being boiled like an egg, but it's wonderful when you become accustomed to the temperature!
It also helps, that everyone else in there with me is at least 60 years old, and with figures, some of them, actually make me look comparatively slim. So I now stroll down that ramp with an air of confidence about me, quite different to the way I felt the first time we went there, some two or three months ago. I always try to get a few 'lengths' in while I'm there, usually at a very sedate breast-stroke these days, nothing like the elegant crawl I used to do 50 years ago. At least, I always thought it looked elegant – it may have looked like the death throes of a whale for all I know!
Ad. Article continues below.
I used to be able to swim two miles or more then too; I find a 100 metres is about the limit now, but even that is near to 90 metres more than most of the other bodies in the pool, who mainly like to stand about, water up to their necks, chatting! The trouble is, I always used to be fairly competitive when I was young, and I suppose a little of that silly attitude is still hanging about me even now. Also, it's been a very long time since I went regularly (or ever!) to a pool and part of my excitement is the fact that I find I can still swim at all, even with my old bones and worn out muscles!
I have to admit, both Jacqui and I feel great when we complete the hour and climb back up that long ramp leading to dry land. The combination of light exercise coupled with really warm water works wonders, and we always feel much more than just refreshed on the bus heading back to Yarram! I can now understand why the Romans used to love their hot pools, in a world that was much harsher than it is today. To them the experience must have been close to rejuvenation, most likely the only all-over cleansing bath most of them had, and they loved doing it in public too! I've seen the facilities at the Roman Baths in Bath and the changing areas and even the toilets were very much communal affairs – no privacy in those days!
Jacqui was the first to go swimming and she encouraged me to go with her a few weeks later, something for which I shall be eternally grateful, because I have found it to be as great a pleasure, if more limited now, as it was when I was a kid!
Ad. Article continues below.
Oh good, only another three days and we'll be off to the pool again!
Do you go to the local pool? How often do you go? What do you do there? Tell us below.