Giving my heart to a Purple Heart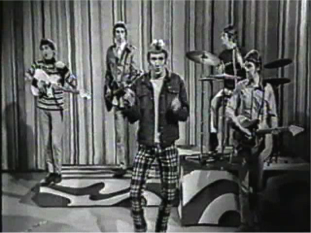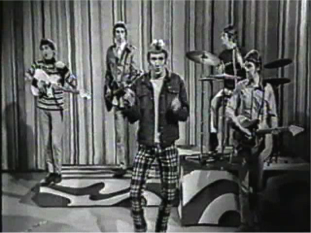 In the sixties I was in love with the lead singer of the band called "The Purple Hearts". I loved the way he moved with such freedom and even though he often wore tartan pants, I thought he was very sexy. I used to watch them on television on The GO Show. I wasn't supposed to as back then their music was labelled the "devil's music" and they were banned from playing at our school formal. Does anyone remember their saucy songs, "Long Legged Baby", "Put a Tiger in Your Tank" and others? They were very tame by today's standards but quite revolutionary at the time. https://www.youtube.com/watch?feature=player_detailpage&v=lHAZ5OImXvE
The years rolled by and I forgot my Purple Heart and made some very poor choices in husbands. When I was in my early sixties, I found myself living alone and enjoying my own company. My life was full as I was writing and working in my own coaching business. I was also enjoying some dinner dates with interesting men with no desire for another commitment.
Ad. Article continues below.
One morning my daughter appeared at the door declaring that she had dreamt that she must put me on RSVP. I objected strongly, but she persevered and sat down at my computer and filled in my details. I met a few nice men but I decided that it wasn't for me and decided to get myself off the site. As I was doing this, I received an email from a rather persistent man saying that as I was a writer, he would like to take me to the writer's festival. I was less than enthusiastic but we agreed to meet the following week. He said that he would carry a rolled up newspaper of the London Times and the password would be, "The moon shines brightly over the steppes in April". I was torn between thinking, "This man is a wanker!" and "Hmm, this could be interesting."
Unexpectedly, we both knew that something special was happening almost straight away. After three weeks he proposed and I almost fell off my chair. I didn't envisage living with anyone, let alone taking on another marriage. My son did say to him on their first meeting that most of the weddings he had been to were his mother's! Luckily I had been up front about some happenings in my life.
He had been a romantic suitor but when it came to the proposal, there was no ring at the bottom of the champagne glass. The proposal took place at Harry's Fine Diner as we enjoyed a pot of tea and some toasted cheese and tomato sandwiches.  Harry's will always hold special memories for me.
Ad. Article continues below.
Later he told me that he had been asked to sing at the Jazz Club- would I like to come? On the way he warned me that he wasn't the best jazz singer and I was fearful that I might be embarrassed for him.
When we arrived at the venue, he introduced me to a man who told me that he was excited that my date was singing as he had been a fan since the sixties. I was surprised especially when he asked me if I knew who my date was. I told him that I knew him as Michael Hadley… and then the great revelation happened. I was going to marry none other than Mick Hadley, lead singer of The Purple Hearts, the man who had stolen my heart so many years earlier. Those who know of Mick will understand that the humble, gentle Englishman in normal life, became a dynamic turbo engine on stage and I found myself feeling glad that I had fallen in love with the quiet one as this was a different beast altogether.
Ad. Article continues below.
How blessed I feel for the following magic years. I walked down the aisle to my beautiful man singing, "Wild Thing, you make my heart sing." And that became his signature song for me. In fact, if you Google Lyn Traill you will find a clip of him dedicating this song to his "wild wife". https://www.youtube.com/watch?v=aQTMQ0ZsfZY
Three months later he was gone. I only found the clip after he slipped away, leaving a huge void in my life but one that he urged me to fill- and I am keeping my promise to him.
So – the question is- how appropriate is it for people over sixty to go on dating sites? I'm aware that everyone doesn't meet their prince as I did, but is it worth a try?
Ad. Article continues below.