Friends at 5: How our community gets together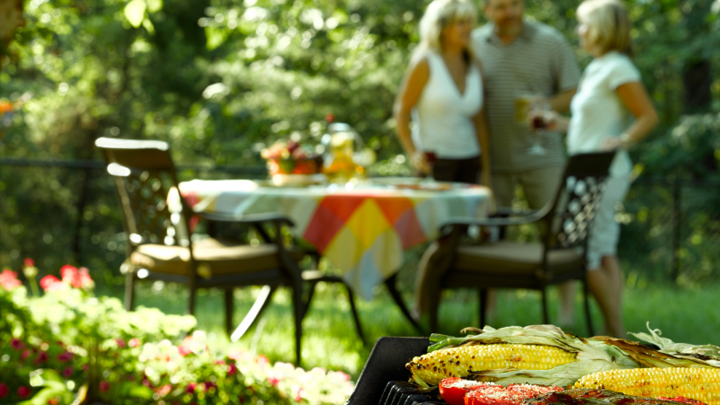 "Every adversity, every failure, every heartache carries with it the seed of an equal or greater benefit " says Napoleon Hill.
Who is Napoleon Hill you may ask? A writer who lived in the 1800s, and I only know that because I Googled him. But whether you know him or not, is irrelevant, but what he said is very pertinent. Take the Brisbane floods in 2011, what a devastating event that was. Did any good come of it? Yes it did! A greater benefit for sure. But let me put you in the picture with the local community.
We feel lucky to have bought into the local community. For some time we had thought about "downsizing". The kids had left home, the empty nest syndrome had abated, and we were free to go where we wanted. Walking the dog one day, we saw a For Sale sign up – a single story house with a little garden, undeveloped so we could add our own personality to it, but something we could move in to comfortably. As real estate agents say "in need of love". At least it wasn't a renovator's delight, which always seems like an oxymoron to me.
Our son had been saying for years "All you do is work away at weekends, you need to get a place where you can relax".
I guess that was the final stimulus to motivate us. Why should we spend every weekend catching up when we could bike ride, go hiking or relax with a good book?
Ad. Article continues below.
A few weeks later we were standing outside our new possession anticipating our move when a neighbour called out, "Too late! It's sold".
"Yes… to us!", I said back.
She came over to us, hugged us, and said "Great news, welcome to the neighbourhood. You won't regret your decision. This is the best place to live. When do you move in?"
We walked back home wondering what the neighbourhood really was like. People often say they have a great neighborhood but it was only after the floods we realised what she meant.
Here we are 5 years later, thinking about the relevance of that original comment. We had an inkling of the friendliness shortly after we moved in, rapidly getting to know the locals in the street, meeting them outside while mowing lawns working in the garden, and it is has always been a very sociable and outgoing area. Some nights people pop in for a drink or wander down the road looking for someone on a veranda to chat to.
Ad. Article continues below.
But it hasn't always had an easy run. In January 2011 we had a setback: floods.
Sitting with the neighbours around 10pm in January 2011 on the night we were waiting for the creek to stop flowing, had a major impact on us all. The park was inundated with water, which had been slowly building up for three days and we were waiting for the creek to back up and flood our homes. It was an eerie feeling.We had prepared as best we could, individually, and together, helping each other as we listened to weather reports which foretold the doom and gloom. We all felt tired, fed up and anxious. We hoped we would cope with any influx of water, but we didn't know. We had the strange feeling that although the rain had stopped three days before and the creek kept rising, we knew what would happen. The predictions about the floodwaters were dire. Since there was nothing left to do, neighbors huddled together and waited for what would eventuate. In the dark as we gathered on the next door neighbours front veranda you could hear the creek rushing past.
"Break out the champagne, what else can we do? It's a waiting game now", Peter our neighbour said, and it certainly was. As the champagne flowed the fear reduced. "We shouldn't just do this because it is an emergency", someone said. "Let's do it regularly".
People chatted, talked and despite the pain, we joked, laughed and shared stories together.
"I won't leave here even if our house goes under, I like the people", said one neighbour. This really is a unique place.
Ad. Article continues below.
The sky darkened and we sat around a candle, like kids at a campfire.
"It's OK while you can hear the water", someone said. "It's when the silence comes that's when you worry", that's when the flooding starts, as the creek backs up.
We sat there listening, "Remember the time when?" We stopped.
Suddenly there was an eerie and total silence, the still air shut down our chatter.
"This is it, the silence," said our neighbour, experienced with floods. And that was it. A turning point. The water was backing up.
Ad. Article continues below.
I guess shortly after this is when "Friends at 5" started in our neighbourhood. The floods came, the water rose, the water receded, some of us travelled in canoes to survey the damage and we cleaned up. As people worked together helping each other, they became more united.
When the floods receded we started having drinks together on a regular basis; people would drop in to check on each other. On a Friday night you could see someone wandering around along the road finding someone to share a drink, a laugh or a chat, life moved on, people moved, babies were born, and the group jelled.
When Friday nights became a regular occurrence as a get together, we joked about putting a flag up on the nature strip. This would stop us having to walk up and down, like a town crier seeing whose house was open for that night. One of the neighbours got to work, and designed a flag, Friends at 5 was officially launched. Our flag is now put out somewhere in the street on most Fridays, and it marks the spot. Round 5 o'clock people gather and meet with whoever shows up, the "pot luck" approach to meeting the neighbours.
Some days two people may arrive armed with food and a drink, other times 16 people may be there, that's the relaxed style of Friends at 5. Stress free, time out, looking forward to catching up with each other. The oldest members are in their 90s and the youngest 2, so we can certainly claim diversity amongst the group and that's what gives it a special feel.
When Neighbours day is celebrated there is a sense of redundancy for us. We don't need to meet the neighbours – we know them already very well.
Ad. Article continues below.
Thinking back on the birth of Friends at 5, it seems that it has been strengthened by adversity. Napoleon Hill is right. The aftermath of floods can be so positive in a neighborhood and a great ritual to maintain.
Ironic isn't it, how things work out?
Do you have a close relationship with your neighbours?