Fried grasshoppers and sautéed iguana [Not So S.O.F.T.]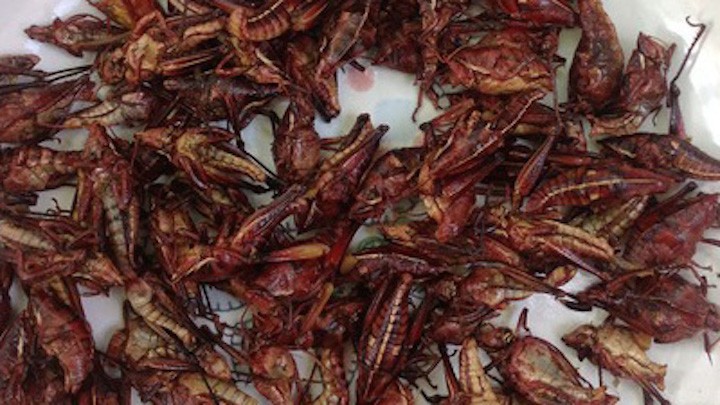 This is the next instalment of Champagne Dame's time in Mexico. To view the previous post, click here 
A real treat for the Aztecs or Zapotecs was a nice plate of fried grasshoppers.
We visited a local market near San Sebastian Etla where we sampled this delicacy, however I was not happy about eating the iguana at all. I must admit I only ate one and nearly threw up. I could feel the squishy bits going down and hopping around in my tummy. The Panama ate a whole handful… how, I don't know.
Apparently they are a great source of protein, so remember when the world has run out of meat, insects taste better with chilli and salt!
On our way back from the markets, we stumbled across a huge half completed disney world castle in the middle of nowhere. Like all things Mexican, it is not completed. Apparently 'completion' is a gringo problem.
Ad. Article continues below.
Monte Alban was an impressive Zapotec ruined city. It rose and fell several times before the Spanish arrived. How humbling it is to see these advanced and sophisticated civilisations reduced to nothing. Abandoned, or something more sinister? This is surely a lesson for all super powers of today.
The ruined city is high on the top of a flattened hill, overlooking the valley of Oaxaca. The (almost) 360 degree view of the surrounding countryside was quite staggering. As with most of these Pre-Hispanic ruins, the steps are massive which makes it quite challenging for someone like me with knee issues. The Zapotecs must have been giants!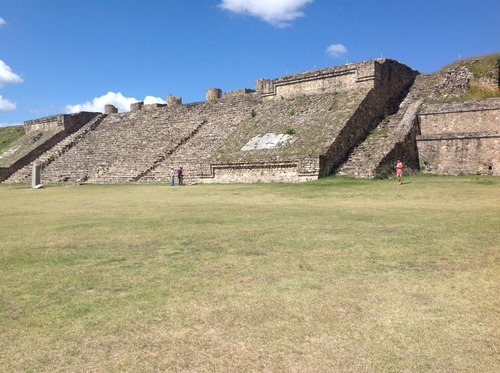 I did note that in the last period of Monte Alban there was a female dynasty, with some graphic murals of decapitated prisoners, some with genital mutilation. A weird thing happened shortly after, the night before we had mysteriously lost a new potato peeler, which our hosts were unable to provide. I had visions of myself at Monte Alban, waving my potato peeler, in anticipation of some mutilations! I told the Panama and I am sure he got nervous and hid it!
Ad. Article continues below.
Quietness is an elusive commodity here. We were awakened at 5:30 am on our last morning by school band practice, which was out of tune and very loud. I think it was the same tuba player who had kept us awake the week before. Who does that at 5.30 am?
In addition, the dogs were barking on the roofs all night. The uncompleted roofs are a great spot for rubbish and dogs. Our hosts just shrugged as if we were the ones with the problem when we said something. It would cause whole suburbs of cardiac arrests if this happened in slumbering Australia. The police hot line would not stop ringing, endless letters would be written to the local paper, and council alerts would put a stop to nonsense like that quite quickly!
But here in Mexico…
If you'd like to write a blog for Starts at 60 – we'd love to hear your stories! See our guidelines here and submit your articles to us here.