Which type of Christmas shopper are you?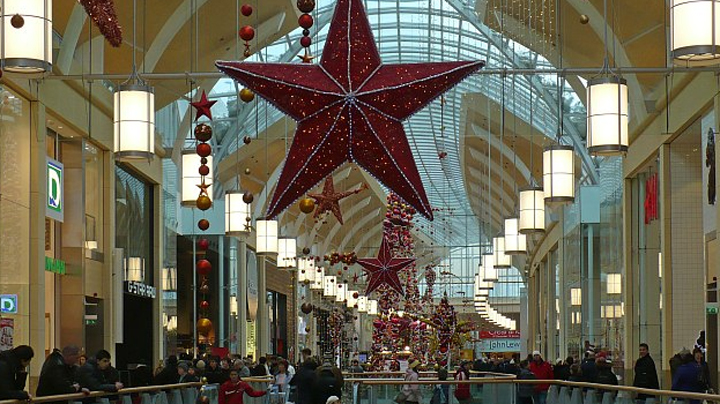 Christmas overload, or the season to be jolly?
I was in a crowded shopping centre today and was watching the different types of shoppers.  Some rushing, some strolling, some laughing and relaxed and some obviously fed up with the whole thing already! We all go about shopping in different ways. So which shopper are you?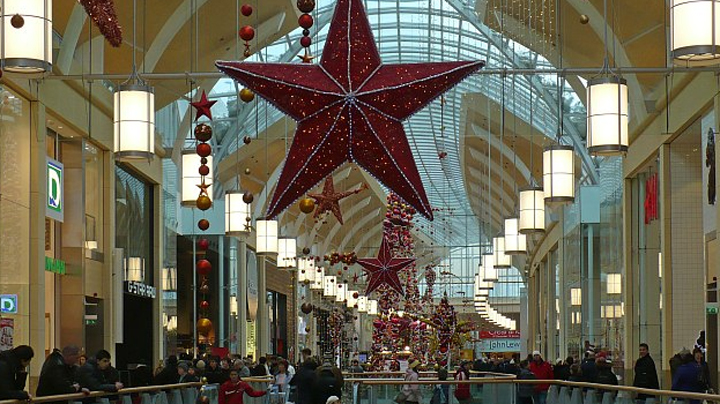 Ad. Article continues below.
Olivia Organised
Olivia organised has a list, the right bags, and an almost military precision about her methods. She will not be swayed by offers, she is determined and focused. No impulse buys. Her planning started weeks ago, she has all the Christmas gifts ready and wrapped by November. Her cake was cooked in October, along with the puddings. The cards are sent early and she has an email list to make life easy, she sends out thirty or more animated cards too. She is also very likely to have a list of the food she made last year and will stick to the same items. Familiarity is her friend. A ham, a turkey, roast vegetables, salmon and salads followed by her superb pudding and brandy custard. She runs her home like a well-oiled machine. Having packed it all away in tidy stacks, she sits down for a well-earned cup of tea.
Sally Slothful
Sally Slothful shops at the last minute; with two toddlers in tow. She buys all the bright shiny things she sees, and forgets her present list, so has nothing for Aunty Doris or cousin Marie when she checks later,  the children grab lollies as they pass the isles, and one had a tantrum at the checkout. She forgot to order any special meat and fish so they might end up with a cooked chook from the Deli and some chocolate ice cream for dessert on Christmas Day.  But as usual her Mum will come to the rescue and will have home baked cakes and a ham for the family lunch.  Sally looks forward to Mum coming because she does the dishes too. Sally buys twenty bottles of cola, and five sliced white loaves. A box of hamburgers and six boxes of fruit loops. Well you never know who might turn up do you?
Ad. Article continues below.
Cheerful Charmaine
Cheerful Charmaine shops with some planning, and has done her Christmas cards but not sent them yet. She tries to shop a week or two ahead and starts buying selected goodies to stow away. Her freezer has mince pies she made, and a pudding and cake she bought, good quality ones with orange brandy. Charmaine tries to count the cost, but can be a little reckless when it comes to chocolate and alcohol. Somehow the trolley is soon loaded with truffles and chocolate boxes, a bottle of gin, a bottle of brandy and some French wines.  They don't drink much, well, only socially! She then throws a bottle of coffee liqueur and a small Bailey's in the trolley too, after all one must cover all tastes! On the way home she has 'tapas' and wine with a girl friend, and just gets home before the freezer bag in the back of the VW self-destructs. There will be lots of parties this year so on the way home she buys a large box of Panadol.
Generous Gertrude
Ad. Article continues below.
Generous Gertrude likes to play 'Lady Bountiful' buys lavish gifts for everyone, and loves shopping. Her wardrobe is bursting with clothes still showing the price tags. Hats pile on the top of the wardrobe.  Costume jewellery escapes from boxes.  Her freezer overflows with salmon and lobster, divine desserts and beautiful baking she bought from a special shop in Carlton.  The Christmas shopping list includes luxury crackers, designer decorations, and new crystal champagne flutes. There are flowers to order, the game and fish to organise the vegetables and fruit, and the bakery to attend to.  As her bankcard takes the load, Gertrude looks happy, she is doing what she knows best, spending money! As she scans the list she is happy to tick off most of the items. She leaves the drinks order to her husband, the bit she loves comes later, wrapping the parcels and giving them out. Christmas is such a wonderful time of year.
So which one am I? I suppose, honestly, a bit of all of them. I am organised in some ways, try to keep to my lists, write cards early but then forget them! I go a little crazy when I see the bright shiny things, and would love to give lavish presents. I buy too many chocolate things sometimes. We buy the odd bottle of spirits only once or twice a year so we don't drink too heavily. But I remember both our parents used to buy sickly sweet drinks that they never drank like egg nog and cherry brandy, they really just sat in the cupboards for years. We also used to buy jellied and crystallised fruits and bags of walnuts… We no longer do that!
This year is simpler than most, just a seafood platter, fruit salad and some mince pies. Well, I might make another cake, and a trifle, and perhaps a potato and bacon salad… Or try that super looking salad I saw in a book. Have a happy Christmas whatever you do, enjoy the family, and stay healthy.
Everyone has their own Christmas shopping style… So which Christmas shopper are you?