Flashback to the fashions of our era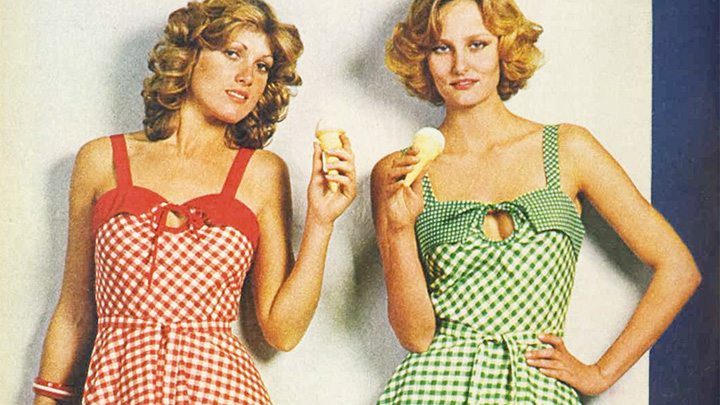 We all look at what the girls are wearing today and you could honestly say some of the nice local prostitutes are more fashionably and more conservatively attired than those girls attending some of the nightclubs. The fashion has become scanty and revealing and the mini skirts go shorter and more flimsy each day, leaving nothing to be imagined. Although we did wear miniskirts in our day, I felt our clothes were definitely less revealing, and probably had a lot more class, rather than this new "expose all" approach. Some of the fashions I wore in the late 1960s/early 1970s were:
1. Hot pants: ŠThey were actually just a one piece outfit that instead of a mini skirt there were shorts. Often the shorts had a turn up inch on the base and were fitted to a waist. All the outfit was one pattern or colour.
2. Keyhole dresses were the fashion. The keyhole dress actually had an oval shaped hole just below the neck line cut into the dress to reveal some cleavage.
3. Kaftans are still always in fashion but 40 years ago they were making them in wool or velvet fabrics and they would make great evening wear or day wear. They would put brocade around the neck and down the front centre of the outfit.
4. Mini skirts were longer than today's very mini, mini skirts and often came down to mid thigh or above the knee. I use to have a Denham mini skirt with one pocket in it that I wore everywhere, even fishing. I also had a number of mini skirt summer dresses that were fitted in at the waist with a slight flair skirt.
Ad. Article continues below.
5. Boots were all the fashion. I would wear white or brown suede boots that went to just below the knee with the mini skirt. "These boots were made for walking" and zipped up the sides, enhancing the outfit.
6. Flowing pants with wide bottoms came in late 1960s, early 70s before flairs. I had one particular pair that was black with large orange hibiscus flowers and wore these pants with a bright orange shirt. A bit colourful I know, but I had been living in Hong Kong for a year and the colours were a lot brighter over there.
7. The first bikini I ever wore was made out of an elasticised pink fabric that looked like bubble wrap. I must have been about 16 years old and met some friends at the beach at Surfers Paradise on the holidays. The sides of the bottom were about six inches wide and the top really covered most of my assets. Mother was very particular that I did not look too revealing. As time progressed my bikinis became less and less material, but were still fashionable.
8. In the early 70s the men were wearing high waisted pants, with flairs, platform shoes and long hair. I was not allowed to go out with boys or men with long hair and any strange outfits were definitely not on my father's approval list.
9. When I was married in 1971, my mother bought me some night wear for my honeymoon in the snow that looked rather like flannelette sacks with drawstring necks. I had hidden some more suitable night wear in my port. I had only ever worn pyjamas before this and mum really did not think more than "let's keep her warm".
So when you look back at the clothes you wore late 1960s or early 1970s what sort of outfits did you wear? Did your parents put any restrictions on your selection of clothes? Did you wear any particular fashions that we do not see out there today? Let us know: what were your favourite memories?