Family, history, luck, fate… It's all part of our background.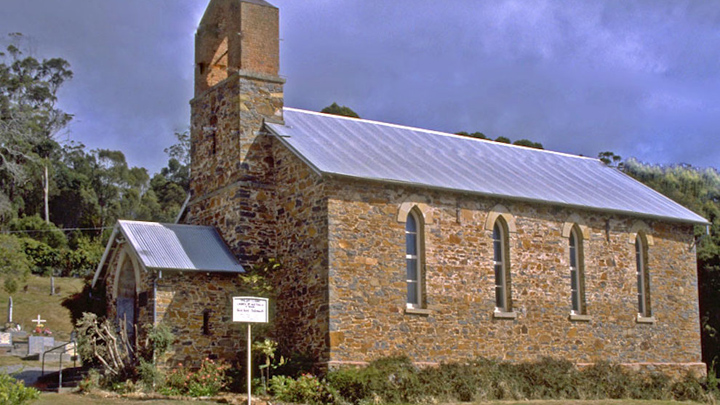 My great-great-grandfather died 159 years ago on 1st January 1855. There is no reason for you to think that unusual but bear with me a few minutes and I'll explain why I think you might find his story more than a little interesting.
The Reid family first arrived in Hobart Town 192 years ago this month. Wealthy Scottish merchants (Reid Place still exists in the old city of Edinburgh), they made the amazing decision to move to the opposite side of the world to become farmers!
Their arrival was low key, the following announcement appearing in the Hobart Town Gazette dated 18th January 1823:
"SHIP NEWS – Arrived on Tuesday last, the brig Urania, Captain W Newton, with merchandize (sic) and passengers from Scotland – This vessel left Leith on the 27th June, and her passage touched at Madeira and the Cape."
James Reid, my immigrant forebear, obtained a grant of land on the MacQuarie River at Campbell Town. Although making improvements to the property over the next few years, it was not considered appropriate to family needs; a plea to the governor facilitated their move to a grant on the West Tamar River.
Ad. Article continues below.
Mr Pilgrim, a local builder, constructed a home for them at Rowella. Now this home had a most accommodating hallway. Old James was a lay preacher in the Scottish church and held services for allcomers on Sundays. That hall catered for up to 36 people!
James was an instigator of and donor towards building The Auld Kirk at Sidmouth, which was consecrated in 1843. That is another story, but I need to tell you about a grave located in its cemetery.
Paired headstones in memory of my original forebears, James and Annabella Reid, are set in a prominent position overlooking the river. It is sad to note but the double plot bears no fewer than five remains, including three sons who predeceased their parents. An inscription reads, in part,
Sacred to the memory of JAMES REID also his three sons
JAMES was accidentally drowned 1st October 1843 aged 23 years
THOMAS was accidentally drowned 1st April 1841 aged 22 years
HENRY GRAY was accidentally killed by a fall from a cart 1st January 1855 aged 33 years
The merchant family became a farming family struck by tragedy. You will notice that each son died on the first day of the month. Thankfully, superstitions do not run in our family!
Ad. Article continues below.
The area in which the Reids lived had little land available for grazing. They sought and gained approval to grazing rights on the East Arm (from which the Batman bridge now springs), an area with excellent grass coverage. For the sake of milking, maintaining their herd and for animal husbandry, this meant a regular crossing of the Tamar at its narrowest point, the notorious Whirlpool Reach.
Two sons, James and Thomas, lost their lives when they and the dinghies used to cross the river were swept into a watery maelstrom. A third son, Henry Gray, almost came to the same fate. He and his dinghy were drawn into a whirlpool. The water swept Henry around but he had the good fortune to be thrust against an underwater stone ridge and managed to scramble ashore.
Some years later, Henry and Annabella, his mother, made the three day return trip to Launceston for essential supplies. On the trip home, coming down river, Henry fell from the cart and was killed. It seems a bit strange that he should simply fall and lose his life in tis way. He and his brothers were well versed in driving the cart.
One family record indicates that Henry was in fact struck by a widow-maker, a falling gum branch. This may have killed him outright but his fate was doubly sealed by his fall to the ground. Annabella, a slight woman, perhaps with passing help, laid out the body of her son on the cart and drove back to their Rowella home. What a dreadful journey for the poor woman!
So there, dear reader, I present a brief history of my early family. A sixth-generation Tasmanian, I am fortunate to tell the tale. Had Henry Gray Reid died in the river, rather than a decade later on that cart, I would not be here today!
Family, history, luck, fate… It's all part of our background.
Do you have interesting family history to relate? Please tell.