Fallen boulders in Oregon: A journey through gorges and mountains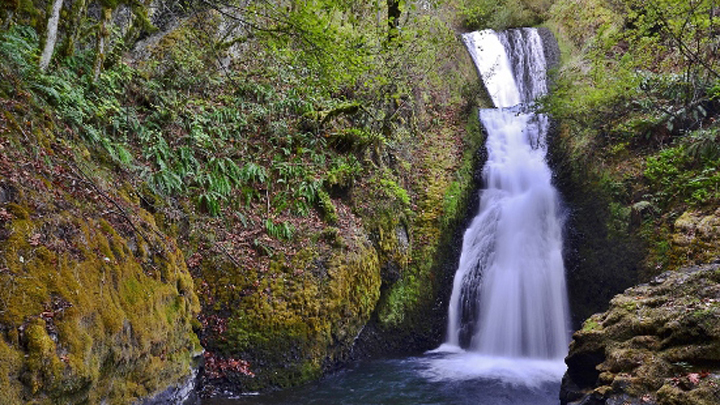 There is a sign informing you about the 1995 crash, when a huge boulder, equal to a school bus filled with concrete, fell, smashed into a hundred pieces and injured 20, putting 13 in hospital. Why, only last year, another boulder fell and punched a hole straight through the concrete bridge on which we are now walking, which doubles as a viewing platform for the second highest constant fall in continental United States. Its name is Multnomah.
Early this morning, before breakfast, I'd slipped out while Lorraine was getting ready. Bridal Veil Falls was my goal, just a 7 minute walk from our accommodation in a rustic log cabin with the same name as the falls. Of course, it took me over a quarter of an hour, one does have to record where one goes after all.
The lovely little double fall would be a neat attraction anywhere in Australia but here it's just run-of-the-mill. 
A short stroll down the road, more people come to see and get cards stamped at the local post office; the smallest, still functioning P.O. in all America. Apparently, it's the place to post your wedding invitations from – Bridal Veil, think about it.
At Multnomah, there are 40 cars already there, their occupants all keen to see this 620 foot drop that ends up in the Columbia River nearby which is actually the reason so many falls are in this area because it has rent a massive gorge in the range of the volcanic Cascade Mountains and water tumbles off the disturbed landscape at every opportunity.
Ad. Article continues below.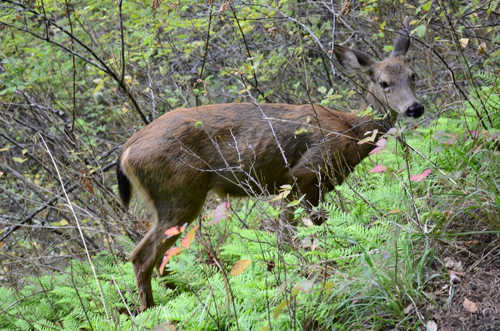 We head towards the bridge on a sealed path, entranced by the beauty of the forest. There's witch's hair, ragged, floral pixie and many other types of lichen clinging to wherever they can and cold brachythecium, tree, hanging wing and other mosses draped attractively over any decent deciduous tree they can find.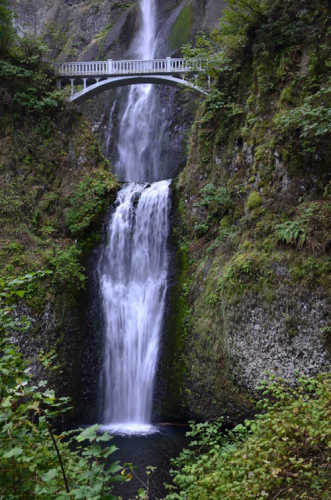 But that's only the beginning. Lorraine has decided we're going to the top, climbing the basalt slope another 2km uphill on a path with 11 numbered switchbacks. Of course, there are pauses, one of which is caused by a grazing black tailed deer right beside the path, obviously fairly used to the steady stream of visitors.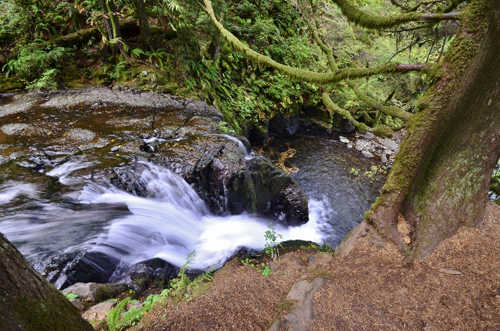 Ad. Article continues below.
You crest a ridge and then it's downhill for a short way to where the falls go over. Needless to say, Lorraine doesn't quite make it to the precipitous edge of the viewing point but we can both see the crowd that now is overflowing in the carpark way below.  It's midweek on a shoulder season and there are probably five hundred people here already.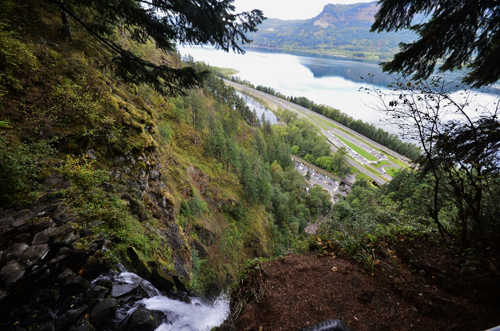 When again we reach the bottom, the tourist shop is shoulder to shoulder and the fudge shop is doing a roaring trade. We shake our heads and drive back to nearby Wahkeena Falls. Here is another, albeit shorter, hike, to an unusual fall. It's like a huge spout pouring out between green rocks finishing beside a tree that it's dumped during some deluge past.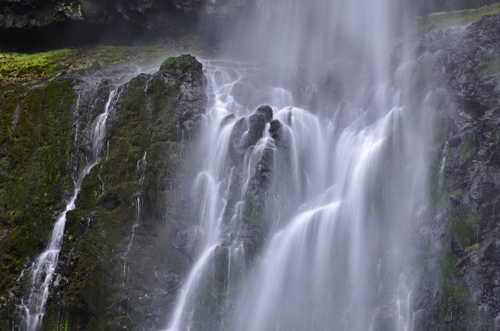 The cliffs dominate here and I find it quite attractive, as was the walk leading up to it and the picnic area at the bottom. Though it's only 240 feet from top to bottom in stages, it's still worth a look.
Ad. Article continues below.
Then we're heading south, past Seattle and the Chinese president, his 1,000 person entourage and the 600 police, en route to Eugene.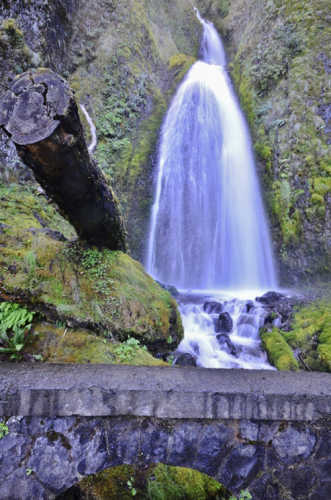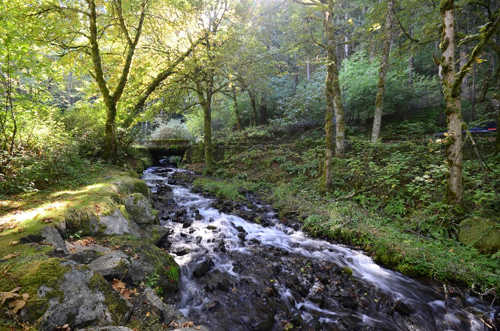 Share your thoughts below.