Do you remember wig parties?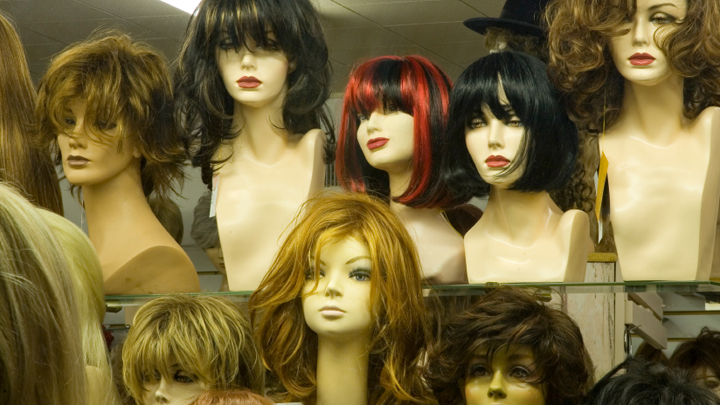 I have often moaned about my hair, as it was pretty unmanageable for most of my life. My most glamorous photo, one I don't mind sharing, was taken when I was 43 it is of me in a wig and Victorian underwear (I used to deal in vintage clothes) I look a lot better than I would with my 'normal' hair. Wigs were part of life then.
In the mid-70s they were very popular. We all seemed to have at least one wig used for parties and dances, or when hair would not behave. There were so many styles; most of them were streaked blonde in my cupboard anyway. I had naturally wild curls and wanted to be different. My hair was very dark then. Now it's more grey than dark.
Fashions wax and wane, it is 'extensions' now, so you can clip on a mane of hair in seconds. Very clever, or another new look, those scary looking 'dreadlocks'….can never understand how they work, suppose washing it is easy, no rollers or heat tools needed. The corkscrew curls are bomb proof. But think I have left my foray into that fashion too late.
You can buy very cheap wigs online of course, have seen them from about 15 dollars, so who buys them now? If you have had chemo you will get help from the hospital I imagine. Perhaps someone can tell me. But I am pretty sure wig parties died a death and are not happening. Tupperware, linen, cosmetics, and clothes parties were all the rage a few years ago. They too have suffered a demise.
Oh the excitement of going out at night to a 'party' once it was the only entertainment, then, of course you had finger food, strange things on cocktail sticks and very elaborate cakes. You joined in the gossip, tried not to spend money but ended up buying because you 'didn't want to appear mean'… it was a form of blackmail. I know some of those things I can still buy, and parties do exist. I have recently been to a clothes party, but I find the cost is prohibitive. They rarely compare to the value you can get elsewhere. Paying $160 for a jacket is a bit steep, especially to a seasoned charity shopper like me. I have bought designer jackets for 10 dollars that takes some beating. Not many things at that price!
Ad. Article continues below.
I feel sorry in one way for the women stuck at home, as this party plan idea often was a good income. One they could manage while children were young. So is it finally the death of those invites, the ones that hint of a wild night buying bits of plastic. I admit there was a 'naughty underwear' party that had me blushing once, but that is another story, I still have see- through 'body stocking' hidden somewhere, which I must find and dispose of…I never wore it of course.
Tell us, did you go to wig parties? Do you still have wigs? What types?