Customer service... When did it get so vapid?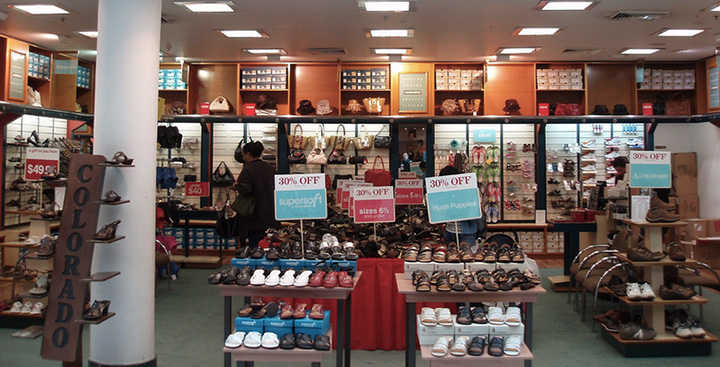 I spent two and a half hours at my local Westfield centre yesterday, trying to fulfil a need for sensible black shoes after breaking my good old favourites and I have to say, I was horrified at the customer service and lack of stock that was offered to me in one of Queensland's largest centres.
Is retail really in this bad a way in Australia? And it wasn't just in the occasional store or two. It was a massive, widespread challenge to find anyone who would find me a size for my shoes, or help me after they had thrown a couple of boxes in front of me. Many were out of stock of the mainstream brands, and knew nothing about where I would get help. The reasons were many and varied in each store I entered. And boy was I tired and infuriated by the time I finally succumbed to the only pleasant, moderately knowledgeable saleswoman I found, with stock in the seventh store I visited. I traipsed from end to end, sure eventually I would be able to find a comfortable, reliable pair of Clarks or similar that would suit my needs for practical comfort. And now I just feel like a bitter, whingy cow… But nonetheless I am sure I am not in the wrong in this case.
The first was Mathers, where the girl stood and looked at me, asked me to move so she could serve someone who had arrived after me, then finally, decided to serve me, bringing two pairs of shoes to me in the very sizes that I hadn't asked for. I asked for a nine… she brought me an 8.5 and a 10. Helpfully she said, "well that's all I have". No alternative selections, inspiring ideas or concern about me, the customer. As soon as she was done working out I didn't like the two on offer, she was gone. I was a "dead" customer to her. Never mind the fact that I was going to buy a pair of shoes come hell or high water yesterday.
Ad. Article continues below.
Next I went to Athletes Foot. The salesperson grinned at me as she came back from looking for the product I had asked for, bringing out similar but not the same products whose brands I didn't recognise and saying when I enquired what it was, "Oh, that's our own brand. It's really good!  We don't have anything else in stock!" Now I don't know about you, but sometimes I feel enormously "sold to" when I go into a store like this, where they promote stocking my favourite brands, then, when I go to try them on conveniently, they are all "out of stock" of my brand, but their home brand is in full stock in all sizes at a very similar price. So, off I trotted.
Next stop: Myer. Wow, was this confronting. In the corner where the shoes were found, on a Saturday afternoon there was no one in cooee (peak time for shopping). Out of nowhere, one staff member lurched past staring at his feet, hoping I wouldn't notice him. I did. So I grabbed him quickly and asked if he could get me a size please. He looked at me like I had committed a crime. He said swiftly, No, he could not. He looked around, and not seeing anyone else said to me "You'll have to go find someone somewhere over there", he said, pointing to the other size of the ground floor, way way way away from the shoe section. "Really?" I said, "But you're here". Then all I got was silence from this man! Then "No!" again! He didn't offer to get someone for me! He didn't offer to help me! He just turned and bolted for the destination he was headed! What happened to courtesy and customer service?  I finally found my way to a girl on the other side of the floor, waited for her enormous queue before she would talk to me. By this point I was not a very happy customer. She accompanied me over to the shoe section, discussed my needs with me, and off she went to see if she could find the solution to my product challenge. She came back with one pair two sizes larger than I needed and a shrug. "We have nothing in that size, in any line like that", she said.
Ad. Article continues below.
David Jones was next.  The woman manning the shoe section whispered gently in my ear when I asked for her help that she was from cosmetics and that she would likely not be much help!  Before I had even started I gave up.  Funnily enough she was the most helpful woman so far.  She didn't waste my time and skurried off, coming back with three types of shoes, all quite nice, none the size I needed again.  Blessedly, she wasn't much help… but she was pleasant in her process of not being very helpful.
On and on it went… until finally, seven stores later with sore feet I was at wits end. And I went to a store I have previously vowed never to go back to because of their prior record of poor service in my eyes – I do carry a long memory for these things – Williams. And I must commend the young girl. She convinced me to try a brand I was set against, brought some lovely shoes to me, all of which were the right size, and proceeded to sell me a lovely, comfortable pair of shoes that weren't the brand I had left home to buy, but were a delight to own.
Who would have thought that I would find my solution in the only store I was set against shopping in? But the thing I really want to talk about is why are our retail outlets so poorly stocked with core brands and why are staff allowed to be rude to customers? Surely the owners of stores and the retail chains need to take more pride in their businesses and set some standards for their staff in the customer service they provide?
I know I might sounds like a whingy, high-expectationed old cow but I remember a time when customer service was terrific in Australia. In fact 15 years ago, when I lived in London we were incredibly proud of the Australian quality of service in comparison to other countries… Now I fear it might not be something we are as proud of.
What do you think? Has customer service slumped in recent times? What have your experiences been like? Tell us below.