Did Kevin Rudd's national apology 10 years ago make a difference?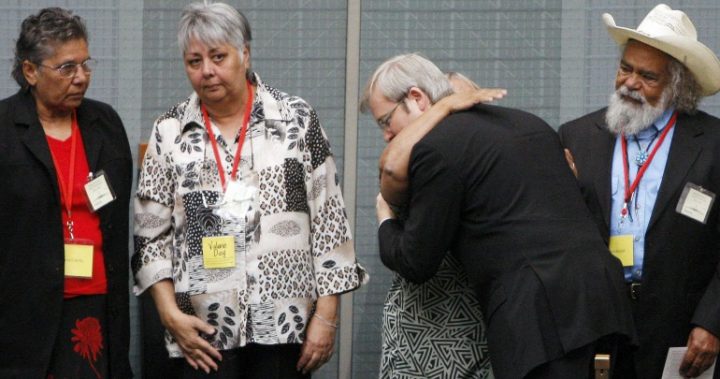 Today marks 10 years since former prime minister Kevin Rudd delivered a national apology to the Stolen Generation. His speech on February 13 2008, was directed at tens of thousands of Aborigines who were forcibly taken from their families as children. It was an apology for the role played by the Australian government in the sad practice.
Ad. Article continues below.
Rudd spoke at the National Press Club on Monday, almost a decade after his history-making apology, saying Australia has made a lot of progress in improving the lives of indigenous Australians, but that there was still a long way to go, SBS reported. Meanwhile, Prime Minister Malcolm Turnbull told parliament on the same day that just three of the seven targets set by the government to "close the gap" were on track. (The Closing the Gap policy is designed to reduce disadvantage among Aboriginal and Torres Strait Islander people.)
So if there's been only limited success improving the lot of indigenous Australians over the past 10 years, did Rudd's apology achieve something else instead? The recent furore over the Australia Day public holiday, which many indigenous activists label Invasion Day, would indicate that regardless of the history 'sorry', many people still harbour deeply hurt feelings and feel little reconciliation with non-indigenous Australians.
So, what did the 2008 apology mean to you? Do you think it changed anything in Australia?