Please stand still, I haven't finished reading your t-shirt!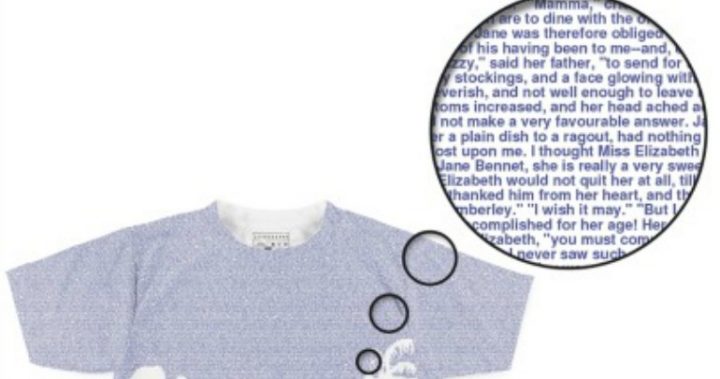 Recently an advert popped up on my personal Facebook wanting me buy a t-shirt.
Ad. Article continues below.
As those who know me will testify, my figure is not exactly built for T-shirts so I was about to give it the flick when something caught my eye – a very unusual illustration of one of my favourite novels, Pride and Prejudice, by Jane Austen (but you knew that).
What stopped me ditching this ad?
Each T-shirt is hand pressed with approximately 40K words from many of our favourite books. If T-shirts aren't your style, perhaps you would like a scarf or tote bag?
There are numerous titles available, representing authors as diverse as William Shakespeare, Diane Gabaldon, Kurt Vonnegut, F Scott Fitzgerald, Ernest Hemingway, the amazing Maya Angelou … and even Quentin Tarantino. Click here to see if your favourite book is available.
I admit whilst the T-shirt is not at all tempting, the idea of a tote bag with a much-loved book's image does have a certain appeal. Mind you, it could be a bit disconcerting to have someone follow you down the street to finish reading your tote! Certainly gives new meaning to "when I finish this chapter".
My question to my fellow book club members and other bookworms is – are these items hot or not? Would you be tempted to buy the tote, a poster, scarf?