Coffee shops and almond milk: what happened to my town?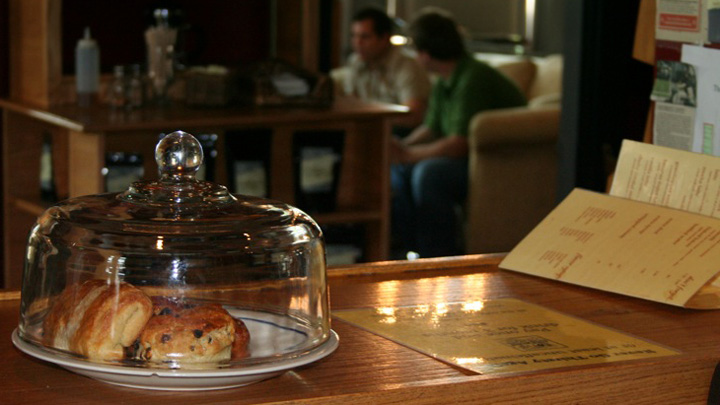 I was listening to the radio and the media person asked "is your town awash with coffee?". It was then I realised how the face of small towns like ours had changed. No, we aren't awash yet, but there are at least six outlets in the small shopping strip that are just coffee shops. In a town that has only around 2000 people, that is a fair percentage. When we first arrived there was a café, but it sold coffee from a generic brand tin. You didn't have some flash machine spitting steam then. But I am very fond of the good coffee, so shouldn't complain!
When we arrived as stray grey nomads about 15 or so years ago, the town boasted three busy garages, three butchers, several hairdressers and two dress shops; we even had a shoe shop back then. The dress shops have slowly died and slunk away and we have one large haberdashery where very good quality clothing appears; not anything too fashionable though. The dress shops of old have gone. The delightful lady in the 'gown' shop would let you take dresses home to try again and show your husband, without even a deposit…different days indeed. There is no longer even one butcher in the main street, the final meat purveyor has been banished to sit beside the huge new supermarket. No shoe shop to browse in either. The hardware is still fighting back and we now have three. Two chemists also have survived and the hairdressing salons are breeding, we have five now.
We lose the little shops that make a town special and I hate to see empty shops as it looks like a harbinger of doom. Strip shopping centres everywhere are fighting a battle with high rents and low turnover. One of my favourite haunts, an antique-cum-dress boutique selling some pre-loved things, is struggling. "It has been a tough winter" she remarks and I know the battle may be one that is given up soon. Shame as I have loved some of the quirky one-off fashions I bought there. We lost one 'hippie' dress shop this year. Everywhere else looks the same, with all the other towns having those familiar names of big chains. We all look like clones, and I like to be different. I prefer to wear something no one else has.
Ad. Article continues below.
The rise of coffee shops is universal and I do admit they are better than having empty shops – I love our small town and do not want to see it die. But hearing the visitors asking for a half strength cappuccino with almond "milk" makes me cringe. A strong flat white please, and I wouldn't mind a piece of that baked cheesecake.
Have you seen small towns being taken over by bigger chains and trendy coffee shops? How has it changed the people? Tell us your stories below.