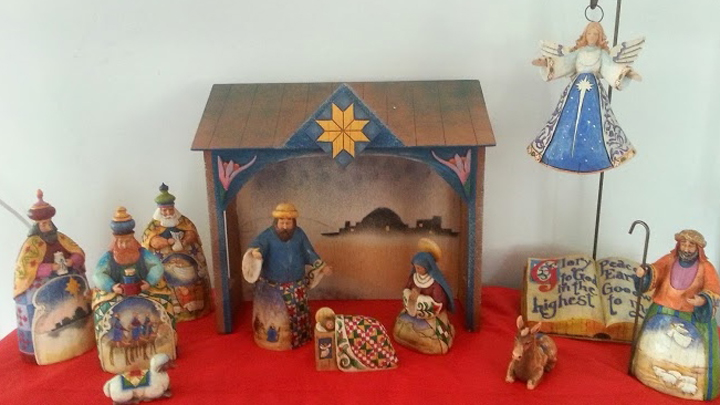 I have so many happy memories of Christmas past. The decorations, the tree, the relations, the friends and neighbours, Christmas Mass, the heat, the food; ah yes, I remember them well.
A constant reminder of Christmas is my Teddy Bear, given me on my first Christmas Day; he's a little threadbare these days, but hey, I'm not 6 months old anymore and like me, he is well loved. The next year I received a rocking horse – Silver still lives with the family and, following restoration by a cousin, serves his third new generation of kids.
Do you remember how we used to decorate? The store bought tinsel was not for us, but between one Christmas and the next, city-based relatives collected milk bottle tops, both silver and gold for us – we were very underprivileged, living on a farm. Our milk came from cows, not bottles with silver or gold tops! As soon as school finished for the year, we started making garlands, shaping the bottle tops into bell or cone shapes, dipping them in glitter and then stringing them onto string or wool.
The other garlands were made of crepe paper in different colours, crimped and woven into each other. My mum was a wizard at crepe paper shaping. I remember one year I read about stringing popcorn garlands and desperately wanted them on our tree. Luckily, I made only one garland when the alert went out to the ant world that the O'Brien household had a present for them. Yes Karen, there is a difference between Australian and northern hemisphere Christmas. Not totally deterred from the storybook Christmas, fake snow made its way onto the front windows (it took hours and lots of elbow grease to remove).
Amidst all this glamour lived huge vases of Christmas bush: agapanthus, hydrangea and roses. They were everywhere, even the bedrooms. Other than the glass baubles, the only "store bought" decoration I remember was a small nativity scene made of glass. Despite owning the beautiful nativity scene pictured (a gift), I still display Mum's little glass nativity.
Ad. Article continues below.
The tree – always a real tree, shedding its needles all over the house. Do you remember the milk/garden bucket filled with moist soil, covered in Christmas wrapping, brought into the house where the tree was planted? More bottle top garlands, little umbrellas and dolls, made from hankies and pipe cleaners by Mum, and the precious real glass baubles. An angel proudly topped our tree.
As we grew up, store bought decorations, tinsel, coloured balls and flashing lights replaced the crepe paper and bottle tops. Elegant swathes of thick silver, gold, red and/or green tinsel and balls, lit with twinkling lights were strung across ceilings and added to the perpetual, non shedding pine (read: artificial) Christmas tree.
The relations – these days our family is widespread and our cousins are our oldest relations. The senior members of the family, including my much-loved parents are with us only in spirit these days. But, oh the memories, the love, the warmth and yes, even the arguments! Yep, our family was not immune to the Christmas day squabbles. My great aunt however made a rule, she didn't care whether we spoke to each other or not during the year, on Christmas Day, in her home, we were all friends!
Friends and neighbours were the morning visitors. The sun was hardly over the horizon when people arrived to share a Christmas wish. Dad did the milking – no holidays for farmers – my maternal grandmother started cooking the turkey, preparing the vegetables, while Mum cut the cake into slices, started making tea and hosted the visitors. The occasional beer replaced the tea for "the men".
Christmas Mass was a family event and oh the joy of being considered grown up enough to go to Midnight Mass! I love the Christmas service, starting with the entry procession where the priest carries the statue of baby Jesus into the church and places it in the waiting manger. When I was younger, I had quite a high soprano voice so frequently sang the descant above the choir in Silent Night during the processional. Although it is rare to find Midnight Mass these days (mostly they seem to be around 9.00pm), this is still one of my favourite services. Pity the poor parents, my own included, who then went home to put the gifts from Santa under the tree and, hopefully, have a few hours sleep before, at first light, excited children woke up in eager anticipation of presents.
Ad. Article continues below.
It didn't matter that the outside temperature was "100 degrees in the shade", Christmas lunch was hot turkey, ham, baked vegetables and steamed pudding, set alight with warmed brandy and finished with hot custard. This basic fare served, as they say in the classics, "with all the trimmings". I might add that until my early teens, Nana cooked lunch on a fuel stove, whilst the pudding bubbled away in the laundry copper.
After lunch, everyone packed into the car, drove to Aunty Marie and Uncle Roy's home and it all started again! There were relatives we only saw once a year, Mum's side of the family was large, and the most oft heard remark was "Haven't you grown?", something you loved to hear, as a kid. Later, of course, it became "I hardly recognised you".
One Christmas Day I remember two cousins of Mum's were in advanced stages of pregnancy, we just missed a Christmas Day baby. Aunty and Uncle lived on Gunnamatta Bay so as sure as day turns into night, there was a southerly buster late afternoon just before we started to eat…again.
Boxing Day was spent with Dad's side of the family Aunty Thelma and Uncle Stan and just in case Mum's side of the family were "doing it tough" we were fed and watered as if there was no tomorrow. My cousins were great cricket players, still are, and we replayed the ashes each year after our second Christmas lunch.
When I write or speak about our family, it seems we were the richest kids on the block. In the important ways we were! We had parents who loved us, good healthy food, parents who loved us, a roof over our heads, education and parents who loved us.
The decorations may have been flowers from the garden, crepe paper, recycled milk bottle tops with a distinct absence of twinkling lights, but, in my mind's eye, my Christmases Past were a joyous time, full of wonder, excitement and love in abundance. Is it any wonder it is my favourite time of the year?
What are your favourite memories of Christmas past? Tell us below.