Chatting all the way to Uluru and back: The barmaid's history lesson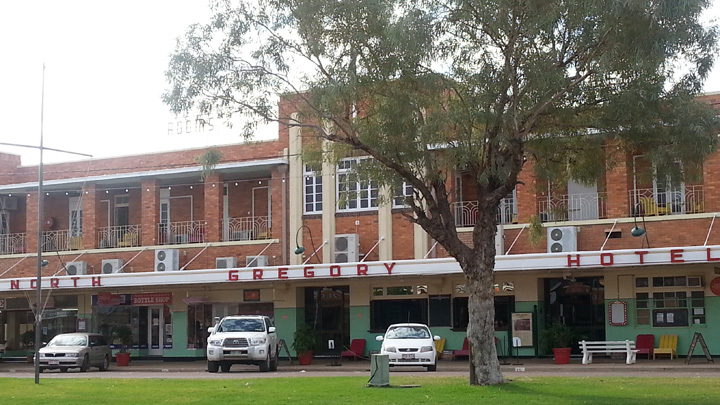 This is the next instalment in Theresa Ross' travel diary where she walks through Australian outback towns. To read her previous entry, click here
My adventures chatting and walking continues, dear friends, but first I must tell you the story of one great chat I had in Winton (pop 900)…all thanks to a 25 year old barmaid called Amy.
I was doing a load of washing when Amy from the Tattersalls Pub across the road (owner of the caravan park) was cleaning the amenities. A casual conversation began that left me an expert on the four hotels in town. Amy was on a roll and I couldn't stop her.
"Tattersalls is the best pub in town", begins Amy. "Paul (the gregarious owner) is the best boss I've ever had: free drinks, food and lodgings. It's the best place to eat too. And Paul won't tolerate any swearing. No f….s or c….s. He wants it to stay a family friendly pub".
Ad. Article continues below.
As Amy mops floors and cleans showers, she pops her head out to tell me … "but Tattersalls is not a party pub. Paul sends the party animals up the road to The Australian. That's the party pub: loud music, people drinking shots … it's as rough as anything".
I tell Amy we've already worked this out for ourselves! The Australian has all the atmosphere of a run-down cheap hotel in a bad area of town. Geoff and I hurry past as we walk to the Post Office daily.
Yet, across the road is the high and mighty, right-regal The North Gregory Hotel looking classy and beautiful but delivering nothing much at all. I ask Amy about it and she tells me this pub is hopeless and no locals go there. "It's the only hotel in town not managed by the owner; he lives in Sydney", she says from inside the gents' toilets. Yes, we had noticed how empty it was.
"It's had so many managers I've lost count … No character", says Amy as she washes old rags with great gusto and then bashes the mop against a post. But, Amy's not finished with me or the amenities yet!
As she rinses the cleaning rags in the sink, she tells me that the Winton up the road isn't too bad either; great for pizza. Paul and the owner are mates and help each other out when they can.
Ad. Article continues below.
All the time she's been talking, I have been intrigued by the vivid colour of her purple hair and matching clothes so I ask if her favourite colour is purple. A story ensues but it seems that she considers her hair BLUE not purple and she isn't happy about it either. However, I tell Amy that the purple hair suits her personality!
As Amy leaves, Geoff and I decide to walk to the Winton Hotel to check it out for ourselves. We arrive hot and flustered as it's now midday and we're hungry. A counter lunch is sounding awfully good so we walk in to an empty bar and ask the barman.
"What? No counter lunches?" we say in unison. Drat! We order an icy ginger beer instead and settle in for a chat with the barman. Turns out he knows all about pubs; he was a roving manager travelling all over the outback filling in at pubs for years.
However, he's been in Winton 21 years now and loves it. At this point Max drops a clanger when he tells us he had a 6 ft snake in the pub just this morning!
"Oh, but that's nothing," he says "we get plenty of deadly brown snakes in the bar during summer. The bar clears when they come in. The big burly blokes run, leaving it to the old skinny fellas like me to handle it!" At this point, we think about running out ourselves …
Ad. Article continues below.
We loved chatting to Max but believe me he was enjoying himself even more telling these scary tales to us city folk.
We begin discussing the other pubs in town and Max confirms everything Amy has told me already. It's been a very interesting morning all in all. We're now experts on Winton hotels!
On the way back, we pop our head into Tattersalls Bar to tell purple/blue haired Amy we've been to The Winton Hotel. She is delighted at our interest in the pubs of Winton and says "Yeah … Max … he's a real good bloke …"as she throws ice into a glass.
After four days in Winton, Geoff and I feel like we're part of the furniture. What's more, Tattersalls Pub is the best neighbour we could have whilst on the road. Paul and the staff treat us like family and we feel content and are reluctant to leave.
But all good things must come to an end dear friends and we really must head to Uluru or else we'll never get home! Who else will we be chatting to next I wonder?
Ad. Article continues below.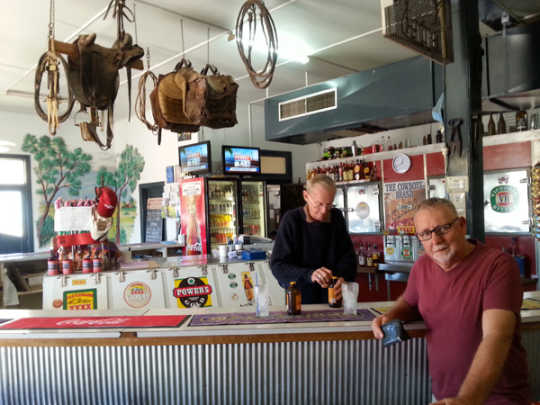 Have you been to Winton? What did you think of the pubs? What are some other great country pubs around Australia? Share your stories and recommendations below!