Changing Christmas traditions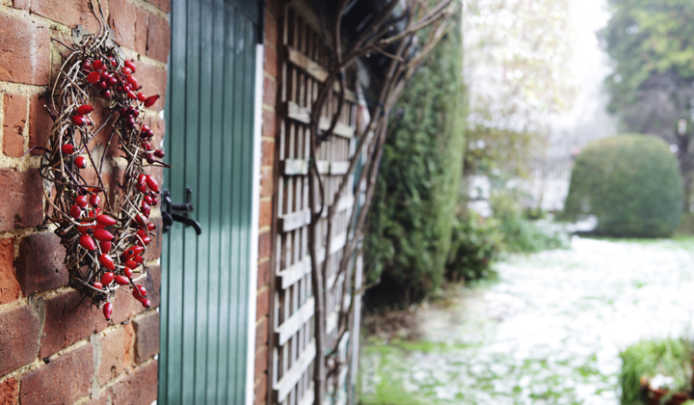 I can sit back comfortably in my armchair, with my wealth of memories and my rose coloured specs and think to a time when Christmas seemed simple.
The first Christmas times when the austerity of wartime meant all the things were made of shoddy cardboard or tin, due to everything being used in the war effort. Imported dolls were hard to get. Somehow my Mother got me the best she could. It was made in Germany and a rather dark tan, but I loved it. She knitted a perfect little layette for it.
The stuffed stockings on our bed on Christmas mornings had an orange and chocolate in the toe, and lots of fun things, practical objects like new undies or socks were taken out fast to get to the chocolate.
Later when I had my own children I kept up the stocking tradition. I was even crazy enough to carry it on beyond a sensible age, which meant creeping into their rooms after they arrived home from a disco. So I would be lying awake until they were asleep; I must have been mad.
Meals had always been the same as the children grew up. Usually my mother and father shared the day with us, and later my husband's mother. Traditional turkey was often abandoned for pork or beef, and the lashings of vegetables and trimmings made the meal extra special. If only I could emulate the beauty of the stuffing my mother made, or her wonderful shiny rich puddings, in fact all she did was difficult to duplicate, I think it was made with love, and that matters.
Ad. Article continues below.
An English winter Christmas had a sense of excitement, perhaps the crisp cold air, the warmth of fires, the fuggy feeling of a kitchen steamed up with cooking, or just going out for a carol singing on a starry dark night. The sound of church bells echoing in the snowy fields, something happens that is indefinable, making a Winter Christmas a totally unique experience.
Yet now I love my Australian Christmas times. I have welcomed them and love the time of year. Most of all I love the light. The days are long, the evenings drift into twilight with the sounds of birds and insects, bees buzzing.
So what was my first impression? The first Christmas we had been here only a month or two. I was working two hours travel from our home at Patterson Lakes. So I spent a lot of time on trains and trams as I worked for a Jewish day centre for the elderly in Prahran. I had some steep learning curves, language, traditions, transport – luckily I learn fast.
So first of all I wondered why everyone was 'breaking up', then I knew it was a party at the end of work. I was fascinated when all the women wore really wild Christmas earrings. In England only the young wore them; here everyone did. I learned how to say 'You are not wrong', and 'Flat out like a lizard drinking'; I was amazed at the gifts people gave each other at work. So much more than we had done for work colleagues in the UK. I learned how to stop breathing for a while when my head was jammed up an armpit on the tram. The heat was around 40 degrees that December. I was the only idiot who went for a walk, and wondered why the road was empty.
Ad. Article continues below.
Fashion in 1987 was very different, Ken Done was really popular, and I wore some whacky and wild designs myself around then. I just loved the colour around me, and the fact that at this time of year you bought a swimsuit and shorts or new beach towels for the children. We went to pool parties and work parties, the two girls who ran the centre with me did their own version, and on the last day as we saw the clients off, we sat out in the warm garden in Eastbourne Street and drank cheap champagne. Yes, I embraced my new life, new traditions and a different way of celebrating Christmas. Being adaptable is an art, luckily I welcome change.
Were you like Jacqui and had grown up with different traditions that changed when you migrated to Australia? Tell us about it below.