Bring Kevin Back say Australia's over 60s
Over Sixties know who they want as our next Prime Minister, and the current choices of Julia Gillard, Tony Abbott and Clive Palmer just don't seem to be resonating. In fact, they are torn between their incredible desire to "Bring Kevin Back", or the fact that they dont like either candidate, "but like Gillard less".  One thing is for sure, with only 3 votes in his favour, Clive Palmer is not even on their radar!  Even Pauline Hanson ranks higher on over 60s priorities.  
An unofficial poll taken on the Starts at Sixty Facebook page over the last 36 hours has shown categorically the dissatisfaction with current candidates.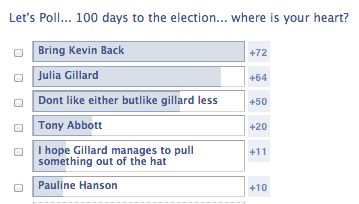 Ad. Article continues below.
We launched our poll with the three Prime Ministerial candidates as choices, late on Thursday, the day that marked 100 days until the Federal Election.  We left the option open on the poll for voters to "add" their own choices… and within hours a number of popular options appeared:
Bring Kevin Back

Don't like either but like Gillard less
And our community started to show their satisfaction with these options, more than they have shown with major candidates.
At the time of writing this article, "Bring Kevin Back" was the most popular choice of over 60s online.
Ad. Article continues below.
I showed Kevin Rudd these results this morning, when I popped down the local shops to find him sausage sizzling outside.  He smiled, and turned a little shy, perhaps wanting to avoid the question I asked, of "did he realise how many over sixty throughout Australia support him?".
Ad. Article continues below.
Kevin was spending his morning courting his electorate of Griffith over a community barbeque outside the local shops where he is rumoured to be heavily challenged by the liberal candidate Bill Glasson.  The Labour Party would need to be certain Kevin can survive his electorate before they would ever be able to contemplate allowing him back as leader.
Outside our local butcher, Kevin was keenly embraced by over 60s and children in the community, and posed for photos from the waiting media contingent with delight.