Brian's painting art gallery...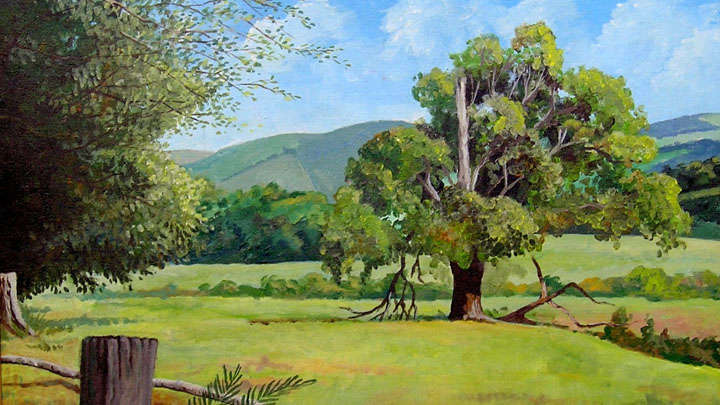 I recently showed a few of my line drawings, so this time I thought I'd mount an exhibition of a few selected paintings of mine, some memories of holidays we had in Spain before moving to Australia in 1987, the rest painted since we have been here. I hope you will enjoy wandering about this site, looking at them. In case anyone asks, none are available for sale, (most of them are sold already), but I'm always open for commissions, if you send me a photo of the scene you want. Just contact Starts at Sixty and they should be able to put you in touch with me. Anyway, here we go!
1. Spanish Island
This painting is of a hilly street on the Island of Ibiza, off the coast of Spain, a lovely place for a quiet, restful holiday – just what we needed that year because I was flat out with my business for the rest of my time and this place allowed me to recharge my batteries.
2. Spanish Beach
Ad. Article continues below.
This was a slightly 'tongue-in-cheek' painting I did, because I felt it really caught the spirit of what a seaside holiday is all about. This was on Menorca, a larger island not far from Ibiza.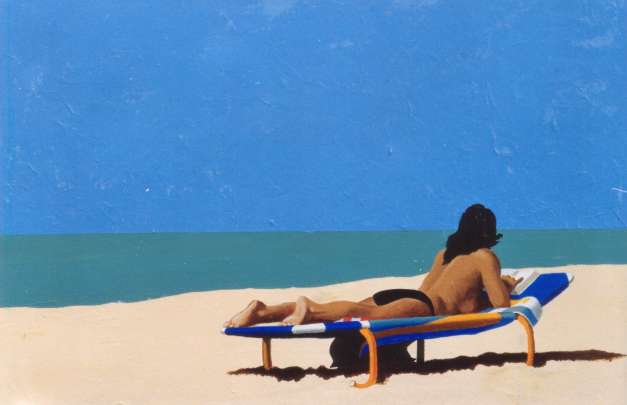 3. Spanish Town
One of the many little streets in the town of Mahon, the capital of Menorca. So many of them, it's quite easy to get lost, but luckily nearly every street has a bar in it, so you can have a very good time finding your way out again!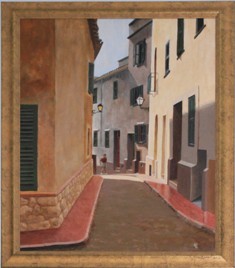 Ad. Article continues below.
4. Antiques Dealer Friend
Garry was a university lecturer in England who, like my wife Jacqui, enjoyed doing antique markets at the weekends. I hope I've managed to capture the fact that he was a fun-loving bloke, who got on well with his customers.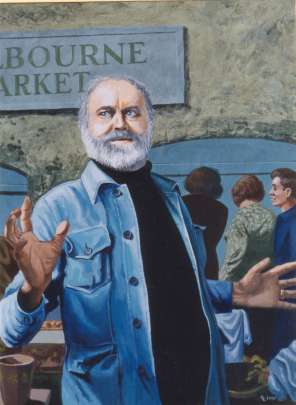 5. One of the Flowers in our Garden
More or less self-explanatory, this is one of the white flag Irises in our garden.
Ad. Article continues below.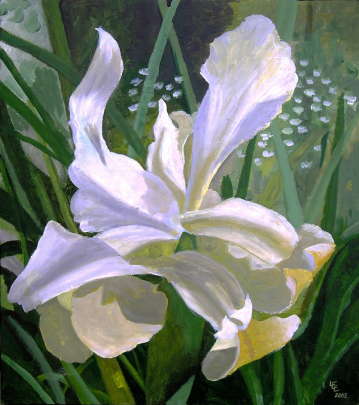 6. Dawn in a Country Lane
This painting is from a country lane in Wales, where Jacqui and I used to often go for 'dirty weekends'! There was beautiful countryside all around us, but I was particularly taken with the sun, rising over the end of this lane, giving that wonderful feeling of light, which I hope I've captured.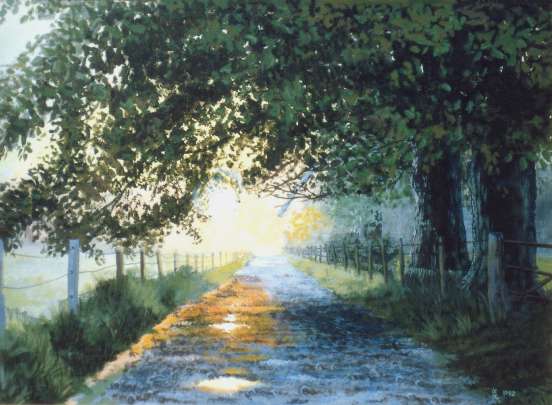 7. At Bonny Doone, Victoria
Ad. Article continues below.
This painting is of some isolated farm building, nestling in a paddock in deepest country Victoria.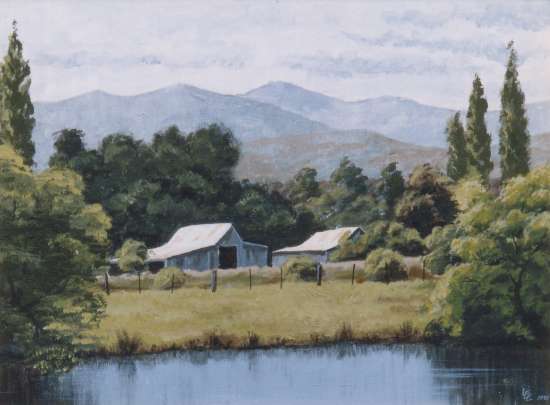 8. Eildon, Victoria
Eildon is one of the main dams, supplying water to Melbourne. This painting is of the major spillway, feeding excess water into local rivers. My viewpoint is actually on the dam wall itself, with the lake directly behind me.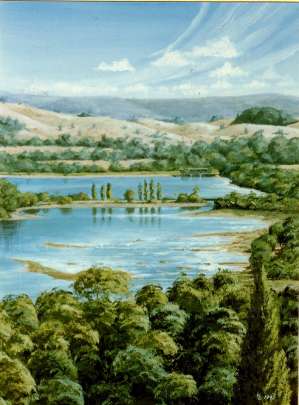 Ad. Article continues below.
9. On Acheron Way
This is part of the very large forest area, well to the north of Melbourne, beautiful, cool and shady on a hot summer's day.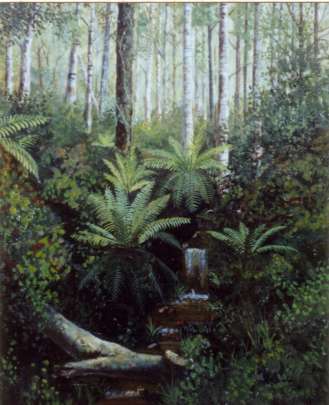 10. Fishing at Port Albert, Victoria
Ad. Article continues below.
Close to home now; Port Albert is only about ten kilometres from our home in Yarram and it is a favourite fishing spot for locals and visitors alike. It is also a very good launching point for people wanting to go fishing in boats, with access to Bass Straight.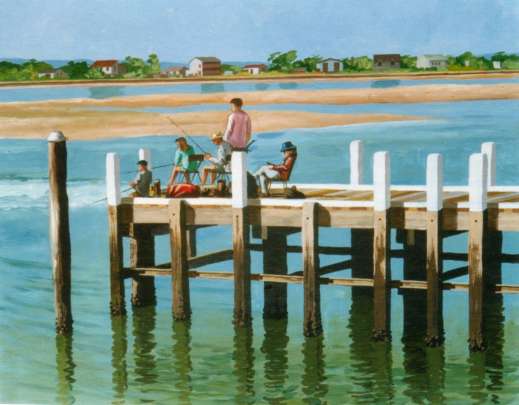 11. Quiet Spot at Heathcote, Victoria
Heathcote is a small country town in north-east Victoria and the Yarra River runs through the place. That's the Yarra in the painting, somewhat smaller than it will be by the time it gets to Melbourne!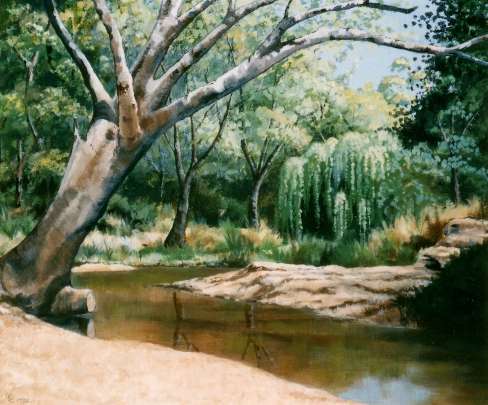 Ad. Article continues below.
12. Meadow near Yarram, Victoria
There's really not much I can say about this painting – the title says it all; except perhaps, to say that this is typical of the countryside around Yarram.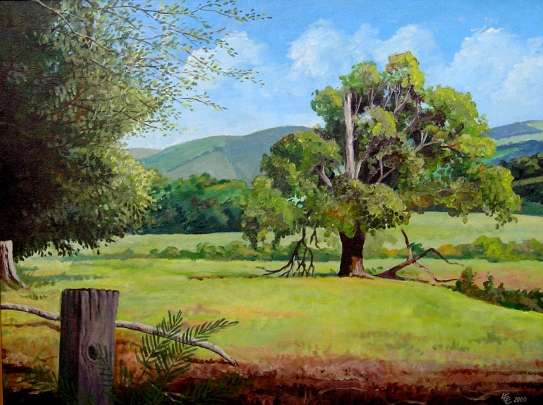 13. Farmhouse near Yarram, Victoria
Again, a picture that requires no description – it's just a house, much like a thousand others all round it in the flat pastureland of the area known as Gippsland.
Ad. Article continues below.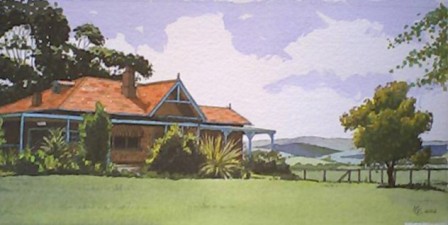 That's the end of my little exhibition, I hope you enjoyed the paintings, I certainly enjoyed painting them.