Your Say: Turning Schapelle into a national hero is wrong
If anyone watched the news last night you will no doubt be shaking your head.  Or at least I was.  Schapelle Corby's release on Monday was nothing short of a media sensation.  In fact, one could be forgiven for thinking a bold political prisoner had been released from incarceration after years of unfair persecution a la Nelson Mandela, rather than a female convicted on drug smuggling charges in a country known for decades for it's tough penalties.  Harsh I know, but just stating the facts of the case.  Whilst she deserves the time and space to get on with her life, free from prison, I don't think she deserves to be made a national hero, nor that we should forget about why she was imprisoned in such a horrible way.
According to the other stations bidding, Channel Seven has apparently won the bid for the first interview with Ms Corby.   The amount they have paid, believed to be two million for a package of media that includes an interview with Mike Willessee and New Idea articles.  That's a kings ransom and perhaps one of the largest deals in Australian media history to a woman who will now go on to become a media darling.  She'll be put on the television and held up a hero for having done her time.  People will remember the highlights of the tale, and perhaps forget the truths as she swans around, featured by magazines and taking out repeating slots on current affairs specials as her life progresses from here.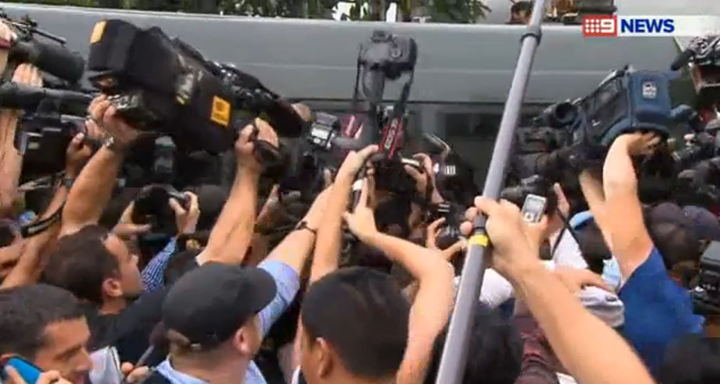 Bold political journalist, Madonna King wrote in Saturday's Courier Mail that Corby doesn't deserve a warrior's welcome.  "She doesn't deserve to be held up as a role model for our children, and history should not be permitted to be rewritten to allow that".
Ad. Article continues below.
It is a strong call, but it is one I have to agree with today, and put out there for everyone to comment on.  Madonna King makes a terrific closing point in her article on the weekend, but one that seems to be lost from most of the rest of the media:
There is a stream of other views that show we do owe a certain amount of gratitude to Corby.
"Schapelle Corby went overseas, broke their laws, and was caught," Samantha wrote in an email to me.
"It was a wake-up call, to all the young people heading overseas, that if you are going to break the law, there are consequences."
And for that, we should be grateful to Corby – that and that alone in my opinion.
How do you feel about the hero-creation of Corby that looks to be coming from all over the mainstream media?  Do you feel she is teaching everyone a valuable lesson, or that we should stop the sensationalism and attention we are giving her, and remember her just for her single important act of law breaking.
image: from footage from Channel 9 News of Corby's release