Your say: Should Schapelle-gate strike Seven like this?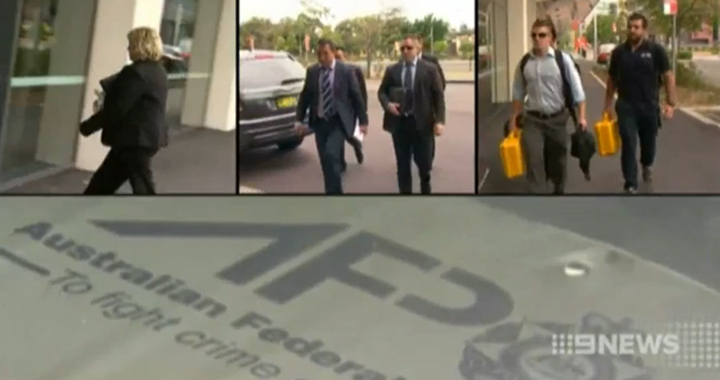 The full presence of the Federal Police was felt by Channel Seven this morning when the Schapelle-gate saga turned into a raid on their offices.  More than a dozen police officers turned up unexpectedly at Seven's offices in Pyrmont, and more at Pacific Magazines and at their lawyers' offices, with search warrants.
Police said that they were looking for documents that relate to alleged payments made to Ms Corby who is believed to have sold her story to Sunday Night after being released on parole from an Indonesian prison after nine years, last week.
Channel Seven CEO, Tim Warner, said in a statement that they are co-operating with police.
"A raid on our offices at Pyrmont and at Pacific Magazines and at our lawyers' offices involving around 30 police and eight squad cars to find information we have already provided seems like overkill to say the least. But what is most disturbing is to also seek to use search warrants to access all of our news and corporate records. This is without justification and quite possibly unprecedented for a media organization," he said.
There has been much speculation in the media about the interview purportedly planned between veteran reporter Mike Willesee and Schapelle Corby.  And the amount of $2M in allegedly agreed payments has been widely discussed as her enormous payday looms.  The deputy Justice Minister of Indonesia, Denny Indrayana  stated last week that if she does an interview of this nature, that it will breach the conditions of her parole.
Ad. Article continues below.
"If you're going to do the interview, especially if it's going to be paid, it will cause … restlessness in the community, so I have instructed the officer here at the Corrections Bureau to advise the family not to do it, because in the end, it will, to our understanding, cause polemic."
"It's going to cause polemic, so it's possible that we will revoke her parole."
So we ask you today… Should Schapelle's payday (should it be real), be stopped by the Federal Police?  Should it be an issue that sits with the Indonesian Government who are threatening to revoke her parole if she completes an interview?  Or is it a "freedom of the press issue"… where no police should prevent the telling of a true story in the public's interest so long as she doesn't directly profit from the proceeds of crime?  Have your say… 
In supporting information – the police statement: 
Ad. Article continues below.
"The AFP has been in discussion with Channel 7 and their legal representatives regarding a Proceeds of Crime Act matter since 11 February 2014.
The AFP has today executed a number of search warrants in Sydney in relation to this matter.
During these search warrants, AFP members behaved appropriately and in accordance with their responsibilities and legal obligations.
These search warrants were conducted in relation to the Proceeds of Crime Act 2002, which provides the legislative framework for the restraint and forfeiture of the proceeds of crime against Australian law. This includes provisions for literary proceeds, where a person profits from their criminal notoriety.
Literary proceeds action does not prevent a person from telling his or her story to the media. The provisions do not interfere with freedom of speech.
Ad. Article continues below.
The purpose of the provision is to prevent a person deriving a financial benefit from criminal activity.
All AFP search warrants are authorised by a magistrate or an appropriate member of the judiciary following sufficient supporting documentation or material being presented.
The matter remains ongoing and it is not appropriate to comment further."