Let's Talk: Unscrambling the Australian free-range egg regulations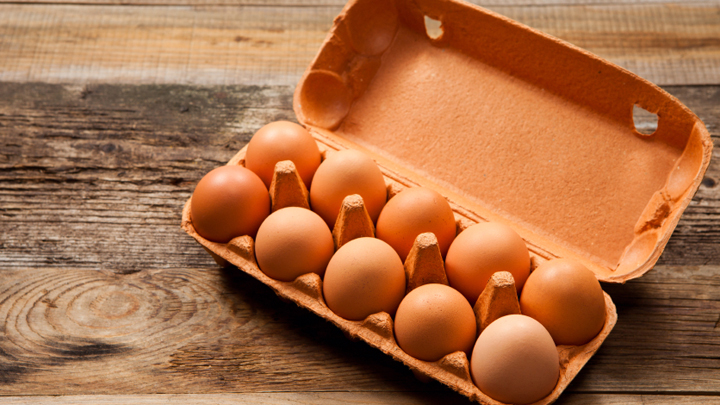 Australian are bombarded with dozens of "free-range" egg products at the supermarkets yet many consumers are becoming wary of what this actually means. Those who purchase free-range eggs are supposedly supporting better conditions for hens than caged-egg farms, however, does the higher price and label hold true?
At the moment, free-range eggs come from farms with anywhere between 150 and 10,000 hens a hectare although, the Australian Egg Corporation has admitted this has not always been the case. They had previously accredited free-range egg farms with nearly 50,000 hens a hectare, so how are we supposed to know what free-range actually means? We are paying a hefty price for free-range products with the hope that the farming conditions are better for the hens. As consumers, we think we are making an informed decision about our purchases when in fact this label is very misleading.
For instance, another investigation in Australia found that free-range eggs from farms with 1500 hens a hectare average $1.12 per 100 grams but a farm with 10,000 hens a hectare charges more and is still considered "free-range". This justifies why consumers are outraged; there doesn't seem to be a standard for farmers to follow.
Ad. Article continues below.
The variation for what it means to be free-range is so broad. Currently, there are varying density benchmarks that are followed depending on the States and the supermarket chain. Many supermarkets, like Coles and Woolworths, have even agreed to stop selling caged eggs, which is great news but this just places even more importance on ensuring free-range egg standards are properly targeted.
We pay the price for free-range eggs thinking our government has passed regulations to ensure producers abide by them but that doesn't seem to be working. In a recent survey, some producers including IGA Signature, Pirovic and Field Fresh even refused to reveal stock-density levels. The refusal to disclose this number is definitely concerning.
Other national standards and labels are in place for cosmetics and toiletries so why does it seem to be such an issue for free-range eggs?
Fortunately, Australia's consumer affairs ministers, led headed by NSW Minister for Innovation and Better Regulation Victor Dominello, have agreed to take two massive steps forward to clear this uncertainty. First, acknowledging there needs to be a national enforceable standard and second, a time frame (end of 2016) to implement the new regulation. The agreed standard will help to provide customer guarantee and clarity for the producers. There will be no more excuses or acceptance for mislabelled eggs. Egg Farmers of Australia supports this national approach to egg labelling as well.
There is no word yet about what the number of hens per hectare will be but this poll suggests a tough decision will need to be made.
Ad. Article continues below.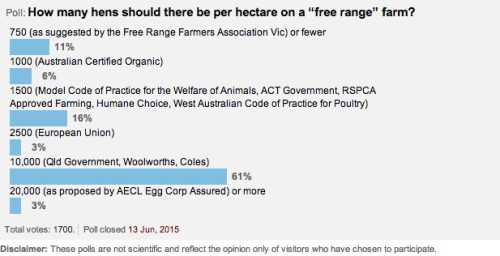 Image source: SMH.com.au
Tell us, do you buy free-range eggs? Do you think there needs to be a new standard for regulation?