This woman just got married... to herself.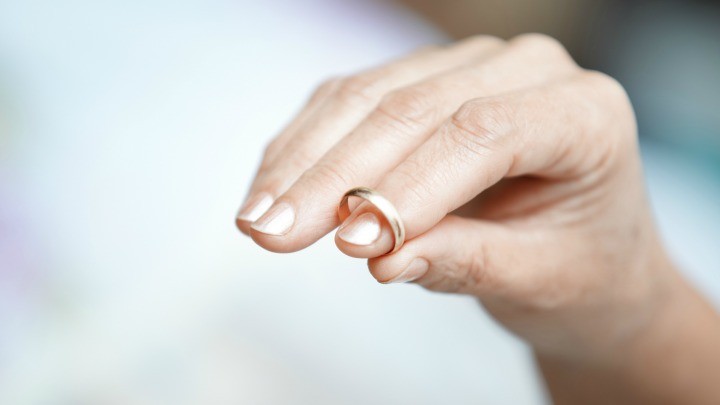 After enduring a painful divorce, Desiree Longabaughm took a revolutionary step to rediscover her own independence. In a beautiful French ceremony, the 42-year-old married herself.
The mother-of-two also changed her name to "Beautiful Existence", before setting off for Paris where she made vows of love and commitment to herself.
Desiree was surrounded by three friends and wore a short white dress with a blue wedding ring, as she promised to love and honour herself as an individual.
As this unusual matrimony is not recognised in France, Desiree's ceremony was officiated by a celebrant from America via Skype.
The bold bride spent around $9000 on her wedding, including flights to Paris and week-long holiday abroad. Desiree combined the wedding ceremony with her fortieth birthday celebrations.
Ad. Article continues below.
"It was hugely emotional, looking at myself on that screen as I Skyped the officiant, saying exactly what I wanted to say to myself was soul-shifting", Desiree told News Limited.
"I believe everybody should self-marry before they even marry anyone else", she added. Desiree believes her former marriage of ten years caused her to lose a personal identity.
"After years of exploring different theories on how to understand myself, self-marriage felt right". she said. "Before I get into any kind of relationship, I needed to commit to myself first".
"The current norms around marriage and long-term relationships just don't fit in with and honour who I am as a person", she explained.
"Why couldn't I have a fun, fantastic ceremony the way that I wanted it to be without somebody else's approval?" Desiree asked News Limited readers.
Ad. Article continues below.
Desiree has two sons from her previous marriage, aged 16 and 9. She believes that "self marriage" allows people to become better parents.
"I'd recommend it as much as I'd recommend being a parent", she said. "The level of love you'll feel is something you can't describe until you do it".
"The highest measurement of success society pretty much has is whether or not you're in a couple, but it shouldn't be that way", Desiree added.
"A measure of success is loving yourself, and if you can do that, you come into a relationship as a better person", she said. "I don't worry at all about being in a couple now".
Are Desiree's ideas about self-marriage totally weird, or completely wonderful? Do we need to honour ourselves, before finding love with others?
Ad. Article continues below.
Facebook Post of the Day! Here is Beautiful Existence…the 42 year old from Seattle that married herself in front of the Eiffel Tower in Paris.

Posted by B1053 on Wednesday, March 30, 2016