This seat design could make flying a lot more comfortable... for people of all sizes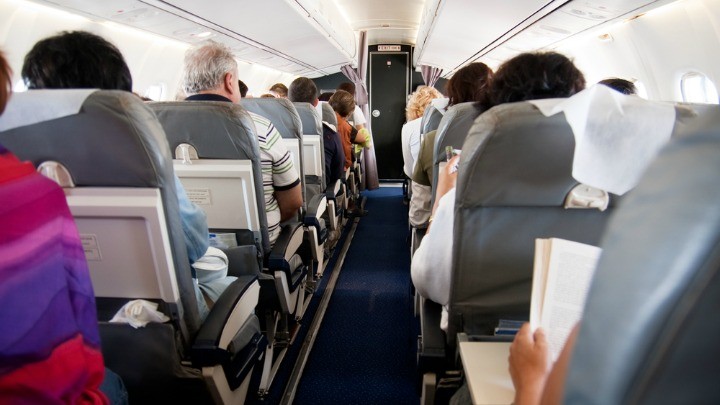 Last week it was under-seat storage compartments and futuristic helmets, this week Airbus have submitted a new patent for adjustable chairs and seatbelts to accommodate for the growing number of obese passengers.
While some airlines charge per weight, airbus have designed a, "Re-configurable Passenger Bench Seat".
This design could help, not only with the increasing number of larger passengers, but may also offer more room for those with mobility issues and families travelling together.
This will be achieved through fully adjustable and flexible seats that can be easily modified for every shape and space requirement.
News.com.au reports that design has been submitted to address requirements for specific groups, with the patent stating "…efforts are made to design the passenger cabin of a commercial aircraft in such a way that flexible adaptation of the cabin layout to the requirements of specific user groups, such as, for example, families with small children, senior citizens, people with restricted mobility, etc."
Ad. Article continues below.
Last week the idea of under-seat storage imposed a risk that leg room might be restricted, but this new design could actually offer more room than traditional seats, especially if you are traveling with friends or family. The bench seat can be adjusted so that all passengers in the row can share the room or may be re-configured for those who require more space.
Airbus have taken passenger comfort into consideration, with The Daily Post quoting sections of the patent, "In modern means of transport, particularly in aircraft, optimum utilisation of the space available in a passenger cabin is of major economic importance.
"The cabin layout, particularly the layout of the passenger seats arranged in the passenger cabin, such as the allocation of a row of passenger seats to business class or to economy class for example, should be as flexibly, rapidly and easily re-configurable as possible."
Furthermore, The Daily Post reports that three images included in the patent demonstrate how the adjustable bench may be used by a variety of passengers, with the first demonstrating room for two passengers, possibly for business class or passengers, "who require increased space such as, for example, overweight passengers or passengers with restricted mobility".
Other examples include the way three economy passengers would be able to share the space, and how the bench will be big enough for a family of two adults and two small children.
Ad. Article continues below.
What do you think of this design?
Airbus designs 'obese' seats… On the Tele live blog https://t.co/1iFggBmUwDpic.twitter.com/N18UdXPHX8

— The Daily Telegraph (@dailytelegraph) February 22, 2016
Airbus wants to patent a seat that could revolutionize how airlines sell tickets https://t.co/WbTnMFIGx8pic.twitter.com/raIIceZ09U

— Business Insider (@businessinsider) February 22, 2016