The year Russell Morris had two singles top the Aussie music chart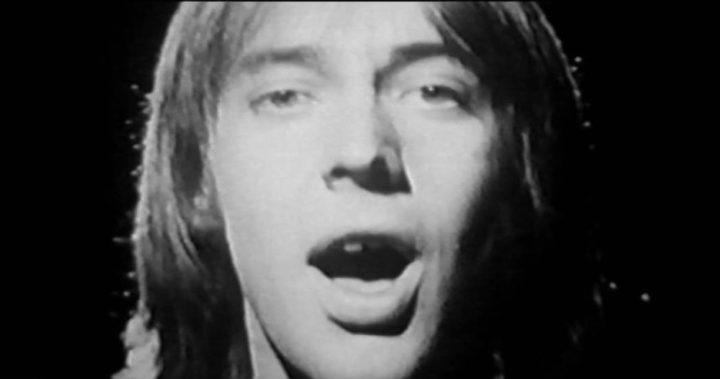 After topping the charts with The Easybeats written 'Step Back', Johnny Young came back to Australia with song-writing ambitions of his own.
He offered a song to Russell Morris who had just split with the band Somebody's Image and was starting on a solo career.
Although Russell Morris was not taken by the song, 'The Real Thing' then became a creation by his then manager Ian 'Molly' Meldrum who spent hours and money to turn the song into a 7-minute production extravaganza.
Although Australian DJ's had never been asked to play such a long record, with Russell Morris' personality, singing and performing talents it roared to number one nationally in June, and without any promotional support it charted in the United States.
The follow up was another Johnny Young song 'The Girl That I Love', which also went to number one in Australia, making Russell Morris the first Australian artist to have his first two singles reach number one.
Ad. Article continues below.
On March 1, Jim Morrison — lead singer with The Doors — was arrested in Miami, US, after allegedly exposing himself on stage during a concert at The Dinner Key Auditorium.
After two years of legal proceedings Morrison was sentenced to eight months hard labour. The sentence was still on appeal when he died in Paris, France, in 1971.
From Los Angeles, California, The Doors were signed to Electra Records in 1966 with a line-up of Jim Morrison; Ray Manzarek (keyboards); John Densmore (drums) and Robby Kreiger (guitar).
They had seven top 10 albums in the US: The Doors and Strange Days in 1967; Waiting For The Sun in 1968; The Soft Parade in 1969; Morrison Hotel and Absolutely Live in 1970; and L.A. Woman in 1971.
They had two US single number ones: 'Light My Fire' in 1967 and 'Hello I Love You' in 1968.
Ad. Article continues below.
The Doors' other big hits were 'Touch Me' in 1968; and 'Love Her Madly' and 'Riders On The Storm' in 1971.
They were inducted into the Rock 'n' Roll Hall of fame in 1993.
On March 7, the single 'Pinball Wizard' by The Who is released in the United Kingdom. This was taken from the rock opera album Tommy, and it made the top 10 in the US, the UK and Australia.
The New Seekers also had a hit version in the UK and later Elton John took a version into the charts from the Ken Russell movie Tommy. Rod Stewart also made an interesting version with an operatic style chorus.
On March 12, the same day Paul McCartney married Linda Eastman in London, George Harrison and wife Patti had their home in Surrey raided by the drug squad and were charged with possession of cannabis.
Ad. Article continues below.
In Gibraltar on March 20, John Lennon marries Yoko Ono.
Australian Music Awards for 1969
Best Male Singer Australia: Russell Morris
Best Male Singer World: Tom Jones
Best Female Singer Australia: Allison Durban
Best Female Singer World: Lulu
Best Group in Australia: Zoot
Best Group World: The Beatles
The number ones in Australia in March 1969
1st to 31st: 'Ob-La-Di Ob-La-Da' / 'While My Guitar Gently Weeps', The Beatles
Ad. Article continues below.
The number ones in the UK
1st, 8th, 15th, 22nd: 'Where Do You Go To My Lovely?', Peter Sarstedt
29th: 'I Heard It Through The Grapevine', Marvin Gaye
The number ones in the US
1st, 8th: 'Everyday People', Sly & The Family Stone
15th, 8th, 29th: 'Dizzy', Tommy Roe
The Top 10 In Australia in March 1969
Ad. Article continues below.
1. 'Ob-La-Di Ob-La-Da' / 'While My Guitar Gently Weeps', The Beatles
2. 'If I Can Dream' / 'The Edge of Reality', Elvis Presley
3. 'Build Me Up Buttercup', The Foundations
4. 'I Started A Joke', The Bee Gees
5. 'Star Crossed Lovers', Neil Sedaka
6. 'Fox On The Run', Manfred Mann
7. 'Crimson And Clover', Tommy James & The Shondells
8. 'Adios Amor', Jose Feliciano
9. 'Lily The Pink', The Scaffold
10. 'Eloise', Barry Ryan
Do you remember these songs from 1963? What was your favourite tune?
Want to go in the draw to win some great prizes? It's as easy as putting pen to paper, or fingers to keyboard, and sharing your thoughts with other 60-pluses. Sign up as a contributor and submit your stories to Starts at 60 here, and join the Starts at 60 Bloggers Club on Facebook here to talk to other writers in the Starts at 60 community and learn more about how to write for Starts at 60.