The magazine making a big difference 20 years on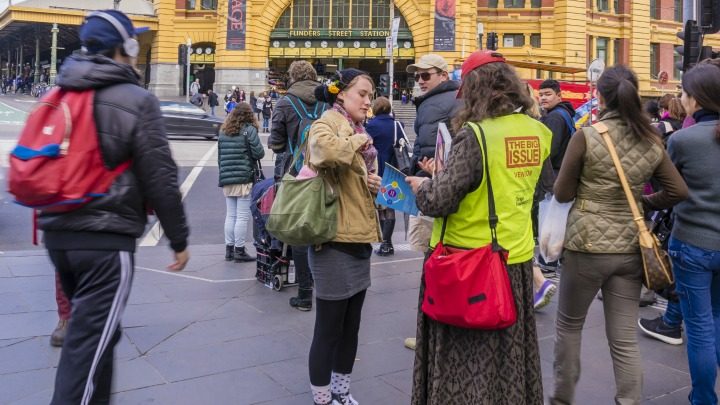 "It's been about eight months since I had a steady roof over my head," says Nathan, who first began selling The Big Issue some 10 years ago. "I got kicked out of where I was living, and signed back up with The Big Issue to save money for bond. I'm just trying to get some sort of accommodation."
If you're based in Brisbane, you might have seen Nathan selling copies of the iconic magazine. He's fairly recognisable — known as the man who balances the magazine on his index finger — and he works seven days a week. He says selling the magazine is a form of entertainment.
Nathan is just one of dozens of people selling The Big Issue across Australia. Every vendor has their own story, but they stand out like beacons in their hi-vis vests at various spots around cities and major regional centres. They are out there regardless of what the weather brings, a sign of commitment, discipline and hope.
You might not have given The Big Issue too much thought over the last 20 years.
In fact, it's hard to believe the quirky combination of current affairs, feature articles, arts coverage and opinion pieces has been around that long. In some ways it highlights the plight of those who have fallen on hard times through circumstance and poor choices, and in others you are reminded that through the magazine's motto — 'Helping people help themselves' — those who want to pull themselves up have the opportunity to do so.
Ad. Article continues below.
The concept is simple. Vendors are essentially running their own small businesses, buying copies of the magazine which are then on-sold for $7 a piece. They keep their share of the profits. It is a model that has created independence and given the homeless, marginalised and less fortunate much-needed assistance.
Outgoing editor Alan Attwood told the Sydney Morning Herald that the publication is akin to the tale of The Little Engine That Could.
"I admire their [the vendors'] determination to act positively to improve their circumstances. They are people who are used to being ignore," Attwood says.
Like most things with 20 years' experience, it has come with a certain amount of change and evolution. The not-for-profit organisation has introduced a number of initiatives for women, education and sport.
Have you ever purchased a copy of The Big Issue? What organisations or groups are you involved with that are influencing people's lives in a positive and meaningful way?