Stepping down was the only thing Barnaby Joyce could do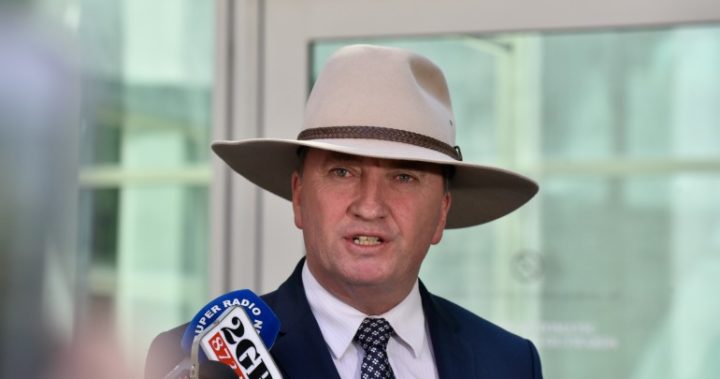 I just watched Barnaby Joyce on television declaring that he will be stepping down as deputy prime minister when he returns from leave.
He also took the time to thank those in his electorate who offered their support to him and his family.
I believe stepping down from his role as Nationals Party leader and deputy prime minister was the only thing Joyce could do to escape the constant and unrelenting private and personal attacks. I hope the media and the extreme political lefties are happy, and will now back off and leave him and his partner alone.
Maybe all of the perfect people with so much knowledge on how the country should be run need to get out there and run for government. Perhaps with them in politics everything would run without a hitch.
If Barnaby Joyce's relationship had nothing to do with the constant and unrelenting media attacks, why was his partner photographed while out for a walk? Why did the headline say 'Bundle of Joyce'? Why were the media parked outside of their apartment? Instead of all the focus being on their relationship, should the media — and the judgemental public — concentrate on all the allegations that had been levelled against him, none of which have been proven.
Ad. Article continues below.
The media and Joyce's political opponents were determined to ruin his career, and it looks like they have succeeded.
The prime minister even felt it necessary to rub salt into the wound with his unnecessary and unwarranted opinions on Joyce's private life. I cannot imagine the devastation this has caused his wife and daughters.
What did you think of Barnaby Joyce's decision to resign as Nationals Party leader and deputy prime minister? Do you feel that the focus in this matter has been too personal?
Want to go in the draw to win some great prizes? It's as easy as putting pen to paper, or fingers to keyboard, and sharing your thoughts with other 60-pluses. Sign up as a contributor and submit your stories to Starts at 60 here, and join the Starts at 60 Bloggers Club on Facebook here to talk to other writers in the Starts at 60 community and learn more about how to write for Starts at 60.