Should heavier people pay more for flights?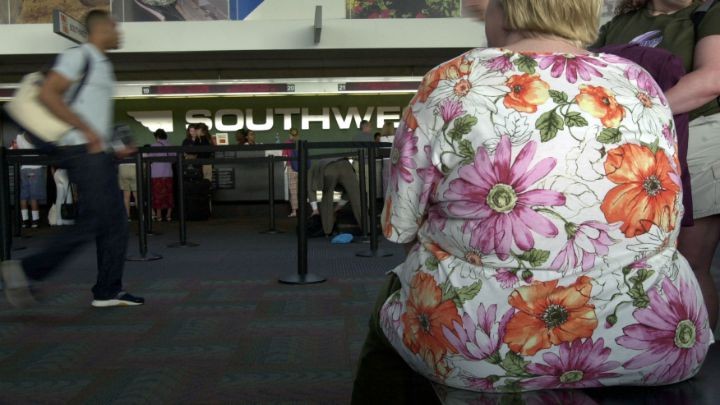 An airline has announced it will start weighing passengers before takeoff, claiming it is a bid to "ensure flight safety", but the move reopens the debate on whether airlines will one day charge passengers depending on their weight.
Uzbekistan Airways says the new procedure is to determine the "average weight of passenger with hand baggage". At this stage, it doesn't look like passengers will be turned away at the gate if they are too heavy to fly, or asked to pay more if they are on the heavy side.
A statement on the Central Asian airline's website says, "According to the rules of International Air Transport Association, airlines are obliged to carry out the regular procedures of preflight control passengers weighing with hand baggage to observe requirements for ensuring flight safety".
However, CNN reports that a spokesman for the International Air Transport Association said they were not aware of any such regulation.
Airlines typically estimate the weight of their passengers based on average weights for men, women and children, plus luggage. This assumes people stay within their luggage allowance, of course, and has to be adjusted as people grow heavier each year.
Ad. Article continues below.
As any intrepid traveller who has been brave enough to board a small plane in the Pacific knows, weight matters. For those hair-raising inter-island flights, passengers are often weighed with their luggage to ensure the plane has enough fuel to make it to its destination.
Samoa Air was the first major carrier to instigate a pay-per-kilo system on its BN2A Islander and Cessna 172 aircraft. Passengers must type their weight and the weight of their baggage into the online booking section of the airline's website, and this is checked at the airport where passengers are required to hop on the scales. Rates vary depending on the distance flown: from $1 per kilogram on the airline's shortest domestic route to about $4.16 per kilogram for travel between Samoa and American Samoa.
Experts are divided about whether or not a pay-per-kilo system is a fair and practical way to charge passengers. Some say it is the best way to "correctly" charge for flights, while others say it punishes people who are obese.
Let's talk: What do you think? Should heavier passengers pay more for airline tickets?