Pope thaws tensions by embracing top Egyptian cleric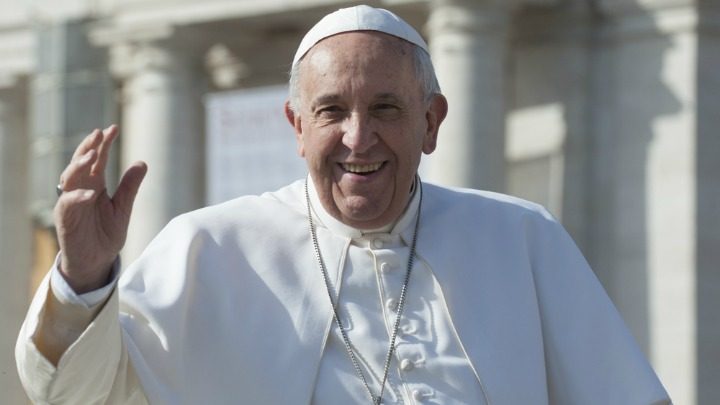 Pope Francis has met the grand imam of Egypt's highest Islamic authority, Al-Azhar, ending a five-year freeze in relations between the Vatican and the dominant centre of Sunni Muslim learning.
In seismic meeting, Pope Francis embraces top Sunni imamhttps://t.co/QuKAzKKwjE #religion

— Catholic News Agency (@cnalive) May 23, 2016
At a time of increased Islamic extremist attacks on Christians, Pope Francis was photographed giving Sheik Ahmed el-Tayyib a hug during the visit.
Pope Frances told the imam: "The meeting is a message."
Ad. Article continues below.
It is an historic meeting between the two faith leaders after the 1,000-year-old mosque and university cut ties with the Vatican in 2011 because it said there were repeated insults towards Islam from the pope's predecessor, Pope Benedict XVI.
Back then the pope demanded increased protection for Christians in Egypt following a New Year's bombing on a Coptic Christian church that killed 21 people and Alexandria.
Despite increased Islamic attacked on Christians in the region in that time, the Vatican and Al-Azhar committed to strengthening ties.
Pope Francis and el-Tayyib spoke for 25 minutes in private, bidding each other farewell with an embrace.
'Our meeting is our message': Pope Francis hugs top imam during Vatican meeting https://t.co/aaRxItrCCR pic.twitter.com/l7zrab2a7B

— RT (@RT_com) May 23, 2016
Ad. Article continues below.
In a statement the Vatican says the two men discussed the problems of violence and terrorism, and the situation of Christians in the Middle East, including how best to protect them.
Pope Francis recently set an example to the rest of Europe when he took in Muslim refugees fleeing the war in Syria.
He has also recently criticised Western powers for not respecting the indigenous political cultures in the Middle East and Africa.
What do you think of this meeting between Pope Francis and Sheik Ahmed el-Tayyib? Are you involved in any form of religion?