People are being shamed for parking in disabled spots because they don't have a wheelchair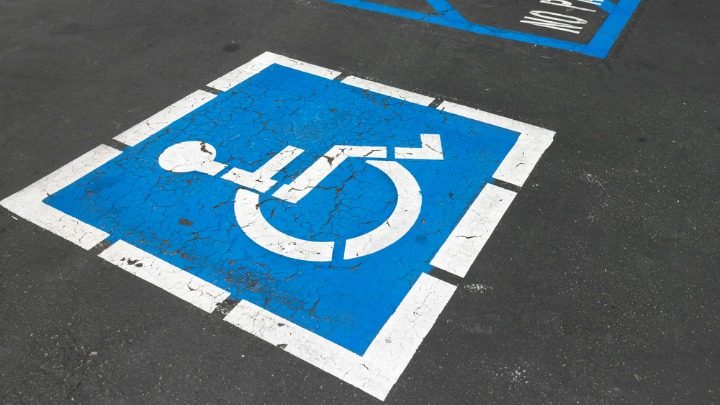 A woman with Multiple Sclerosis has shared a photo on social media of a note a stranger left on her car.
The woman, Justine Van Den Borne, had driven to her local shops and parked in the disabled car park like she normally does.
Justine says she was having a "good day" and was able to walk from her car into the shops without any help.
When she returned to her car though, she found a nasty note written by a stranger saying, "Did you forget your wheelchair???".
It's not the first time someone with a disability, but no wheelchair, has been publicly shamed for using a disabled car space.
Ad. Article continues below.
But just because a person can walk, does it really mean they can't use the park they are entitled to?
People who suffer from diseases like MS or Parkinson often have a mix of good days and bad. Some days they can walk without help for short distances, other days it's too difficult and they need a friend or carer to help them.
Justine says she was enjoying herself the day she found that note on her car, only to have it ruined by someone who thought they knew best without actually knowing anything about her.
She wrote in her Facebook post: "To person that left this on my car last week at Mitcham Shopping Centre- I was diagnosed with Multiple Sclerosis when I was 35. Not just MS but the worst one that never goes away and is slowly crippling my life.
"My kids have had to deal with things that kids shouldn't ever have to deal with and all of our futures are forever changed. On the day you saw me I was having a good day, I was walking with my daughter unaided having a nice day. Thank you for ruining that. You made me feel like people were looking at me, the exact way I feel when I can't walk properly.
Ad. Article continues below.
"I am sick of people like yourself abusing me on my good days for using a facility I am entitled to. A disability doesn't always mean a person has to be wheelchair bound but lucky for you I one day will be. Right now my focus is to walk into my best friends wedding next September and not have to be pushed. I will be 42.
"Before you ruin another persons day remember you don't know everything and just because you can't see it it doesn't mean a person isn't struggling to put one foot in front of the other."
The post quickly went viral with people throwing their support behind her.
"Keep going strong Justine, you are an inspiration to many," said one supporter.
Ad. Article continues below.
There were some though who suggested that disabled spots should only be used when you "really need them".
"Most wheelchair parking spots are larger for those with chairs to be able to transfer. If you can walk think of those who can't, this problem has gotten out of hand," said another commenter.
What's your opinion on this issue?
Should disabled car parks only be used if a person "really needs them" that day? Or, is it a person's right to park there every time if they have a disabled parking permit?