My first days in stunning Crete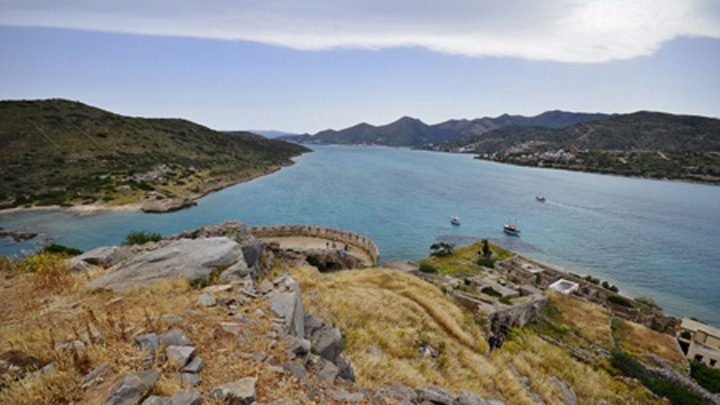 A smooth passage took us to Heraklion (Irakleio) and we berthed near the Venetian castle beneath the pink light of sunset. Our man with the car was there and the handover went smoothly; that was the last time the word "smoothly" was to be used for days.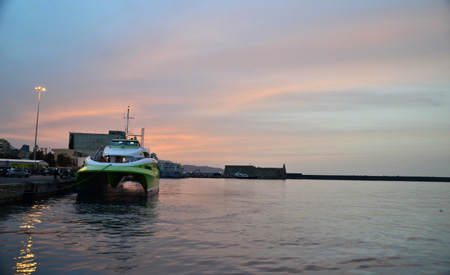 As the sun disappeared and the blackness came, the nightmare began. Finding our accommodation was a three hour excursion when 30 minutes should have been all that was required. Up and around most streets, following directions given by locals at times, we tried in vain with Lorraine's frustration bursting forth from time to time.
Eventually we turned off on a narrow sealed road that seemed to lead nowhere. We'd decided this wasn't it and were seeking a turnaround point when, from a set of gates immediately in front of us, two burly security men approached. It was like we'd arrived at the gates of St Peter, for it was so close to heaven on the other side.
Stylishly furnished with ultra-high ceilings and immaculately attired staff, the reception area was but a foretaste of what was to come. Taken to our room on an oversized golf cart our so-called studio apartment turned out to be a very comfortable three room affair with full kitchen facilities and an actual table where we could sit and gaze out the window with a delightful view across olive groves all the way to the sea.
Ad. Article continues below.
Next morning the haze distributed itself randomly across the horizon, lending a sombre tone to the vista from unit. Over breakfast we decided on Spinalonga, an abandoned mostly Venetian 16th C fortress that guarded the bay of Mirabellou.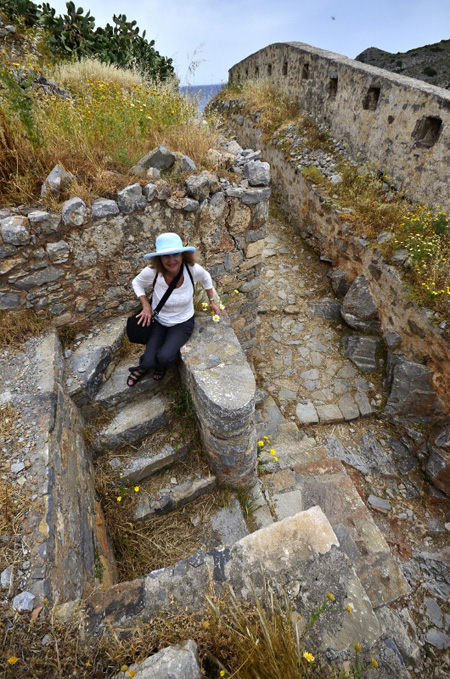 We set out along the coastal highway, stopping at an attraction that I found some interest in. It was a folly; an ophthalmologist decided to use all scrap building materials and anything else he could lay his hands on as an inspiration not to view anything as waste. To suggest the theme was a little lost on Lorraine would be something of an understatement so we moved onto a monastery further down the road that had half a dozen police around to control the chaos of a couple of hundred cars pulling up to see not only the monastery but the market.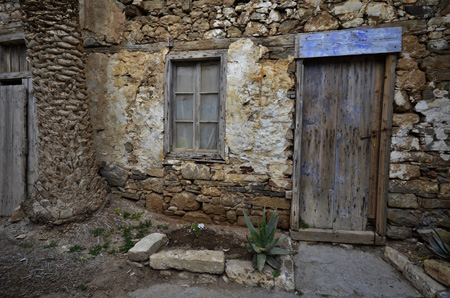 Finally we reached Elounda, a charmer of a port, once the ancient city-state of Olous. Its numerous colourful fishing boats lent a charming backdrop to this tourist town and the phalanx of eating establishments were testimony to the popularity of dining by the waterside. While the waves lapped we stepped out over the water and sat down to courgettes and fried sardines as we awaited the arrival of our ferry to Spinalonga and thought how good life was.
Ad. Article continues below.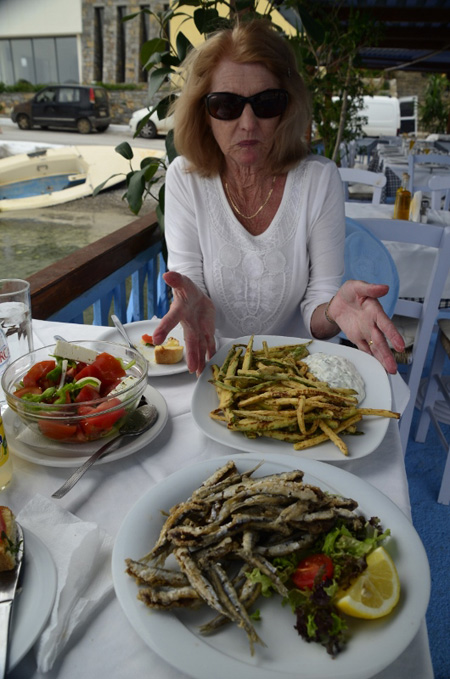 When we arrived at Spinalonga, it got a whole lot better for Lorraine, who purportedly is only tolerant of my archaeological interests but ended up besotted by the place. The fort, built over earlier ruins by the Venetians, is largely intact today and very popular and Lorraine was right into it, even more so than myself.
The Turks overran it after bitter conflict in the 18th century but when they were eventually ousted the place was disused until it became a leper colony and many changes were made to the architecture, mainly to ease access to the sea for the patients.  You could feel the history as you walked the streets and climbed the stairs to the wonderful panoramas over the bay.
The bay itself was used as a flying boat base by British Imperial Airways connecting England to India but time moved on and so, eventually did we, only we caught the wrong ferry (my fault) and ended up in Plaka, a miniature version of Elounda where we had time for afternoon tea before returning to Spinalonga and catching the correct ferry.
Tell us: Have you ever been to Greece? Did you enjoy it?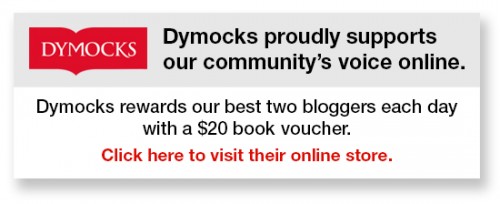 To write for Starts at 60 and potentially win a $20 voucher, send your articles to our Community Editor here.