'My dad was in his 70s when started celebrating Father's Day'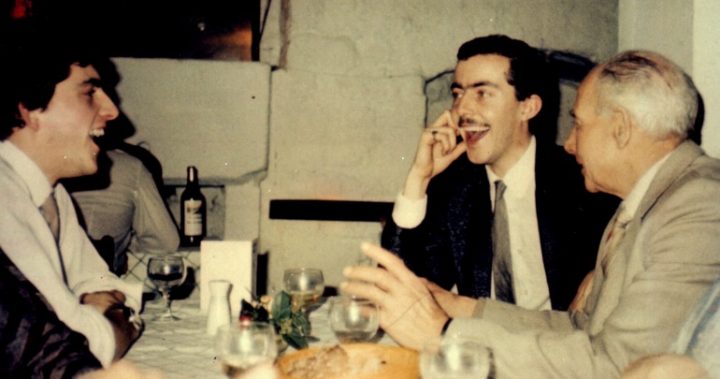 Once there was nothing to celebrate; Father's went off to war or went off to work, and Mum did everything. Men were given a back seat at that time. So, when we eventually allowed the American event to become part of our calendar, my dear Dad was in his seventies.  
At that time we were well and truly grown up, with families of our own. Dad was a deserving candidate though, a father who was always there for his children and the little ones. He adored his grandchildren and was indulgent and generous with his time with them, always ready to listen, and he loved each in a different way. So they each felt special.
He chuckled over the cards, and enjoyed the treats, he had a sweet tooth so welcomed the chocolate orange or box of special chocolates we offered. But his very favourite treat was a trip to the club to have a meal with all his children and grandkids. Then he played on the machine in the corner and we all saved our twenty pence pieces for him. He was a man of simple pleasures, slow to anger, mild and loving, and with a gentleness not often found in builders who had worked in some pretty rough places.
In war time he worked making accommodation for soldiers, and also was an air raid warden. Whatever life threw at him he coped and was calm. So many bad things like crooked accountants, dodgy bosses, and people who just took advantage of his gentle nature crossed his path, yet he always remained the same. My mother had a more volatile nature, but all dad needed to say was "It's okay my dear, we will sort it out" and she knew it would be so. Her wild streak instantly calmed.
Ad. Article continues below.
I still appreciate the father I had, and it is sad that I have learned more about him since he died, things I wish I had known and talked with him about. But we can't go back, so appreciate your father, love him and listen to him if you can. I would wish to have had one more chance to say, "Dad I love you".
I am also happy that he knew my boys; in the happiest snap I have he is laughing with them, and that is pretty special. He was part of their lives, and that matters. So tomorrow I shall raise a glass and sneak a chocolate and remember a dad who deserved so much more than life dealt him. Yet I think he would say, he was content, and loved the life he had. I hope so.  
Happy Father's Day to all the dads, the ones who try and fail, the ones who yet to work out what life is all about, and the ones who are not in the best situation, perhaps away from their children, I think of them and hope they gain some comfort from just doing their best. Grab that phone, and let someone know he is remembered please!
What are your best memories of your father?