Let's talk: Would you steal from the self-serve checkout?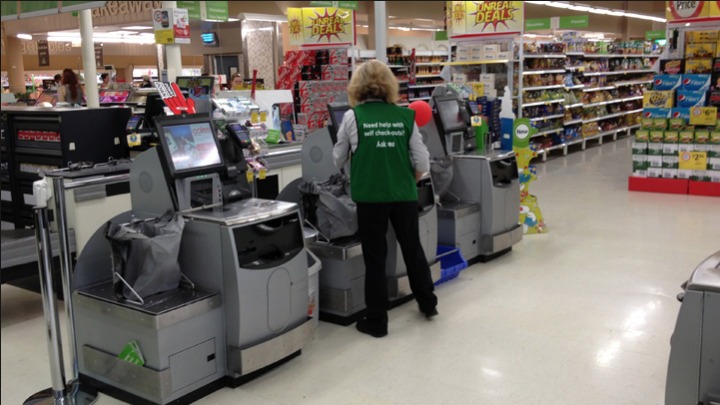 Self-serve checkouts may have revolutionised the shopping experience for customers, but it's creating one giant headache for supermarkets as reports reveal Coles and Woolworths are losing out big time on stolen goods.
Aussie retailers lost $380 million last year alone, as customers helped themselves to sneaky savings at the checkout.
Since the self-serve checkout zone is usually so busy it's easy for people to deliberately select a different and cheaper product when putting their groceries through.
For example, someone might scan though a bulb of garlic, but select onions on the screen instead – a product that is a lot cheaper and will save them a few extra dollars and cents.
It's becoming a huge dilemma for the supermarkets who are trying to develop ways to catch customers out.
Ad. Article continues below.
Criminology professor Adrian Beck, from the University of Leicester in Britain, has studied the same issue in supermarkets across Britain and says people find it easy to justify their stealing from a big corporation they think is too expensive anyway.
"People are very good at neutralising their moral concerns when thinking about stealing things … and people can end up feeling they have a right to get their share of the corporate profits," Professor Beck told SMH.
It seems plenty of Aussies who would never consider stealing from another store have no problem taking home a self-imposed discount from the supermarket as they feel they are being ripped off by them in every other way.
While some have justified the stealing by saying it's just their way of fighting back against supermarkets charging them too much, others say it is flat out stealing and morally wrong.
The topic has certainly started a fiery debate in our office, so we'd love to hear your thoughts on this.
Is it ok to give yourself a discount at the self-serve checkout? Or, is it plain wrong? Have you ever scanned a cheaper item on purpose?