Let's talk: Why do we approach marijuana so differently to alcohol?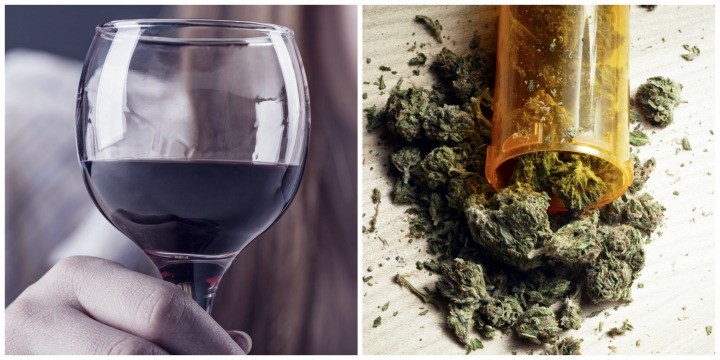 Marijuana and alcohol arguably have similar affects, and yet we treat one substance wildly different from the other. So let's talk, does something need to change in our approach?
Excessive alcohol consumption can have severe health impacts, on both a mental and physical level. Alcohol has been linked to cardiovascular disease, diabetes, liver conditions, obesity and even certain cancers.
From a mental health perspective, excessive alcohol can lead to depression, anxiety and self-harm in extreme cases. Australians have seen a rising tide of alcohol-related violence throughout pubs and clubs, with one coward puncher even targeting a 60-year-old man last year.
Despite these health concerns, Australians seem to have a 'booze culture'. The average household spends over $32 per week on alcohol. Over 40% of Aussies will drink on a weekly basis, with beer, wine and spirits being most popular.
When it comes to marijuana though, our national response is markedly different. 'Weed' can also damage a person's physical and mental health over time, and for these reasons the substance is illegal for recreational purposes. However, even Australians who require marijuana for medicinal purposes will face countless roadblocks.
Ad. Article continues below.
As a country, we've seen desperate parents launch petitions to access medicinal marijuana for their children. "Decriminalise the use of medicinal cannabis for people with terminal cancer like my son", begged mother Lucy Haslam via Change.org.
"Our 24-year-old son has a terminal cancer diagnosis. He is receiving great benefit from using medical cannabis to manage his nausea, vomiting and poor appetite. He is also using cannabis oil in a bid to halt the progression of his disease", Lucy explained.
Late last year, the Federal Government announced it would consider legalising medical marijuana crops, but stopped short of allowing patient use. At the time, politicians like Richard Di Natale from the Greens expressed their frustration at this slow progress.
"We're seeing legislation that would license growers, but really ignores the most important part of the equation… That is making sure that people who need this drug can get access to it", Di Natale told the ABC.
Doctors in New South Wales have already endorsed the use of medicinal marijuana, for "people in specific circumstances, and under the supervision of medical practitioners". In a country where alcohol abuse runs rampant, it seems bizarre that a plant which could help people is still demonised.
As one person commented via Facebook, "Keeping alcohol legal and marijuana illegal just sends mixed messages. Taken with the help of a doctor, medicinal marijuana could actually help people. We see so much damage come from alcohol, but booze is still socially accepted. These contradictions don't make sense, do they?"
Should Australia change its approach to these two substances? Does our stance on alcohol need to be tougher, to curb alcohol-related violence? Or should marijuana be legalised, for medicinal use?