Let's Talk: Why aren't bank emergency call centres manned 24 hours?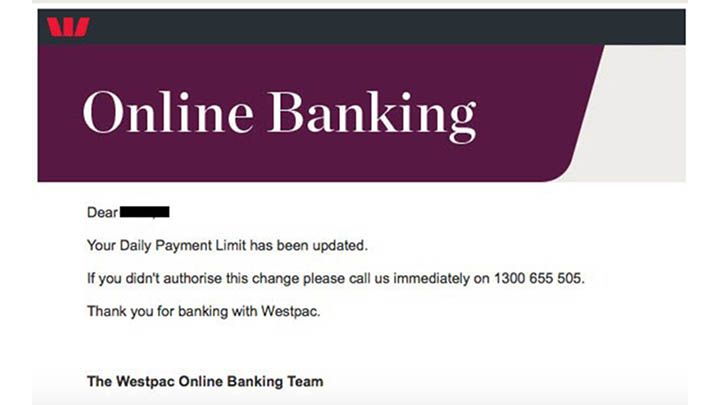 I received an email from my bank on Friday night at about 6.30pm Queensland time. It said "Your daily payment limit has changed". I hadn't changed it!
Given the number of hoax emails travelling the internet from financial institutions, our first response was to ignore it. Then, after we chatted a little, my husband and I decided to take it a little more seriously and log into our account to see why the limits had been moved and what to.
The login didn't work. We tried several times from his computer using all the identifying tools the bank offers, to no avail. None of our bank accounts were accessible to us, and we couldn't change the passwords to prevent access by someone else either because we couldn't get into them. So off we went to the website to find the bank's phone number and call them. No doubt this would be easily cleared up on the phone. Nonetheless, the colour had drained slightly from my husband's face as he sat on hold.
By this time it was 8.10pm Queensland time on Friday night. The call centre at Westpac is the only number given for emergencies and issues. You call it, plug your way through the menu options using "voice" and number keys to indicate the help you need, then sit on hold. After about 4-5 minutes you are greeted with an automated voice that says "Thank you for holding. Our phone lines are manned from 7am-8pm Monday to Friday". We tried every number on the website. Each time we ended up back at the same message, even if we selected different menu options, or said to the voice menu that it was an emergency.
I have to admit being rather flabbergasted at this point. We had received a worrying email that asked us to take it seriously; couldn't access our bank account and couldn't get onto anyone on the phones until Monday.
Ad. Article continues below.
It left me wondering what happens now in cases where there is a real need to speak to someone that can help you and avoid someone stealing from your bank account through prompt response? Would I have been insured if someone had accessed my bank account and withdrawn my money?
Have you battled with the plight of the automated voice message when your situation really required urgent support by a person that you would have expected from a company who provides your services? Tell us about it today.
[post-script: After much angst we found an old credit card in an old filing cabinet with Westpac and called the "emergency" number on that. We found someone who could help us and they were good. But the question remains – why is it so hard to get help in a crisis?]