Let's talk: Waleed issues 'call to arms' for dairy farmers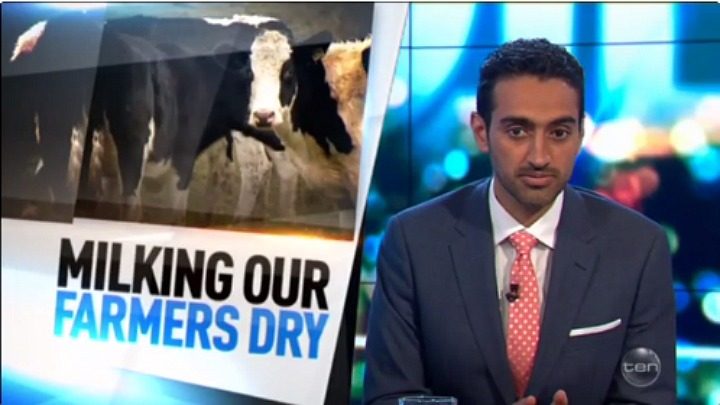 Waleed Aly has made a name for himself over the past year for driving debate about some of Australia's biggest issues.
The Gold Logie winner and Project host has covered everything from Islamic State to Johnny Depp's dogs, and now he is turning his hand to Aussie dairy farmers and their struggle to survive.
In what he is calling his "greatest call to arms" Waleed is urging people to buy and eat more Australian dairy to support farmers and lift them out the the financial hardship many are facing.
He accused the government of ignoring the issue and abandoning farmers in their time of need.
Yesterday Coles announced it would start selling a new line of homebrand milk with 20 cents from every dollar going back to farmers.
Ad. Article continues below.
While this is no doubt a help, it is not enough to make a real impact on farmers bank balances, according to Waleed.
How you can stop our dairy farmers from being #MilkedDry
Written by Waleed & Tom Whitty (@twhittyer) #TheProjectTV https://t.co/35TK5QMgj4

— #TheProjectTV (@theprojecttv) May 17, 2016
"For every litre of milk that we buy in the supermarket, it costs a farmer about 38 cents to make it, and they're paid just 42 cents," Waleed said on Tuesday night.
"Murray Goulburn announced it was cutting its price from $5.60 [per milk solid kilogram] to somewhere between $4.75 and $5. A week later on the fifth of May, Fonterra followed suit cutting their price to $5. So now, farmers will be paid about 37 cents for that litre of milk that cost them 38 cents to make."
Ad. Article continues below.
Both Fonterra and Murray Goulburn are currently under investigation by the ACCC and Waleed told viewers their actions meant that farmers were being driven into debt.
"Murray Goulburn and Fonterra are essentially claiming that the farmers were overpaid from July last year," Waleed said.
"They're spreading that cut over the entire financial year so doesn't look like such an extreme cut. And when we recognise that, it means that for the next two months farmers will be paid 14 cents for that litre of milk that cost them 38 cents to make. The more successful they are, the further in debt they'll become."
For those asking you can see all those brands that Waleed mentioned here #MilkedDry #TheProjectTV pic.twitter.com/mAl3Voni4j

— #TheProjectTV (@theprojecttv) May 17, 2016
Ad. Article continues below.
Farmers themselves have called for a 50 cent levy on all milk, but Prime Minister Malcolm Turnbull and Opposition Leader are yet to comment on it.
Deputy PM Barnaby Joyce, who is also the Minister for Agriculture, has also stayed largely quiet on the issue much to their disappointment.
"The truth is, our farmers are being let down and they are desperate. And if our politicians won't stop our farmers from getting MilkedDry, maybe the rest of us can," Waleed said.
While a 50 cent levy on milk would no doubt help farmers get back on their feet, there are those who say despite their desire to help, they can't afford to pay anymore at the checkout.
The idea of the levy seems to have divided many shoppers with some saying they would be happy to pay more to support dairy farmers, and others saying they simply can't afford it.
Where do you stand?
Would you pay more for milk to support Aussie farmers? Could you afford the price increase? Should this issue be getting more attention in the election campaign?